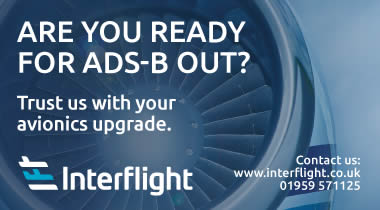 ---

WINGX Global Market Tracker:
Memorial Day travel demand boosts recovery in US, other regions lagging
Global business aviation activity is trailing by 51% comparing May and the first few days of June 2020 with the same period last year, according to WINGX`s weekly Global Market Tracker published today.
North America is the most robust region, with activity over the period recovering to 49% of normal levels, having been down by three-quarters in April. Starting May with a rolling 7-day average of 3,800 daily sectors, North America ended the month at around 6,200, an improvement of 63%. In the US, sectors flown in the last 7 days, which includes Memorial Day demand, are down only 3% compared to the same dates in 2019.

After North America, the bulk of business aviation activity has operated out of Europe, with trends still just over 60% below normal. Oceania has recovered by most, with traffic only 25% below normal, and South America is now running 27% below par. In Asia flight activity since the start of May is down by just over 50% year on year, although it's more than doubled in the last week. At the start of the May, only half the normally active worldwide fleet was operational, and by the end of the month fleet employment was down only 20% on normal.
By country, business aviation demand appears to be most robust in Australia and Sweden, with jets and props operating 20% below comparative periods in 2019. Germany is the busiest country in Europe, with flights 44% below usual. Sectors flown within Germany are only 20% fewer than normal.
Flight activity in Russia and France is respectively 53% and 63% down. The countries seeing the largest negative impacts are still the UK, Spain, Italy, flight activity reduced by 70% and more.
---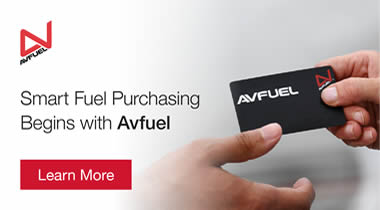 ---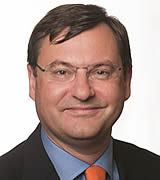 Sharing and gleaning insight - globally
Charles Alcock, Senior Editor, AIN Publications.
---
Charles Alcock is Senior Editor of AIN Publications - Aviation International News, Business Jet Traveler and new venture, Future Flight.
During the lockdown, from his Surrey, UK home, Charles has been drawing in hundreds of attendees from all over the world to AIN's insightful webinars.
How has business life changed for you since the lock down?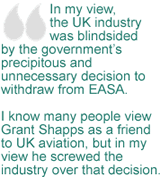 I largely work from home so the lock down hasn't changed that much, although it does feel different being 'required' to stay put. The main change has been the lack of industry events, conferences, press briefings or air shows to attend which just increases the sense of isolation. I do have a very strong daily connection with my US colleagues via Zoom and Slack. I've had to structure just about every day around webinars and conference calls. I find it surprisingly exhausting, even when I'm not required to speak!! In fact, so much time can be spent in online events and briefings that it can be hard to make time for writing. Let's just say some of these are more valuable than others!
Who and what has been stand out for you in your industry interviews?
---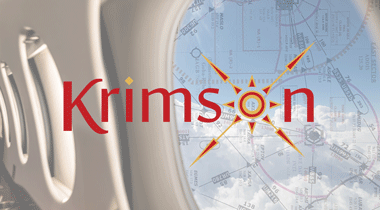 ---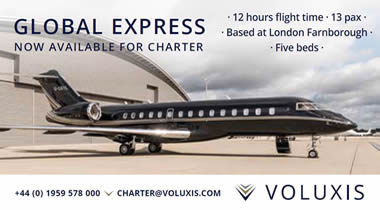 ---
France:
By Paul Eden.
The French Government launched Operation Resilience, a joint military response to COVID-19, on 25 March.
Bringing specialist healthcare, logistics and transport capabilities to the fight, Operation Resilience was reinforced after Dassault Aviation made individual company-owned Falcon 8X and Falcon 900 business jets available to the French Defence Ministry.
Operated by Dassault Falcon Service, a Dassault Aviation maintenance and flight operations subsidiary based at Le Bourget, Paris, the Falcons flew their initial Resilience mission on Sunday, 5 April. This first effort returned a team of 26 doctors and other medical personnel to their home base in Paris from Brest, Brittany, where they had deployed for an emergency evacuation mission.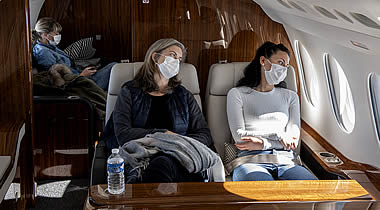 Separately, two additional company aircraft, a Falcon 7X and a Falcon 8X, have been assigned to assist Aviation Sans Frontières, providing on-demand transport for emergency medical personnel and equipment.
While Dassault Aviation was lending four aircraft to the campaign against coronavirus, its parent, the Dassault Group, donated €2 million to Parisian hospitals.
---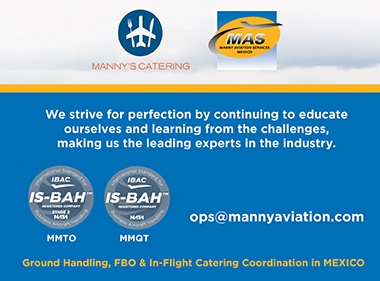 ---
United Kingdom:
BAE Systems supporting the UK national ventilator effort and working to donate 150,000 face shields to the NHS frontline
By Paul Eden.
Since late March, staff in BAE Systems' Air sector, who normally produce parts for combat aircraft including Eurofighter Typhoon, along with colleagues in the submarines business, have been 3D printing parts for newly designed face shields, as well as sourcing tens of thousands of additional face shields through the supply chain for distribution to the NHS.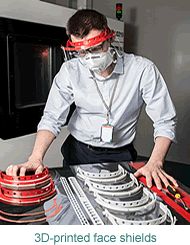 Air and technology team employees joined forces to manufacture the company's first 3D-printed face shields in less than 24 hours; they were with NHS organisations in less than two days.
In April, engineers at the company's Electronic Systems site in Rochester also joined the effort, developing a new face shield design and targeting production of up to 500 face shields per week over a six week period. In total, BAE Systems expects to donate 150,000 face shields to the NHS.
---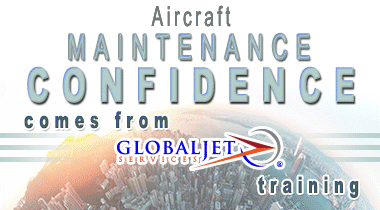 ---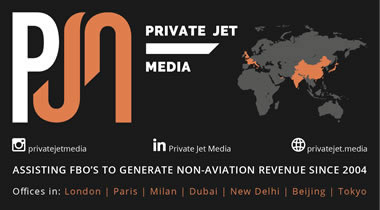 ---
Colorado:

Interview by Kelly Murphy.
While we look forward to the beginnings of recovery in our industry, the long-term future of what's likely to be a very different aviation ecosystem will be for a new generation of aviators and aviation professionals to decide. Introducing the second in a series, Resilient Aviation speaks with Samantha Poirier.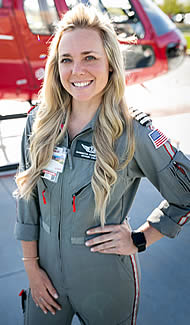 Samantha Poirier is the first female LifeLine pilot for one of Colorado's largest medical providers, UC Health's Medical Center of the Rockies flying an H125-AS350 helicopter.
She has always had a passion for aviation, but didn't get started until she was 24. No one in her family was involved in aviation, nor did she have any contacts or role models when she started.
"I began going to school to study air traffic control," Samantha says, "My professor encouraged us to take an intro flight to see what it was like to talk on the radio and flying. Once I took my first flight I was hooked! I sold my horse, who I loved dearly, to pay for flight school."
---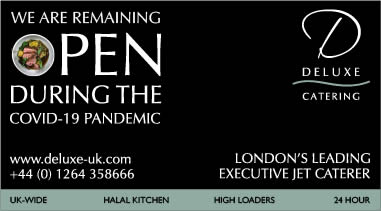 ---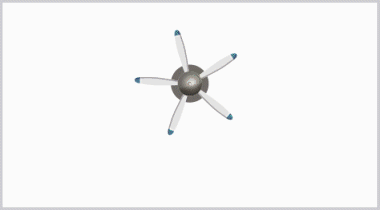 ---

This week . . . Brexit is not going away, despite being overshadowed by current news events.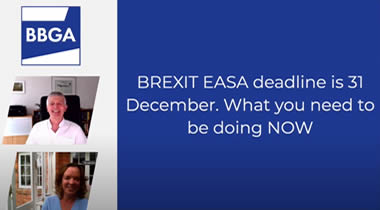 Marc Bailey, British Business Aviation Association CEO and Chair Aoife O'Sullivan point to what companies must do to stay compliant.

watch the video
---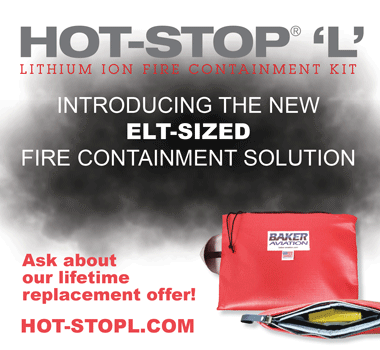 ---
Hawaii:
Young Aloha Aviators step up for COVID-19 effort
By Kelly Murphy.
The Aloha Aviators, an innovative group made up of amateur female pilots and Delta flight attendants - all members of Women in Aviation International - have been frantically sewing face masks non-stop since late March.
Collectively, they have donated 1,000 masks to hospitals, critically ill patients, flight attendants, and first responders to the remote Island of Oahu, Hawaii. In April, multiple flights were performed by a single-engine propeller aircraft carrying masks, as well as supplies for cats to the outer islands of Maui and Lanai.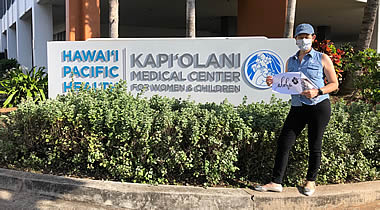 Over 100 handmade masks and supplies were flown to the Hilo Medical Center by 17-year-old pilot Abigail Dang and her mentor Nobi Buntin.
Duties were delegated according to each flight attendant's skills. Working in five main groups they handled acquiring resources, washing and ironing, cutting, sewing, and distribution. The Honolulu-based Delta flight attendants, on a leave of absence from their airline, volunteered their time and energy to ensure the safety of their colleagues and the local community.
---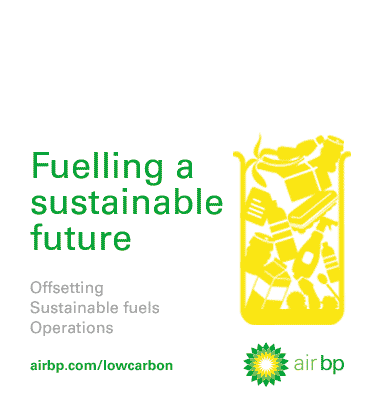 ---

Talk of an 'air bridge' between the UK and Portugal to remove the need for quarantine was being discussed by the UK and Portuguese Governments at press time.
Hotels, bars, restaurants are hairdressers! are open. Golf courses are open (with restrictions on player numbers) and the beaches reopen from Saturday. This is good news for Omni Handling, which is getting ready to open two new FBOs in Faro and Cascais as early as much month.
"Just like the rest of Europe we have been handling mainly repratriation and essential air service flights these past weeks." Now it is starting to see a modest return from usual visitors, said CEO Ricardo Pereira, as a result of borders opening by EU countries, Switzerland and Portuguese speaking countries. "We've had to be pretty resilient too," adds Jerome Franier, providing our own inflight catering services, when our usual supplier temporarily shut down.
According to WINGX data, Portugal has seen March to May month to date flights just -59.5% down with 64 flights. There were 54 active business jets with a peak between 21 and 25th May.
---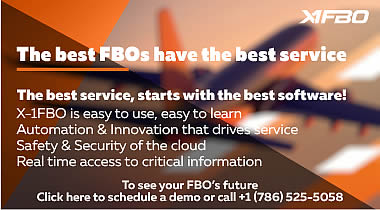 ---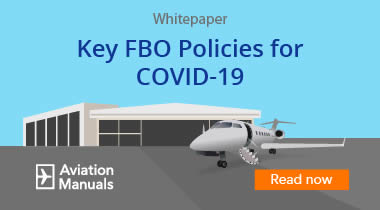 ---
Boston, Mass:
The rebound continues for Waltzing Matilda Aviation
By Chloe Wilson
Following an understandably quiet April and first half of May Boston-based jet charter operator, Waltzing Matilda Aviation (WMA), has seen an uptick in business over the last couple of weeks.
Based on levels of activity at its home base - Laurence G Hanscom Field Airport in Bedford, Massachusetts - WMA's CEO, John Thomas, believes business is coming back faster than for some of the bigger national players who have been forced to furlough crew during the downturn.
At the end of May Thomas revealed that WMA has been fielding up to 50 jet charter enquiries a day up from 5-10 just two weeks ago with an imbalance of clients wanting to fly from Florida to the north east. This week he told Resilient Aviation that, "The rebound continues.
The initial burst was the usual (wealthy individual) migration from Florida to the north east marking the traditional spring migration. Over the past week we have seen more enquiries for business related trips - trips from the north east to the mid-west, so it looks like business people are getting back on the road."
---