France:

Dassault Aviation supports government and healthcare organisations in the fight against coronavirus

By Paul Eden.
The French Government launched Operation Resilience, a joint military response to COVID-19, on 25 March. Bringing specialist healthcare, logistics and transport capabilities to the fight, Operation Resilience was reinforced after Dassault Aviation made individual company-owned Falcon 8X and Falcon 900 business jets available to the French Defence Ministry.
Operated by Dassault Falcon Service, a Dassault Aviation maintenance and flight operations subsidiary based at Le Bourget, Paris, the Falcons flew their initial Resilience mission on Sunday, 5 April. This first effort returned a team of 26 doctors and other medical personnel to their home base in Paris from Brest, Brittany, where they had deployed for an emergency evacuation mission.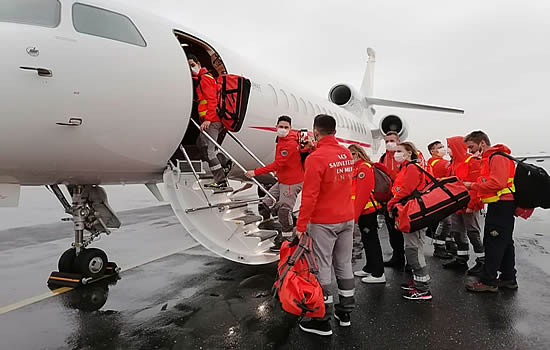 Separately, two additional company aircraft, a Falcon 7X and a Falcon 8X, have been assigned to assist Aviation Sans Frontières, providing on-demand transport for emergency medical personnel and equipment.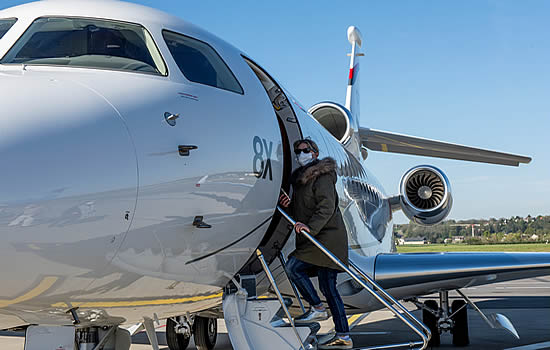 While Dassault Aviation was lending four aircraft to the campaign against coronavirus, its parent, the Dassault Group, donated €2 million to Parisian hospitals. These funds were in addition to masks and protective visors produced by Dassault Aviation. Some 130,000 masks were donated for the use of hospital staff, and the company also set its fleet of 3D-printing machines into action, producing protective visors for emergency healthcare workers. When the initiative was first announced on 17 April, the company had already produced 700 visors, with the intention of manufacturing 1,000 per week.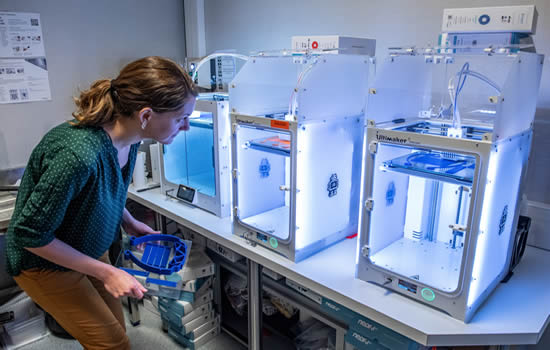 Using printers at nine sites across France, staffed by volunteer personnel, the effort involved each site arranging its own subcontractors and delivery of completed product to local collection points.
Less high-tech, but equally in keeping with Dassault's efforts to support the French government and healthcare organisations, the staff canteen at Dassault Aviation's Saint-Cloud headquarters near Paris has been supplying food to the Foch hospital in Suresnes.
Although reduced to 10% of their usual number, the canteen staff have been delivering around 60 high-quality, easily reheated meals every day. The food is provided for medical staff whose working patterns don't allow regular breaks, ensuring a hot meal is available to them as and when required.
In an exclusive comment to Resilient Aviation, Dassault Aviation expressed its pride in the efforts of its staff to help wherever they can during the pandemic. But it was also keen to highlight the 'numerous private Falcon operators who have made their business jets available for medical evacuation and other emergency relief tasks'. Among their number, one owner purchased respirators in Taiwan and flew them to the US in his Falcon 7X.

---
| | |
| --- | --- |
| | A life-long, profoundly passionate aviation enthusiast, Paul E. Eden began writing about aircraft in 1996 and became a freelance aerospace writer and editor in 2003. He says his addiction began with a Matchbox Spitfire model kit and the Ladybird Book of Aircraft, around 1975. Since then, he has written for the Official RAF Annual Review and Salute publications, and currently edits and writes Executive and VIP Aviation International magazine. A regular contributor to a number of specialist publications, including Aerospace, the journal of the Royal Aeronautical Society, and airline, cargo and flight test magazines, he also blogs for Runway Girl Network. |
His first book for Bloomsbury, The Official Illustrated History of RAF Search and Rescue, is scheduled for publication in June 2020.
Blog: https://pauleeden.wordpress.com
http://uk.linkedin.com/pub/paul-e-eden/15/9a5/671
Twitter: @TwoDrones
---