WINGX Global Market Tracker
Memorial Day travel demand boosts recovery in US, other regions lagging
Global business aviation activity is trailing by 51% comparing May and the first few days of June 2020 with the same period last year, according to WINGX`s weekly Global Market Tracker published today.
North America is the most robust region, with activity over the period recovering to 49% of normal levels, having been down by three-quarters in April. Starting May with a rolling 7-day average of 3,800 daily sectors, North America ended the month at around 6,200, an improvement of 63%. In the US, sectors flown in the last 7 days, which includes Memorial Day demand, are down only 3% compared to the same dates in 2019.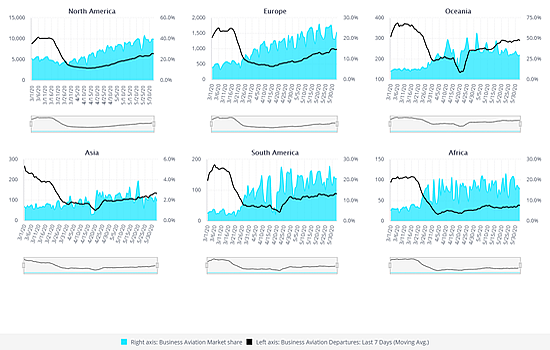 Global business aviation marketshare through June 2nd 2020
After North America, the bulk of business aviation activity has operated out of Europe, with trends still just over 60% below normal. Of the other regions, Oceania has recovered by most, with traffic only 25% below normal, and South America is now running 27% below par. In Asia flight activity since the start of May is down by just over 50% year on year, although it's more than doubled in the last week. At the start of the May, only half the normally active worldwide fleet was operational, and by the end of the month fleet employment was down only 20% on normal.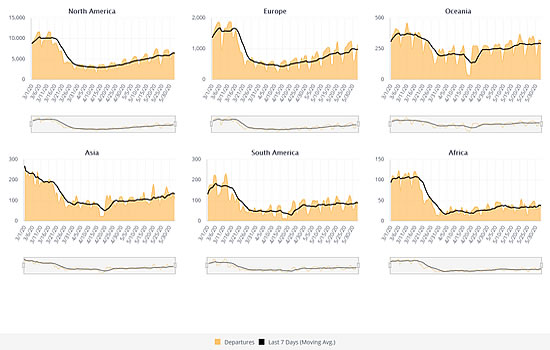 Global markets business aviation through June 2nd 2020
By country, business aviation demand appears to be most robust in Australia and Sweden, with jets and props operating 20% below comparative periods in 2019. Germany is the busiest country in Europe, with flights 44% below usual. Sectors flown within Germany are only 20% fewer than normal. Flight activity in Russia and France is respectively 53% and 63% down. The countries seeing the largest negative impacts are still the UK, Spain, Italy, flight activity reduced by 70% and more.
Airports
The busiest airports since May 1st have been in Florida, Texas and Arizona, with West Palm Beach at the top, flights trending down by 20%, then Dallas Love Field and then Scottsdale airport. Florida´s Naples airport, ranked 4th by business aviation departures, has actually seen some growth in May 2020 compared to May 2019. Flight activity from Teterboro is still languishing 80% below pre-crisis levels. In Europe, Le Bourget, Geneva and Zurich are busiest, then Biggin Hill. Elsewhere, Vnukovo has been the busiest business jet hub, and Brisbane busiest for turboprop traffic.
Aircraft
The trend in traffic by business jet segment continues to show more resilience in small cabin than in larger jets. For example, Bizliner movements are down by almost 80%, with ultra-long range and heavy jet flights still well under 60% of usual activity. Midsize segment, from Super Mid to Super Light, are flying around half normal levels. The best performing segments are Very Light and Entry Level jets, and Turboprops. The PC-12 and King Air 200 have operated 20% of all business aviation flights during May, with comparable year on year activity down some 35%. Cirrus SF50 jet activity is actually slightly up in this period.

Global market sectors through June 2nd 2020
Managing Difrector Richard Koe comments: "The key US market appears to be entering a faster recovery phase, with holiday travel in the last week seeing close to normal activity for the end of May. Overall, Aircraft Management companies have the strongest overall trend, although some Charter Operators have almost regained usual levels.
"Europe is still lagging, with business aviation traffic down by 60%, though still much better than scheduled airlines, sectors more than 80% below. Coming into the summer, we expect to see faster recovery, although countries with quarantines in place will obviously miss out."
---
WINGX is a data research and consulting company based in Hamburg, Germany. WINGX analysis provides actionable market intelligence for the business aviation industry. Services include: Market Intelligence Briefings, Customised Research, Strategic Consulting, Market Surveys. WINGX customers range from aircraft operators, OEMs, airlines, maintenance providers, airports, fixed base operators, fuel providers, regulators, legal advisors, leasing companies, banks, investors and private jet users.