Is Covid-19 really endangering US regional airlines?

Kathryn B. Creedy suggests the problem is far deeper.
Just recently, USA Today blamed the pandemic for the loss of three US regional airlines and the 30-year-old capacity purchase agreements (CPAs) between regionals and their mainline partners for the industry's perilous condition. Its conclusion was misleading, but aviation consultants agree - regionals are sadly, becoming at risk in the post-pandemic world.
There are many reasons for this, but connecting dots that don't add up is not productive. Rather, the credibility of the industry has been damaged because it has sought to capitalize on the crisis with faulty data.
The USA Today piece specifically pointed to the shutdown of Trans States and Compass Airlines. Yet, both airlines - owned by Trans States Holdings, were due to close in December. They disclosed this prior to the pandemic, after they lost their mainline contracts.
Similarly, the article highlighted Alaska's Ravn Air, Alaska's largest regional, which claimed it closed down before it could get the CARES Act relief provided by Congress. Yet Alaska has one of the most powerful senators in Congress (represented by Lisa Murkowski) so it's hard to believe there isn't more to the story. Its bankruptcy filing suggests its problems pre-dated the pandemic. Some of its routes have since been picked up by Alaska Airlines, helped considerably by donated fuel from BP Alaska and Air bp.
I've been covering the regional airline industry since the late 1980s, initially editing the weekly Commuter Regional Airline News. The US regional airline industry has been long due for a shake up, with too many regionals chasing too few CPA contracts allowing mainline carriers to whipsaw the minnows for the lowest cost. This has resulted in meagre pilot contracts and, coupled with uncertainty at the larger airlines, a pilot shortage.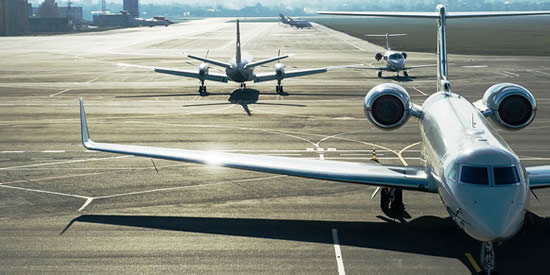 Regional and major airline contracts date back to the 1990s when regionals (many former Mom and Pop operators) stopped being entrepreneurial to offer seat production lines instead. That meant giving up control of fares and service, which this article suggests is to blame for their plight.
The fact is that regionals Faustian bargain traded that control for guaranteed income. Cowen Research Analyst Helane Becker noted: "No other industry gives up revenue production to a third party," she told the regional operators back in 2013, advising operators to take back control of inventory and pricing. "Regionals have to be allowed to make money and that is not what happens." So, it is disingenuous to suggest CPAs are the problem now.
"I don't think it can be said that CPA contracts are to blame for the plight of the regional sector," concurred Delta Airports Consultants, Inc Chief Industry Strategist William Swelbar, a well-respected regional expert.
Contracts work both ways in having performance guarantees that govern mainline and regional performance. Mainlines have enforced regional performance goals ruthlessly. But any recourse regionals may have in enforcing the contract is beside the point today.
"The only way out of a zero-demand game is to first get the mainline carrier flying, because, without that, there is no connectivity," Swelbar explained. "Then it just becomes air service for the sake of air service and that does not help communities."
Post Covid-19 it is expected that domestic leisure routes will come back first. Regional markets, however, are dominated by business travellers. This is high-yield service for mainlines, which suggests regionals will be deployed early - but not if business travellers aren't booking.
But loss of air services also pre-dates the pandemic. Back in the 1990s regional airlines spanned 800 communities in the US, but with the advent of rising costs, control by mainlines and, more recently, the pilot shortage, that is now down to about 400.
Airports are rightly concerned. The US Department of Transportation recently eased the requirements airlines need to follow to maintain pre-Covid service. This will likely lead to more abandoned routes, especially at local airports within striking distance to a hub, erasing a decade of progress at small airports.
Industry Shake Up
The question is, will the mainline carriers take the opportunity to eliminate unnecessary overheads contributing to the cost of having different regional subsidiaries. Or will industry consolidation come through acquisitions or failures?
"Network carriers cannot be everything to everyone - tomorrow."
"It's simple economics," said Swelbar. "As labour rates and other costs have increased at the regional carriers over recent years, network carriers have to ask if the investment in regional flying on the other side of the recovery makes financial sense. One thing is clear: network carriers cannot be everything to everyone - tomorrow. They spend nearly $20 billion on regional feed. At a time when every dollar is precious, the pool of money spent on regional carriers is simply too big to ignore."
And, if mainline carriers cease trying to be everything to everybody, that is good news for LCCs and ULCCs, who continue to outperform ratings from Wall Street.
"It's simple maths," Boyd Group International's Mike Boyd told Resilient Aviation. "For the next 120 days or so, the number of 50-seat and some 70-seat aircraft needed in the market will be much less than 'normal.' The question is whether non-captive operators can keep flying through the crisis. United's mainline flying between their retained hubs continues to do well - bolstered by local origin-and-destination demand. But, the need for feed from smaller points won't be back until the end of the year. Piedmont and PSA, no problem. They'll survive because they are owned by American Airlines. Same with Delta Air Lines' captives. I think the reality is that the product these 'regionals' are providing will be in a lot less demand – permanently."
Crankyflier Brett Snyder agrees. "The problem is that as airlines pull down mainline, they have to pull down regional flying too," he said. "American's regional activity is most closely tied to the amount of mainline flying it does. United has said it will also make modifications and remove seats. If Delta removes too many of its B717s/A220s, it too will have to pull down."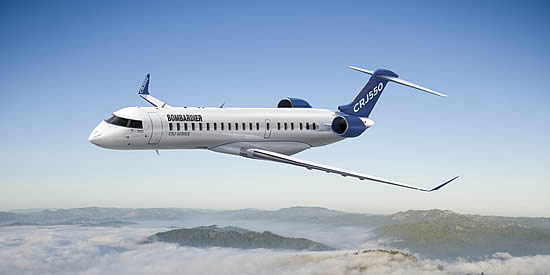 Bombardier CRJ550 (Library photo).
And, it is not inconceivable that United's CRJ550 fleet, 50-seat CRJ700s, which had been deployed at GoJet, might be reassigned to sister ExpressJet, enabling the major carrier to protect its investment in the carrier. That would likely spell the doom of Trans States' remaining airline.
"GoJet put its bet on the CRJ-550 being the future, but we live in a different world now and that aircraft may not make any sense," Snyder continued. "So, I think the future for regionals is murky here. Will SkyWest be around? Sure. It's a good operator that has a place. I'd assume the wholly/partially owned airlines are safe too. But being 'safe' just means still existing. It doesn't say anything about how much flying they'll do."
Yet every crisis, creates an opportunity. With the arrival of the first new regional aircraft in decades - the Cessna SkyCourier and the Tecnam P2012 turboprop, comes promise. Enterprising entrepreneurs have been eyeing markets abandoned by mainline carriers. And look at the success Wheels Up has carved out with its membership model.
In a few years time, these new players are well placed to resurrect the commuter air service we knew in the 1980s. Such intra-city, intra-regional service, which made many operators rich and enabled them to raise millions in public offerings, has been completely abandoned and the mainlines have no use for intra-regional service.
Regionals could benefit
AirInsight argues the move to smaller aircraft, given the stage lengths of RJs, could benefit the industry, noting American Airlines is bringing back its RJs to service this week. Meanwhile the loss of CRJ 200 service in the US has been ongoing since the 2008 Recession.
Supporting the theory is the fact that the aircraft SkyWest is returning to service exceeds airliners parked, which, he said, is indicative of what to expect in the next 60 days.
As mainline airlines ground their aircraft, the start of their recovery could involve RJs as part of their strategy to preserve cash, AirInsight suggests. However, that could also come up against Scope Clauses, which has never been more at risk now that we have a pilot surplus.
---
Kathryn Creedy

is an international award-winning business Journalist and aviation analyst. She is also an author, blogger and travel writer. Her byline has appeared in CNN Travel, The Points Guy, BBC Capital, Los Angeles Times, Forbes Online, The Washington Post, Flyer Talk, Business Traveler, Business Travel Executive, Afar, Flight Global, Centre for Aviation, Aviation Week & Space Technology, Low Fare & Regional Airlines, Inflight, Business Airports International, Airports, Centerlines, Regional Gateway, Runway Girl Network.
In 2018, she was cited for the Sapphire Pegasus Business Aviation Award for her work as a business aviation writer and was previously lauded for her work in creating the weekly newsletter Commuter/Regional Airline News by the Aviation/Space Writers Association.
---