United Kingdom:

Osprey Flight Solutions offers global risk analysis through its free :Open platform

By Paul Eden.
Osprey Flight Solutions added Osprey:Open to its portfolio at the British Business and General Aviation (BBGA) Association annual conference in March - which turned out to be the last sizeable industry event before the lockdown.
Delivering advanced aviation risk analysis through a fusion of real-time information, technology and industry leading expertise, Osprey had intended to offer :Open free of charge to the industry for the first six months and on a paid subscription basis thereafter.
In the event, the emerging coronavirus crisis caused an instant rethink, with the company considering :Open's contribution would be extremely important at a time when multiple stakeholders are looking for reliable data in a rapidly changing operational environment. It therefore opted to offer the platform via a free subscription indefinitely.
Paul Eden takes a tour . . .
Osprey:Open is an intuitive map-based platform offering user-selectable layers of regularly updated global aviation security data. The information is derived from multiple sources across the industry. The free subscription includes a daily Osprey Alert Summary email detailing key security changes.
Switching layers 'on and off' enables users to build a comprehensive appreciation of operational risk, but :Open also provides comprehensive company reports, including trend analysis on parameters including crime, corruption, social unrest and aviation security.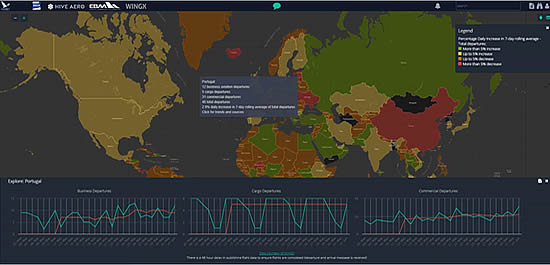 The layer approach lends itself to the addition of new data. Critically, details of NOTAMs and biosecurity measures relating to the COVID-19 pandemic, as well as confirmed case numbers and deaths by country were quickly added, while four colours highlight countries with their levels of increase or decrease in cases compared with a rolling seven-day average.
Considering that Osprey:Open remains completely free of charge, the addition of further data, beyond that provided on COVID-19, is perhaps surprising, but as recently as last week, WINGX flight information on worldwide flight departures was added. Reports by country are available, delivering business, cargo and commercial departures at a single click and the comprehensive country report at a second click. Information will be very useful to flight departments, operators and FBOs to see which airports are open - and to which countries.
Paying customers receive an even higher level of analysis in Osprey's bespoke risk analysis support including full interpretation of the types of data presented by :Open, along with details of more pervasive threats, including air defence systems, by flight level.
In a further development, Osprey announced, through its extended partnership with the European Business Aviation Association, that EBAA and BBGA members can now gain access to Osprey's premium standard and critical alerts, at no cost. This enables members to customise and receive proactive "Osprey Alerts" on emerging incidents, events and situations that have an impact on the aviation security environment.

---
| | |
| --- | --- |
| | A life-long, profoundly passionate aviation enthusiast, Paul E. Eden began writing about aircraft in 1996 and became a freelance aerospace writer and editor in 2003. He says his addiction began with a Matchbox Spitfire model kit and the Ladybird Book of Aircraft, around 1975. Since then, he has written for the Official RAF Annual Review and Salute publications, and currently edits and writes Executive and VIP Aviation International magazine. A regular contributor to a number of specialist publications, including Aerospace, the journal of the Royal Aeronautical Society, and airline, cargo and flight test magazines, he also blogs for Runway Girl Network. |
His first book for Bloomsbury, The Official Illustrated History of RAF Search and Rescue, is scheduled for publication in June 2020.
Blog: https://pauleeden.wordpress.com
http://uk.linkedin.com/pub/paul-e-eden/15/9a5/671
Twitter: @TwoDrones
---