Colorado:

Samantha Poirier
Interview by Kelly Murphy
While we look forward to the beginnings of recovery in our industry, the long-term future of what's likely to be a very different aviation ecosystem will be for a new generation of aviators and aviation professionals to decide. Introducing the second in a series, Resilient Aviation speaks with Samantha Poirier.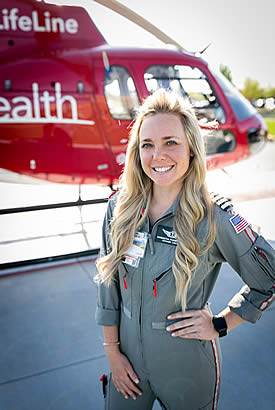 Samantha Poirier is the first female LifeLine pilot for one of Colorado's largest medical providers, UC Health's Medical Center of the Rockies flying an H125-AS350 helicopter.
She has always had a passion for aviation, but didn't get started until she was 24. No one in her family was involved in aviation, nor did she have any contacts or role models when she started.
"I began going to school to study air traffic control," Samantha says, "My professor encouraged us to take an intro flight to see what it was like to talk on the radio and flying. Once I took my first flight I was hooked! I sold my horse, who I loved dearly, to pay for flight school."
Samantha's course changed when her little sister was involved in a terrible all terrain vehicle accident in 2016, and an EMS helicopter and crew saved her life. "I knew instantly, that is what I had to do. In my mind I knew, I was a pilot, I had the ability to help someone, the way that helicopter and crew helped save my sister's life. I focused my career goals toward gaining the hours and experiences to become an EMS pilot." Today, Samantha works at the same base, with the same crew, and flies the same helicopter marque that saved her sister's life four years ago.
Funding her training was a big challenge to start. She did not want to get into thousands of dollars of debt, so she paid for most of her ratings out of pocket. "I was able to get a few scholarships, but flying helicopters is expensive! I worked two to three jobs, night jobs, moved wherever I needed to, and did whatever it took to fund my schooling," she said. To gain flight hours, she moved wherever she needed to from sleeping in a tent being a camp cook in Alaska, to Texas, to Minnesota, Colorado, South Dakota, Washington, Idaho, etc. "It was a challenge for me, but I put in the effort for seven years and just kept telling myself, it'll pay off one day. Also, as much as people don't want to admit it, still to this day, being a female is a challenge," Samantha admits. "On the outside, or in the eyes of social media, it's all about women this, girl power here, but it's not like that behind closed doors. There are many men still threatened, many people who still deem you not capable because you're a girl."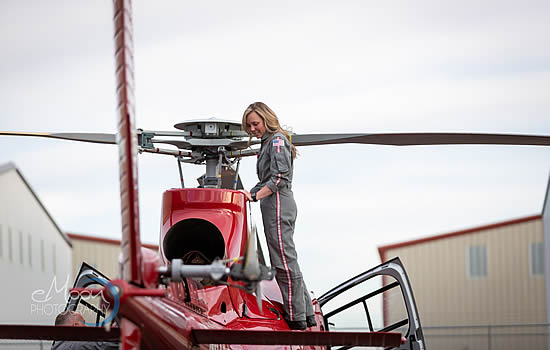 Her advice to others who dream of flying: "Just keep pushing through! Just keep doing something every day toward getting your ratings. If that's studying, flying, saving money. Do what it takes to get it done. You'll have good days, you'll have bad. Some days you'll step two steps backward, but just know you will then step four steps forward."
Samantha's journey is on line: https://youtu.be/KYC9WqEES2s | Insta: samanthapoirier_
---
Kelly Murphy

, Emerald Media, USA and Director of Communications Women in Aviation International.
---