Hawaii:

Young Aloha Aviators step up for COVID-19 effort

By Kelly Murphy.
The Aloha Aviators, an innovative group made up of amateur female pilots and Delta flight attendants - all members of Women in Aviation International - have been frantically sewing face masks non-stop since late March.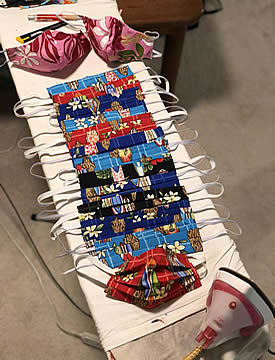 Collectively, they have donated 1,000 masks to hospitals, critically ill patients, flight attendants, and first responders to the remote Island of Oahu, Hawaii. In April, multiple flights were performed by a single-engine propeller aircraft carrying masks, as well as supplies for cats to the outer islands of Maui and Lanai.
Duties were delegated according to each flight attendant's skills. Working in five main groups they handled acquiring resources, washing and ironing, cutting, sewing, and distribution. The Honolulu-based Delta flight attendants, on a leave of absence from their airline, volunteered their time and energy to ensure the safety of their colleagues and the local community.
Over 100 handmade masks and supplies were flown to the Hilo Medical Center by 17-year-old pilot Abigail Dang and her mentor Nobi Buntin.
"I was extremely grateful for the opportunity to use my private pilot licence to meet the crucial need for masks and supplies at the Hilo Medical Center, said Abigail. "It gave purpose and a tangible way to serve during this time of quarantine. The day could not have been more perfect, thanks to clear blue skies, calm winds, friendly ATC staff, and beautiful hand-sewn masks to wear in the cockpit."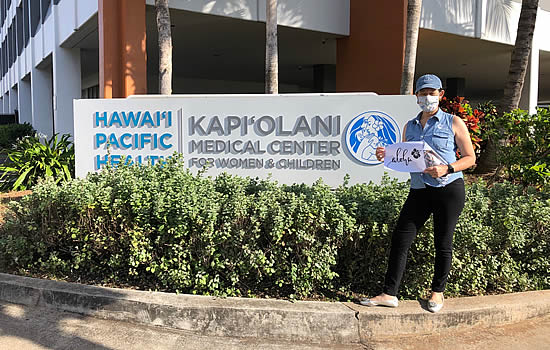 Nobi Buntin delivers masks sewn by Aloha Aviators to Kapiolani Women & Children Hospital.
One of the co-founders of the South Pacific Flying Club, Annie Domko, heard about the Aloha Aviators' efforts and generously made the club's Czech Sport SportCruiser available to make the five-hour mission to Hilo possible.
Nobi Buntin and Lei Riela-Enoka recently set off on another Aloha Aviator mission to the Hawaiian Island of Molokai to donate cat food, masks, and other items requested by the local community.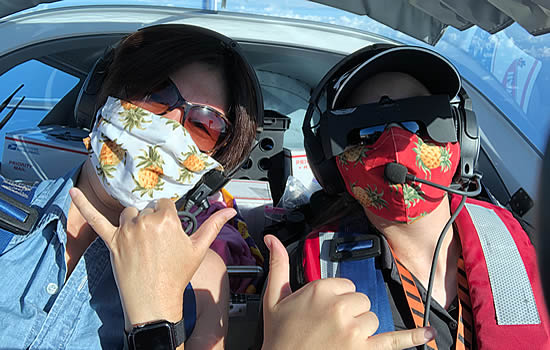 Nobi Buntin (left) and Abigail Dang enroute flying masks and supplies from Honolulu to Hilo in Czech Sport SportCruiser.
"It's an honour to be part of a community that is selfless and eager to help," said Nobi Buntin, who organized the effort. The Aloha Aviators welcome fabric, elastic, and funding donations. Donations are very welcome.
Contact: 808FlyGirls@gmail.com | @Fly-Girls.