EBAA / AvWeek webinar highlights 'optimism, collaboration and opportunity'

By Liz Danner, Emerald Media.
As European countries start emerging from lockdown, things are beginning to look a bit more optimistic on the business aviation front, the BCA/Aviation Week webinar 'Strategies for recovery', moderated by John Morris, editor in chief, highlighted last week.
Athar Husain Khan, Secretary General of EBAA, highlighted: "Since the end of April our members have seen a slight turnaround and an upswing in market activity." Robert Fisch, President Aviation Services of global private aviation operator agreed. Ian Moore, Chief Commercial Officer of VistaJet went further, saying: "Pretty much every week in May so far we have seen an increase in demand and that curve is moving up into June as well." Adam Twidell, CEO of PrivateFly concurred: "Demand is there and we are seeing a higher number of flight enquiries than this time last year."
VistaJet's Ian Moore, highlighted: "According to a recent McKinsey report only 10% of people who can afford to fly privately do so. There is a lot of money out there that is just not flying privately. Covid-19 will result in a new batch of clients coming into to bizav. This makes us confident for a six-month turnaround. (In an online vote 22% of listeners thought the recovery would come in six months, the highest percentage).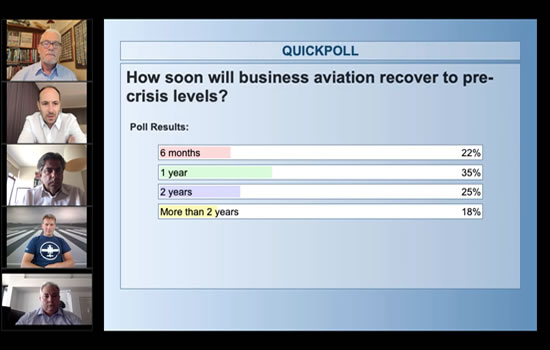 In the AvWeek/EBAA poll 22% believed bizav would be back on track in six months.
"Over the past year, 25% of our customers have been new to private aviation. Last month, that increased to 65% and now we are seeing 70%. This is tremendously exciting for the industry and it's being mirrored in the jet card world as well. We know the demand is absolutely there. This is an opportunity to showcase the industry to many new clients."
Athar highlighted how the industry has shown in volumes that it has lots of added value and resilience during the crisis through air medical flights, repatriations, by connecting communities and cargo operations.
'An enabler, not a perk' - Athar Husain Khan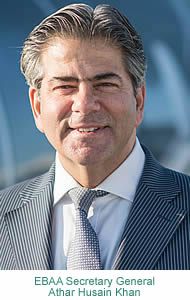 He added: "This is an industry that connects three times as many city pairs in Europe as commercial. More and more people are seeing, appreciating and accepting that." (See Resilient Issue #4 'First Mover Advantage'). This is the time to show that we are "an enabler, not a perk."
Ian Moore added: "Private aviation is always the first to go in a recession and the last one out. In this case, we could be the first one out owing to the unique nature of the virus and how people travel in future."
Robert Fisch concurred: "We have a unique opportunity. People don't want to go to a terminal or enter crowded aircraft. There will be new possibilities, such as those possible through investing in technology. We have Geneva Airport, but around Lake Geneva, for example, there are half a dozen 1,000 metre airports that business aviation can use.
The panel agreed they didn't know how long it will take for the airlines to get back to normal. (IATA has suggested 2025, worse case 2027). "We don't know exactly too, how commercial airline connectivity will look like in Europe in six months time.
Will there be an opportunity for business aviation to work more closely alongside the airlines? Ian Moore thinks so. "How long is it going to take the airlines to get past London to Zurich, for example? We will likely be working between commercial scheduled airlines and the business aviation network . . . we have all those unique selling points to be in a perfect place to supplement what was a previously commercial airline dominated space."
(This opportunity has been expanded on by the British Business Aviation Association and their Business Recovery Working Group, headed by CEO Marc Bailey).
Airports love us in the bad times
Adam Twidell noted a big barrier to growth for our sector has been slots and access, but this isn't an issue now. "When the airlines get back though we will lose the support from the airports - so it's more important than ever to keep prolific and have a voice." When they recover let's make sure we are not forgotten. Airports tend to love us in the bad times. We need to be part of the future planning process Let's seize the opportunity and be positive."