Welcome to Resilient Aviation:
by Alison Chambers
Bravo to aviation media for their resilience in these challenging, lockdown times. Corporate Jet Investor, Aviation Week Group, Aviation International News, Avionics International, Gearup TV - all stepped up quickly to keep our industry connected.
When Alasdair Whyte's first Town Hall webinar aired last week some 450 logged in. AIN's COVID-19 impact seminar yesterday attracted 750 from all continents, except Australasia (understandably).
We really don't know where we are going with this, highlighted David Dixon, President of JetCraft Asia, suggesting it's like three heavy body blows - SARS, the financial crisis, and currency crisis all wrapped into one. He is right. And one can only estimate the magnitude of this crisis.
The good news is that Asia and China are opening up again, and the world relies on China for medical aid. In Europe, Austria (out of heavy curfew) is relaxing its rules - so is Denmark. Observers generally feel though that we are on a U-shape of recovery - rather than a V, but certainly not an L-shape.
Industry associations have rallied too, including EBAA and ERA (European Regions Airline Association) with a dedicated COVID-19 resource on their websites to keep its members informed. In this first issue, we highlight a positive call from EBAA Secretary General Athan Hussein Khan that business aviation will bounce back - and more quickly than the airlines. When we get out of this, business aviation may well be a valuable resource to the airline industry, which is going through a lot more pain.
---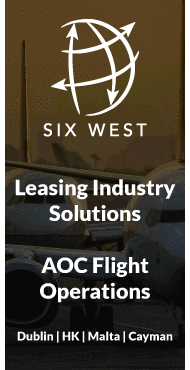 ---
United States:
Following a flurry of charter activity in March owing to the coronavirus, many business aviation companies are finding the current situation challenging and complicated as restrictions abound.
A recent podcast, hosted by Avionics International's Editor in Chief Woodrow Bellamy III, tackled how and when we as an industry will get back to normal after the pandemic.
Ian Moore, Chief Commercial Officer of global aviation provider, VistaJet, shared that his company had experienced an increase in demand for charter flights in March with travel restrictions coming thick and fast on commercial airlines. Interestingly, many clients hadn't flown privately before.
"Going forward as an industry it is important that we work together to get through the current crisis," said Moore. "We are in a high fixed cost industry and need to keep our industry alive. If every part of the supply chain pulls together, there will be a very strong return when things open up."
"People will remember this for a very long time and it will change the way that people travel," he continued. "Clients will favour an enclosed, sanitised cabin and will prefer to fly with operators they know and trust."
Optimistically, he anticipates as the last to suffer, private aviation will likely be the first one to recover. And when it comes back it will come back big.
---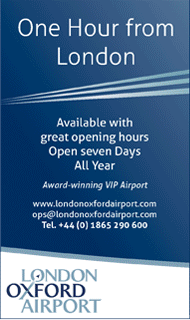 ---
Tucson, Arizona:
Universal Avionics is assisting the local Tucson community in protecting healthcare workers and first responders during the COVID-19 pandemic.
The company is currently providing the non-profit group, Hope Worldwide (Tucson Chapter), with assembly line space at their Tucson Headquarters to manufacture medical face masks and shields.
"This plan was developed in coordination with the University of Arizona, City of Tucson, Pima County, and the Arizona Technology Council, and is a great example of our community coming together," said Steve Pagnucco, Vice President of Operations at Universal Avionics.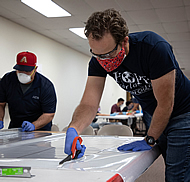 "Within one week of reaching out to our partners to see how we could help, we had an assembly line safely set up to produce much needed personal protective equipment," he added.
"On behalf of Universal Avionics, I would like to thank everyone involved for their incredible responsiveness, cooperation, and teamwork."
---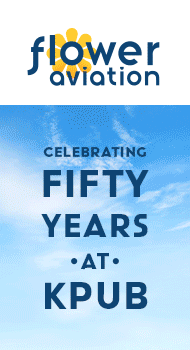 ---
Greenwood Village, Colorado:
ARGUS releases COVID-19 White Paper
'The Impact on the Business Aviation Industry'
ARGUS International has released its analysis of the disruption caused by COVID-19 on business aviation flight activity.
The publication titled "COVID-19 and the Impact on the Business Aviation Industry", is available for download and outlines the dramatic results the global pandemic is having on the business aviation community and the longer-term predictions.
"Without a doubt, the aggressive yet necessary steps taken to contain the COVID-19 pandemic have had a chilling effect on the aviation industry", said Joe Moeggenberg, CEO of ARGUS International.
"Using our realtime and historical TRAQPak flight tracking data, our analysts took an objective, data-driven look into how this catastrophic event has altered business aviation traffic and provided a glimpse of what to expect soon."
---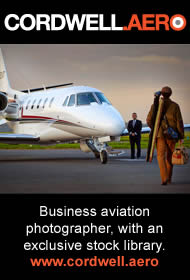 ---
Washington, DC:
By Kelly Murphy
On the frontline during any pandemic or health care emergency are the dedicated members of the Association of Air Medical Services (AAMS).
While its providers are trained to respond - in the air and on the ground - to all kinds of infectious diseases and emergencies, the size and scale of the COVID-19 pandemic has created a lack of equipment to keep its transport providers safe, says Cameron Curtis, President and CEO of Washington, DC-based AAMS.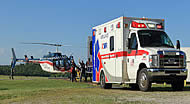 On behalf of the industry, AAMS has requested federal aid for a payroll tax holiday, priority access to protective equipment, exemption from National Guard or military duty, as well as specific leave and childcare support to address the challenges of EMS providers and services.
While providers are working to ensure transportation needs of patients, Cameron notes the emergency air medical industry is also seeing a loss in revenue.
---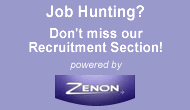 ---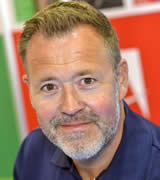 With the aviation industry's expo and conference calendar erased for the foreseeable future, Resilient Aviation spoke to Mark Brown, founder and Managing Director of international publishers and conference & exhibition organisers, Times Aerospace Ltd, about the challenges the pandemic has brought.
Over 110 aviation events have been cancelled or postponed because of Covid-19. How are you managing this part of your business?
It is sad that we have lost big trade/public aviation gatherings like Farnborough and RIAT and EBACE - that won't come back this year. Last week we announced the new dates for our Aviation MENA Cairo show (18th and 19th October). The problem rescheduling is that you are already limited on the venue and restricted on dates too. Every conference organiser is trying to do the same. No one wants to do an event in July or August, so there's a very limited window we have.
You were able to run Aviation Africa just before the lockdown - how was that?
We were so lucky. It ran in Addis Ababa on 4th and 5th March. One week later and we would have had to cancel. Some delegates were already being told not to take non-essential travel. Some were taking calls telling them to come home now as the conference wound down. We were a little lighter on numbers, but we gathered in 722 delegates from 82 countries and the feedback was great. It would have cost us dearly to cancel and too late to get any money back from contractors, stand builders, AV suppliers etc.
How are you managing on the publishing side?
---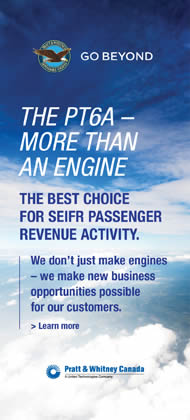 ---
Palmetto Bay, Florida:
X-1FBO launches free Training & Implementation Program: X-1 Cares
GMSTEK, developer and marketer of the industry-leading X-1FBO Management & Payment Processing System has launched 'X-1 Cares', designed to drive a new level of convenience and cost-effectiveness for FBOs and their customers.
The free Training & Implementation Program is designed to help FBOs get ready for the recovery while there is down time. The company's customer service team has devised an approach that will enable FBOs to have the industry leading X-1FBO Management & Payment Processing System up and running - at no implementation cost - when the crisis is over. Thereafter, reduced & deferred payment plans are available.
Jim Wiley, CEO, says: "I was a GM during the 2008 crisis, so I understand the challenges FBOs are facing today. Our programs are designed to address those challenges and enable our customers to emerge at the end ready to fly."

---

---
White Plains, NY:
Corporate Angel Network mourns passing of former Executive Director
Peter Fleiss, emeritus Executive Director of Corporate Angel Network and long-term contributor to the business aviation industry, passed away on April 4th.
Fleiss helmed CAN from 2005 to 2016. During his 11-year tenure, Fleiss grew CAN's member companies to include over 500 supporters, encompassing half of the Fortune 100 companies. His efforts resulted in tripling the number of cancer patients flown, leading to 50,000 patient flights just before his retirement in 2016.
"Peter was instrumental in developing CAN into the organization it is today," said CAN Exectuive Director, Gina Russo. "His continued commitment to the mission was well-known by patients and business aviation peers alike."
Before joining CAN, Fleiss worked at SafeFlight Instrument Corporation, working in close collaboration with Leonard Greene, SafeFlight founder and CAN co-founder.
"Peter's impact will live on through CAN's mission and we will continue to follow in his footsteps to reach new heights," added Russo.
Corporate Angel Network (CAN) helps cancer patients access the best treatment available by arranging free travel on corporate aircraft. CAN coordinates more than 250 patient flights each month and has completed 63,000 patient flights since its founding in 1981.