United Kingdom
Magpas Air Ambulance 'humbled' by PPE donations
Reporting by Paul Eden
Based at the edge of RAF Wyton, Cambridgeshire, Magpas Air Ambulance serves Eastern England and beyond, but responds to calls over 12 counties. It recently upgraded its helicopter from an MD 902 Explorer to a Leonardo AW169, enabling it to deliver critical care faster, wherever needed.
"For almost 50 years Magpas has been a pioneering leader in pre-hospital emergency medicine, so our new helicopter reflects how we are continually evolving to fit patient and clinical needs," said Head of Communications, Antonia Brickell.
"It can fly further, carrying enough fuel for the Magpas doctor and paramedic team to fly three hours-plus, without refuelling. It's faster too, enabling the charity to fly hospital level care to a greater number of patients in life threatening emergencies."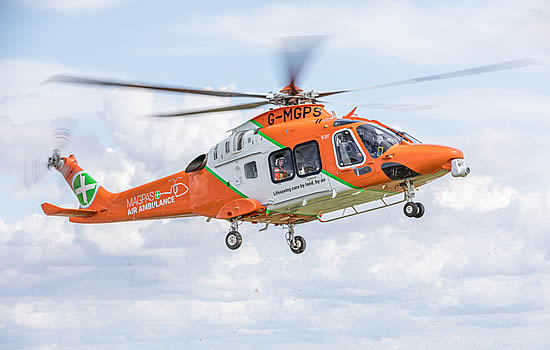 Magpas Air Ambulance's new AW169 | Photo: Magpas Air Ambulance.
Delivering pre-hospital emergency medicine in the field, on the factory floor or at the roadside, is fundamental to Magpas, its pioneering care also making it an important training organisation for other air ambulance providers and healthcare professionals.
Its world-leading capability is delivered by a charity that has, however, seen much of its ongoing fundraising efforts complicated by coronavirus. "Most of the usual fundraising activity we depend on has stopped," Brickell confirms, "but our medics are still working 24/7 and we need people's support now more than ever. We aren't alone in dealing with the financial impact of this pandemic we know, but we've always been fortunate to receive fantastic support from the public and businesses. This prompted us to set up a new virtual bucket for fund-raising and we are grateful for any donation."
"Magpas is now being activated to fewer trauma-related incidents and to more serious medical emergencies. When we lift, we are often given minimal information about the exact situation the patient is in. Therefore, in order to protect our patients and our medical teams, we need to ensure safety at all times, by equipping our team with the right PPE."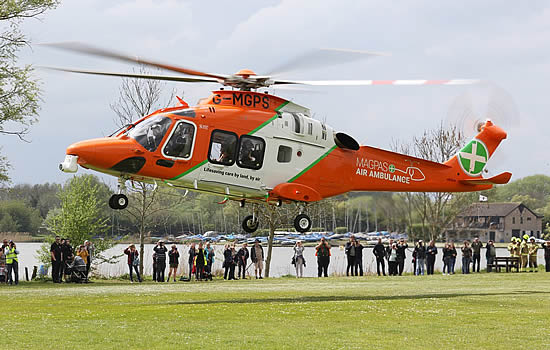 Magpas Air Ambulance AW169 lands in Priory Country Park, Bedford | Photo: Magpas Air Ambulance.
By the end of March with PPE (personal protective equipment) supplies running low, Brickell and her team took to social and traditional media channels in an urgent bid to keep the Magpas crews safe. Within ten days, more than 700 masks, suits and respirators, plus filters for reusable masks and 50 bottles of alcohol sanitiser, had been donated.
"We've been very humbled by the incredible generosity and resourcefulness of our supporters," Brickell says. "Our priority is to ensure the safety of our patients, crew, staff and volunteers while maintaining emergency medical services for the communities we serve. It's essential, for everyone's safety and well-being, that the advanced procedures we carry out are delivered correctly. Without the proper PPE, our medical teams would be at a much higher risk and as a result, this charity-funded service would not be able to continue."

https://justgiving.com/campaign/magpasvirtualbuckets | www.magpas.org.uk

---
Blog: https://pauleeden.wordpress.com
http://uk.linkedin.com/pub/paul-e-eden/15/9a5/671
Twitter: @TwoDrones

A life-long, profoundly passionate aviation enthusiast, Paul E. Eden began writing about aircraft in 1996 and became a freelance aerospace writer and editor in 2003. He says his addiction began with a Matchbox Spitfire model kit and the Ladybird Book of Aircraft, around 1975. Since then, he has written for the Official RAF Annual Review and Salute publications, and currently edits and writes Executive and VIP Aviation International magazine. A regular contributor to a number of specialist publications, including Aerospace, the journal of the Royal Aeronautical Society, and airline, cargo and flight test magazines, he also blogs for Runway Girl Network. His first book for Bloomsbury, The Official Illustrated History of RAF Search and Rescue, is scheduled for publication in June 2020.

---