This week we speak with Marc Bailey, CEO, British Business General Aviation Association
What are your current priorities?
"Our focus right now is to gather as much information as we can about the short-term issues facing our members. They can be diverse, but we have maybe three or four key points that are worthwhile pushing which we are taking to the DfT and/or CAA for response.
We have upped our use of technology and are maintaining dialogue with our external industry work through video conferencing. We are looking at how we can better communicate with our members, and when we have answers from the regulator we will likely do some webinars. The unknown really is when and if the DfT are able to respond to our concerns.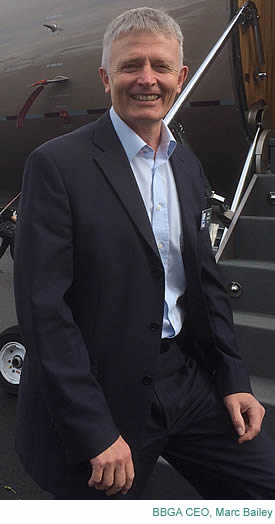 Are you concerned that announcements on funding support haven't been forthcoming?
"I'm sure we are sitting under the umbrella of 'generic business support' being offered to everybody. We have put our questions - along the lines of - some of our airports are not giving rent relief (to our FBO members); we aren't seeing business rate relief - and actually if you can put pressure on airports that are owned by local government then potentially you may be able to have an impact. Most shareholders will sit back and do nothing. But if you apply a bit of conscience, then maybe we can make a difference.
The other question we have asked for is a complete holiday on premium charging. Signature Aviation, for example, is reduced to a small, essential team for emergency flights only. There's no support given for rebates, which will make a difference when people are trying to balance cashflow.
What about furloughing?
"Furloughing is serious, especially for our operator members. If flight crew are furloughed, how can they keep they keep current on their licences? We did get a quick response on that from the DfT. If you are applying training when someone is being furloughed that is acceptable. So, you can keep pilots recent, as long as they are not generating money.
Another concern is the majority of our operators have a fleet of two/ three aircraft. If they can't get a lease holiday when their aircraft aren't flying, this is going to be a critical time for most of them. Our rallying cry is, if we have a loan process then make it as quick and as transparent as possible so we can help companies with cash flow issues.
And what about Brexit?
"Brexit is still there, and a challenge, and negotiations are still going on back-stage. We hope we won't find ourselves with a full hard back-stop and that all the aircraft we have here will be OK with the VAT. We don't want have to face the situation (when we rebound) that when our operators land in France they don't get hit for 20% VAT.
Collaborating with other Associations
"This is vitally important and I have regular calls with ACA, EBAA and others with whom we share concerns. Last week our members contributed to a Survey instigated by EBAA.
The industry is rallying and 'resilient' is the right word to describe us. For example, I took a call from a US member advising they have an aid flight coming in next Tuesday and were offering an empty leg back to New York. I've asked DFT and the government team if they need anything first - if not I would share this with members, should they need to position anyone.
Offers of help to the medical profession is to be applauded. If we can plug all this into the right channel that would be great. We have a wealth of contacts and are happy to facilitate.
And looking ahead?
"I imagine we aren't going to get any normality for a while. We are taking our medicine and will do as much as we can to get financial support. I believe we will come out of this stronger and with renewed vigour."