---
Although much of the business and general aviation community has either temporarily closed down to weather the COVID-19 storm or dramatically reduced its activity, some companies are left with little choice but to continue at least a portion of their operation under trying circumstances.
Among them is 2Excel Aviation, perhaps most readily associated with The Blades aerobatic team, whose pilots are currently 'working from home', while cultivating a strong social media presence using their combined flying experience to motivate and inspire their fan base.
Meanwhile, at 2Excel's Doncaster-Sheffield Robin Hood Airport facility, it's business as usual. Last November, the company's Special Missions division began flying a five-year UK Maritime & Coastguard Agency (MCA) contract to provide fixed-wing search and rescue (SAR) provision. Using two specially modified King Air B200s, with suitably equipped Navajo Panthers providing back-up or supplementary capacity, 2Excel continues to maintain an aircraft available at 45-minute readiness to launch in daylight (and one-hour readiness at night). It's a commitment that's continued without a break during the COVID-19 pandemic.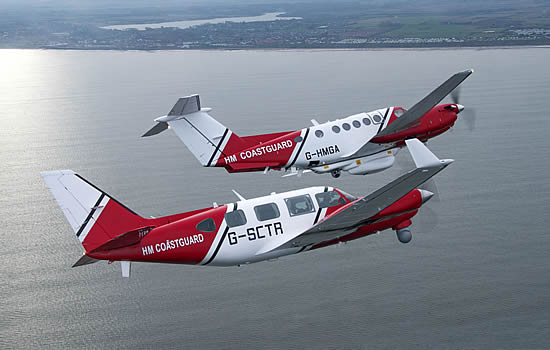 2Excel King Air Coastguard | All images courtesy 2Excell
2Excel acquired and modified the King Airs in just eight months from contract signature. The work included STC applications, including an increase in take-off weight, the mission suite making these B200s the heaviest in Europe when they're fully fuelled. There was always a desire to 'do it properly' and compromising on fuel load was never an option.
Integrated in-house, the King Air mission suite includes Leonardo Osprey 30 radar, WESCAM MX-15HDi electro-optical turret and OPTIMARE IR/UV line scanner, plus an operator's station in the cabin. With comprehensive communications provision, including satcom, the aircraft are equipped as powerful SAR assets, but also for a variety of other maritime operations and pollution detection.
The efficient Doncaster operations room team manages the entire 2Excel fleet, including the MCA-dedicated aircraft, the contract including a dedicated line direct to HM Coastguard. The ops room provides a 24/7/365 global capability, staffed on site at all times and just a few seconds' walk from the King Air crew ready room, ensuring optimal resource management.
The primary MCA alert aircraft sits at the front of 2Exel's modern hangar, just inside the doors, ready to launch. Parked behind it, on four-hour readiness, 2Excel's Oil Spill Response Boeing 727 is the result of another pioneering programme completed in-house.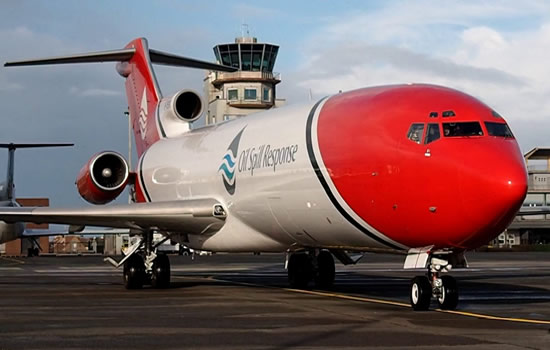 One of 2Excel's Oil Spill Response Boeing 727s
Equipped with internal tanks and pumping equipment for oil spill dispersant, typically delivered from the aircraft's rear-mounted spray bars at an altitude of just 150ft over the ocean, the two-aircraft fleet was converted from late-model -200 freighters. Again, the Oil Spill Response mission is continuing throughout the coronavirus crisis, since oceanic drilling is banned, anywhere in the world, should neither B727 be available.
Maintaining aircraft at guaranteed readiness is always a challenging task, but doing so under the uncertainty of whether crews, engineers, ops or support staff will be healthy tomorrow really notches up the difficulty. The 2Excel team takes pride in its ability to take on the most difficult tasks and do them exceptionally well.
Director of the Special Missions division, Arnie Palmer says: "2Excel takes its responsibility for search and rescue very seriously. We are busy training pilots and systems operators from other parts of the company in the SAR procedures we've developed over the past year, to make sure we can continue to deliver the service to the MCA if significant numbers of our SAR crew are affected by COVID-19.
"With ex-military and police aircrew across the company, this has been a relatively straightforward process - the guys need some groundschool on the new mission systems, and then a few sectors practising specific techniques, and they're good to go. Hopefully we won't have to use them, but if we do have people self-isolating, we have strength in depth, and can continue flying and delivering our capability to the MCA."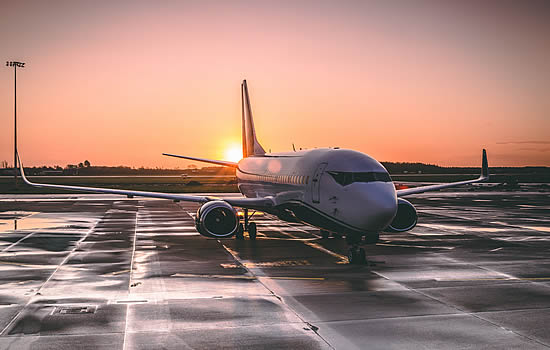 2Excel Aviation usually has two VIP Boeing 737s available for charter
Elsewhere, through its 2Excel Charter division, the company offers a pair of VIP Boeing 737s and three King Airs for charter, the division working closely with the operations room at Doncaster. In the midst of the COVID-19 pandemic, 2Excel is flying repatriation flights with one of the 737s.
Director of Charter, George Offer, says: "Working in partnership with the UK Government, we are tasking our 737 aircraft and experienced crews to bring home British travellers left stranded by global travel restrictions and airspace closures. The flights are booked and ticketed centrally, through a Government-procured travel company. We are operating all our flights on a strict cost recovery basis, paid by the taxpayer.
"These 2Excel Aviation flights are part of a huge effort being undertaken by the airline industry in the national interest. They are operated in accordance with Public Health England advice and we are proud to be able to play a part."
---
About the Author
A life-long, profoundly passionate aviation enthusiast, Paul E. Eden began writing about aircraft in 1996 and became a freelance aerospace writer and editor in 2003. He says his addiction began with a Matchbox Spitfire model kit and the Ladybird Book of Aircraft, around 1975. Since then, he has written for the Official RAF Annual Review and Salute publications, and currently edits and writes Executive and VIP Aviation International magazine. A regular contributor to a number of specialist publications, including Aerospace, the journal of the Royal Aeronautical Society, and airline, cargo and flight test magazines, he also blogs for Runway Girl Network. His first book for Bloomsbury, The Official Illustrated History of RAF Search and Rescue, is scheduled for publication in June 2020.
Blog: https://pauleeden.wordpress.com
http://uk.linkedin.com/pub/paul-e-eden/15/9a5/671
Twitter: @TwoDrones