Regional Aviation
Loganair shows its resilience
Reporting by Keith Mwanalushi
Regular air services between the Isle of Man and mainland UK are essential for maintaining connectivity, even more so following the collapse last month of Flybe, the UK's largest regional operator and heavy travel restrictions as a result of COVID-19.
Scottish airline Loganair continues to fly its niche route between the Isle of Man and London despite temporarily shutting down other services, but with London City Airport closed to commercial traffic, its IoM route, served by ATR 42 turboprops, has moved to Heathrow. Flights will continue until the end of April, confirmed Loganair CEO Jonathan Hinkles.
London City Airport is expected to be used solely by the military (for the newly built 4,000-bed Nightingale Hospital - at London's ExCel centre). It was opened last week virtually by HRH Prince Charles. A C-130J Hercules transport was seen practising take offs and landings at London City Airport two weeks ago.
"British Airways asked us to run the Isle of Man essential air service to Heathrow in the short term - to keep the route open," said Jonathan. Loganair has been operating Isle of Man-London service under contract to BA since autumn 2018.
The unfamiliar ATR 42 at LHR operates a single flight on most days, arriving at London Heathrow early in the afternoon, with an evening return to the Isle of Man.
Loganair's Twin Otter and Saab 340 fitted with isolation pods
Patient travel is hugely important to the Isle of Man and Loganair has extensive experience delivering services to the UK's National Health Service (NHS). One Loganair Twin Otter aircraft has been converted into an air ambulance, allowing it to carry isolation pods for the safe carriage of Covid-19 patients by air.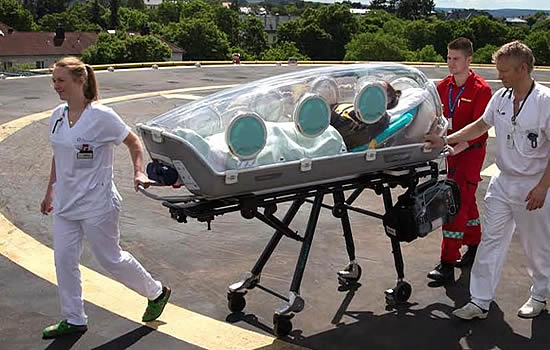 Loganair will be carrying isolation pods similar to this one | Photo courtesy EpiGuard.
The Scottish airline is working closely with the Scottish Ambulance Service (SAS) to provide air ambulance capability - as the service faces the unprecedented challenges borne by the pandemic. Loganair is also converting a larger Saab 340, capable of operating into all Scottish Highlands and Islands airports apart from Barra, to become an air ambulance. The Saab 340 has the capability to carry two isolation pods and accompanying medical teams simultaneously.

---
| | |
| --- | --- |
| Twitter: @KeithMwanalushi | An aviation enthusiast since childhood, Keith Mwanalushi started his aviation career as an account executive at a public relations firm. He was responsible for coordinating PR campaigns on behalf of British Airways in Zambia. Upon moving to the UK in 2004, Keith has fulfilled several roles as an aviation journalist and editor for several industry leading publications including African Aerospace, Arabian Aerospace, Low cost & Regional Airline Business and Airline Cargo Management. He is currently editor-in-chief at AviTrader MRO. Keith has accrued 20 years' experience in airline PR, as a qualified practitoner and aviation journalism collectively. He lives in London and his closest 'regional' airport is London Heathrow. Keith enjoys travelling for business and leisure and can't wait to get airborne again. |
---