United Kingdom and Switzerland
Airports rally in light of declining passenger traffic
Reporting by Chloe Wilson
In an industry that's been decimated by the COVID-19 pandemic, resilience is the name of the game as far as airports are concerned.While air transport hubs across the world have noted a significant decline in passenger numbers owing to closed borders and cancelled flights, many have managed to stay open, albeit with skeleton flight services and limited staff, to maintain vital services.
London Biggin Hill Airport, operational for essential flights, last week launched a recovery package for business jet operators whether they are based at the airport or visiting. Branded 'Return to the Skies' the package of services is designed to maintain aircraft worthiness and keep flight crew training current during the coronavirus crisis. Included in the price of a single landing fee, benefits of the package include six landings to be used on a single day, complimentary handling and free aircraft parking for the first two hours. And given even furloughed employees are still permitted to continue training, the package will provide access to crew support and the airport's briefing room, meaning operators can keep flight crews current and ready to start work immediately when conditions improve.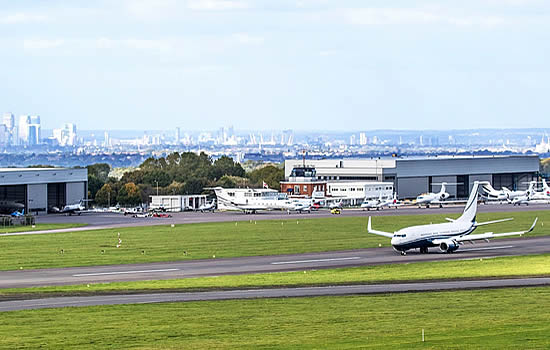 London Biggin Hill Airport
"By pulling together like this, we can get our industry back on its feet as quickly as possible and support the global economic recovery," commented Robert Walters, Commercial Director.
At Geneva Airport in Switzerland, Geneva Airpark has implemented special measures and procedures to manage business jet arrivals and departures and where necessary house aircraft in its hangar throughout the COVID-19 crisis. Similarly, in the US Teterboro Airport, NJ, has remained open for essential flights, which at the end of March included catering for two humanitarian flights operated by NetJets in partnership with Goldman Sachs and Mount Sinai Health System to transport critical medical supplies from China to New York City.
While it remains unclear as to when airports will reopen for full passenger services it by pulling together, diversifying and stepping up to the plate wherever possible so that the global airport community will emerge from this crisis hopefully stronger but certainly wiser than before.
---
Chloe (Wilson) Greenbank

wrote her first airline magazine nearly two decades ago and has been immersed in aviation magazines ever since. She is a highly experienced editor and reporter who has worked for over a decade in the publishing sector specialising in the global aerospace industry. As senior editor at one of the world's leading travel media companies, Ink, she was tasked with launching and overseeing various titles including two inflight magazines for Brussels Airlines. With a solid understanding of the inflight market, she has also contributed to magazines for airlines including easyJet, MyTravel, Thomas Cook, Virgin Express, Ryanair, British Mediterranean Airways, Air Burkina and Korongo Airlines.
In 2017 Chloe moved over to the B2B publishing industry when she joined HMG Aerospace for whom she edits Regional Gateway and contributes to a number of titles including LARA and Inflight. She also contributes to the Times Aerospace Group's African Aerospace. Having strengthened her knowledge and understanding behind the global aviation community Chloe has been a working journalist on the Emerald Media team since early 2018, primarily supporting its client Air BP.
---