Rotor
CHC adapts AW139 for COVID-19: all approvals completed in two weeks
Reporting by Jeremy Parkin
Offshore operator CHC has produced an adaption for their offshore AW139s in the Netherlands to provide a safety screen between pilots and passengers during the COVID-19 pandemic.
Quinten Hergaarden, Deputy Accountable Manager at CHC Helicopters Netherlands highlighted the project:
With the cabin already reduced from 12 to 8 passengers (for social distancing purposes), a further risk assessment was done to minimise the business continuity risk for the operator. This exercise identified that the pilots were the weakest link in the chain, and thus there was a pressing need to protect them. Various options were looked at, including the use of Night IFR screens, but the lead-time on these did not make this a practical solution.
Working with oil company customers, the CAA in the Netherlands and Leonardo Helicopters, CHC found that there are articles in the regulations, which allowed them to swiftly develop and test their own solution. The urgency of the need to respond has resulted in taking this from first idea to implementation in daily flight routine - in just two weeks.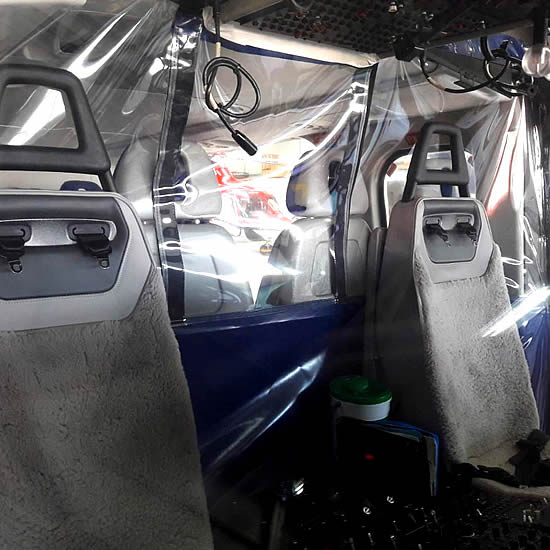 The screen is similar to a boat cover. The ideal solution was for the whole of the screen to be clear, but there was insufficient material available at short notice, so the bottom half is blue. The flammability of the material was proven from existing data for the material. Smoke tests were carried out and demonstrated - the screen is sealed around its perimeter by a combination of screws, Velcro and aviation-grade tape.
CHC expects to obtain UK CAA approval this week, and is close to completing the roll out to their North Sea fleet, with six AW139s operating from Netherlands and three from the UK.

---
Twitter: @parapexmedia

Jeremy Parkin launched the world's first helicopter industry news website in 1999, and has focused his aviation journalism on the rotary-wing world ever since. His website HeliHub.com brings together both news stories, safety data and Jeremy's insight on the industry, which is under-pinned by an extensive network of contacts.

HeliHub is run by a globally based team. Jeremy worked for one of the largest IT companies for a number of years, and managed teams spread around the globe from his home office in the UK. With so many people now working remotely in the current pandemic, Jeremy also brings expertise for those companies and employees suddenly thrust into the realms of working apart instead of face-to-face.
---