St Maarten: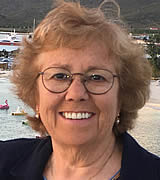 Regular attendee Kathryn B. Creedy highlights why this meet up is so unique.
CARIBAVIA, now in its sixth year, was once again an intimate gathering where, according to one participant, the 60-ish participants walk in as strangers but become a tight family, excitedly contributing their talents and ideas to improving Caribbean airlift. This year was no exception.
The conference has grown over the years, usually with many more attendees than those able to travel in this second pandemic year.
The entire conference is designed around achieving the vision of Cdr. Bud Slabbaert and airing some of the issues which hinder economic and aviation development.
"I see developing an aviation resource center with workshops and webinars for periodic events to connect islanders with experts from around the world and vice versa," Slabbaert told the assembled participants at the start of the meeting. "I'd like to see that develop into a research and development center for aviation and I'd like to see an institute of higher learning."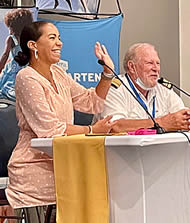 Minister of Tourism, Economic Affairs, Transport and Telecommunications, Ludmilla de Weever with CARIBAVIA Chairman and Coordinator, Cdr. Bud Slabbaert.
His vision also includes creating an air traffic control and aviation training center all geared toward creating on-island and in-region opportunities for young people.
Slabbaert's energy and talent for collecting the right individuals in the room defies the usual lecture model. Speakers do not make presentations so much as they prompt conversations that build on each other in a crescendo of ideas on what needs to be done and how to do it.
---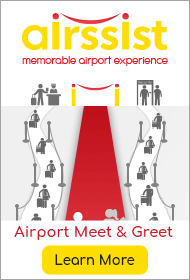 ---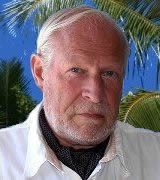 By Cdr. Bud Slabbaert, CARIBAVIA Chairman and Coordinator,.
Have you ever heard of the 'Caribbean Friendly Skies', an airlift concept where all the flight connections are fast, the schedules are efficient, the flight attendants are beautiful, the pilots are good looking, the assistance of the ground staff is above average, the fares are affordable, and the flying convenience is superlative?
This concept is a secret tip in air transportation. So secret that very few people envisioned that it could even exist in the Caribbean. It is a beyond-average program that creates a new image for air transportation in the region.
The 'Caribbean Friendly Skies' prioritizes achieving the benefits of having better service, efficiency, and affordability. If governments are interested in growth and development through increased travel and trade, they would be well advised to cooperate and support such a concept. If they don't, well . . . , then they are showing that they are not an appealing destination and should just step aside. Nothing should delay or hinder 'Caribbean Friendly Skies'.
The 'Caribbean Friendly Skies' concept puts the perspectives and interests of the end-users first. For instance, the tourists who are fueling the economy revenues for 50-85%. Any authority that is a hurdle in economic development may not be serving its community in an intelligent manner.
---
---
St Maarten:
Luxury Training or a Lifesafer?
By Kelly Murphy.
The critical importance of cockpit resource management (CRM) was underlined by Captain Kristina Tervo during her session covering the background, concept and objectives of this essential tool for crews in commercial and business aviation operations.
Defining CRM as an effective use of all available resources for flight crew personnel, Kristina, who is pilot, trainer and director of Wolston Sky, stressed its necessity to assure a safe and efficient operation, reducing error, avoids stress and increases efficiency.
Drawing on her 20-plus years of flying experience at Emirates and a long list of business aviation operations including Falcon 20/50 and HS-125 aircraft, Kristina is a long-time trainer of CRM for crews around the world. Listing nearly 20 domains for CRM training, she explained how it affects areas such as threat and error management, decision making, communication, standard operating procedures, situational awareness as well as fatigue and stress.
Tervo cited a number of case studies that through analysis highlighted the need for better CRM in the flight deck and if used properly could have avoided a crash or incident. She summarized her presentation with the suggestion that the last line of defence can be the proper use of CRM with awareness, airmanship, and suspicion creating an environment of resilience in the cockpit.
---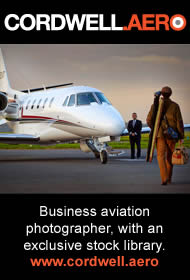 ---
St. Maarten:
St Maarten Airport courts new airlines at Routes Americas
By Alison Chambers.
"We are looking forward to attending the route development forum Routes Americas this week 23-25 June, in Orlando, Florida," said Princess Juliana Airport's COO Michel Hyman.
Marketing and sales representatives are meeting with existing carriers and have also extended requests to carriers in Europe, South America and Canada. "We want airlines to know that we are very much open for business."
Highlighting there is a growing need for charter, bolstered by an uptick in cruise traffic and a rise in 'home porting' new start airline Miami based GlobalX has recently obtained its Part 121 operator certificate to start flights, not just from Florida, but from other US destinations to St Maarten. The company just acquired its first Airbus A320 and is scheduled to receive five of the type by year end.
Home porting is a growing trend where airlines make direct contracts with the cruise lines. Through using charter services they can bring in guests and employees earlier, creating economic benefits to each of the ports and countries, Bryan Winters, MD of Aero Attorney Group highlighted at CARIBAVIA.
St Maarten would love a direct service from the UK. "Every year we meet with British Airways and Virgin (Atlantic). For some reason they are more set on the former UK colonies', but we have a good relationship with them and will try once again to entice direct flights," Hyman added.
---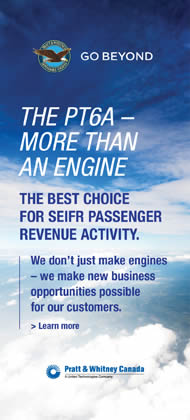 ---
Melbourne, Florida:
Ahead of the in-person AEA International Convention & Trade Show, Dallas 22- 25 June, Satcom Direct - booth 617 - confirms it is building on the success of initial aerial testing of its Plane Simple antenna series with the installation of the advanced technology tail-mount antenna on a second aircraft type, the SD Dassault Falcon 2000LX.
The antenna is already equipped on the SD Gulfstream G350 and has performed beyond expectation demonstrating the system's proficiency to efficiently enable true broadband experience during some 100-plus flights.
The addition of the Dassault platform to the validation process will double testing capacity to give direct comparative feedback about the system's full capabilities.
"Adding a second platform will serve to further verify the benefits of integrating the new advanced technology antenna with the already proven SD ecosystem of hardware, software and terrestrial infrastructure. Our mission is to analyse the performance and deliver a powerful, reliable, validated, connectivity solution to our early adopter customers," says Chris Moore SD President of business aviation.
---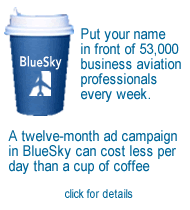 ---
Danbury, Connecticut:
Global Jet Capital, a global leader in financial solutions for business aircraft, has announced its first-ever Business Aviation Market Forecast.
This expansive forecast contains projections through 2025 for the business aviation market, including new deliveries and pre-owned transactions. The report contains a high level of detail based on outputs generated by Global Jet Capital's proprietary transaction forecast model.
"Business aviation is a unique market with limited macro data sets that can be taken at face value, but there are always far richer stories that lie beneath - aircraft by aircraft, jurisdiction by jurisdiction, client by client.
We've dedicated ourselves to understanding those richer storylines and fundamentals through this unique transaction model and other data analytics," said Andrew Farrant, Chief Marketing Officer.
---

---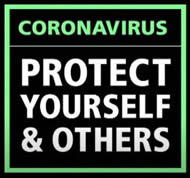 ---

Bermuda Civil Aviation Authority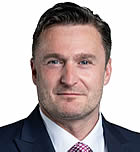 Liam Byrne
The Bermuda Civil Aviation Authority (BCAA), home to the world's largest offshore aircraft registry, is pleased to announce the appointment of Liam Byrne as the Director of Business Development.
Liam joins BCAA from the UK CAA, where he led business development activities in all key markets as Senior Manager International Development within CAA International. Previously, he has held senior positions in the airline and aviation consultancy industries across a career of over 25 years.
As Director of Business Development, Liam will be responsible for driving the strategic direction and business development activities of the Bermuda Aircraft Registry while managing a team, which includes another recent hire to BCAA, Kyle James as Business Development Manager. Together they will guide the Bermuda Aircraft Registry's customer experience from introduction through to completion of aircraft registration.
Liam's passion for aviation and proven experience will help to strengthen existing relationships globally, as well as develop new ones in key markets where there is opportunity for growth.