St. Maarten:

Understanding the niche market of Heli-Yachting

By Kelly Murphy.
Describing herself as 'a third-culture kid' growing up in France with a German mother and English father (Nigel Watson, founder of Luviair, Isle of Man based aircraft management and consultancy) Emma Watson took CARIBAVIA attendees through the nuances of heli-yachting to understand the inter-relations between the Caribbean, Cote d'Azur, helicopters and yachts.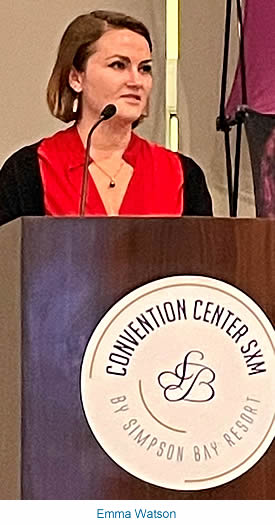 As Managing Director of HeliRiviera Caribbean, Emma explained the company's focus is to support individuals and corporations who want to co-ordinate their helicopter, yacht and villa operations.
Providing logistics and services for the Mediterranean and the Caribbean, HeliRiviera is the home away from home for yacht-embarked helicopters and advance logistics centres for yacht crews. The company provides training courses for helicopters and yachts with specialized MCA accredited firefighting and helipad procedure courses to maximize safety standards and include crew certification. Vessel support is also provided either year-round or for short-term assistance.
Recognizing heli-yachting is a very specialist market, Watson explained clients' general seasonal pattern is a move of operations from the Mediterranean to the Caribbean.
"The appeal of helicopters is point-to-point travel that is quickest and easiest with an unparalled level of privacy, efficiency and comfort. Your airport is basically your boat," she said.
Behind the scenes, there are operational difficulties and challenges that are continually dealt with between the yacht crew, port authority and clients. Crew need to keep current on boat landings and safe operations, and maintenance needs to be carefully scheduled with Transatlantic crossings every six months.
The future of heli-yachting will focus on sustainability, Emma highlighted, with a shift toward eco-conscious clients who are high net worth individuals in the tech industry. There will be refinement in design to create more aerodynamic shapes that will optimise energy consumption with sustainable fuel research already at the forefront.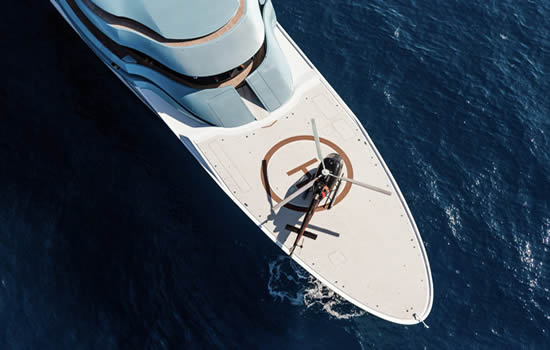 An Airbus Corporate Helicopters' ACH125
In terms of cruising areas, there is a resurgence in remote operations and with that and linked to the COVID-19 pandemic, an increase in interest in onboard medical support and even dedicated medical support vessels. The helicopter continues to play a key role in these areas of support.