St. Maarten:

Business Aviation growing in importance in St Maarten

By Alison Chambers.
St. Maarten is growing in importance as a hub for business aviation as elite travellers connect to regional carriers such as St. Barth Commuter and Winair to get to the region's nearby islands.
Private aviation specialist Adam Twidell, participating from the UK, noted that private aircraft benefit St. Maarten caterers, fuelers and hotels. Similarly, the same facilities benefit from yacht provisioning, with 65% of private aviation traffic connecting to yachts which then head to St. Barts.
In fact, the region's focus on connecting North American and European tourists really puts locals at a competitive disadvantage as they try to conduct inter-island business.
Traveling from his base in St. Croix, Bohlke International Airways CEO William Bohlke Jr. described how private aviation connects the dots around the Caribbean making such services extremely important in the region given the limited regional commercial service. But for small and medium businesses, that, too, is prohibitive.
Even so, improving airlift helps businesses already in the Caribbean. Bohlke and other speakers noted the similarities in clientele travelling to the Riviera and the Caribbean noting economies rely not only on business aviation but yachts and helicopters. (See: Understanding the niche market of Heli-Yachting).
Gary Forster moved to St Maarten just weeks ago to run ExecuJet's FBO business in the Caribbean. The creation of ExecuJet Caribbean by an airport and FBO professional so experienced and well connected internationally is a strategic move by the Luxaviation-owned business. "We see a lot of opportunities in the Caribbean and this is the Group's first step into North America," highlighted Forster. "It is interesting to observe how regional airlines and business aviation work closely, as we all strive for that connectivity."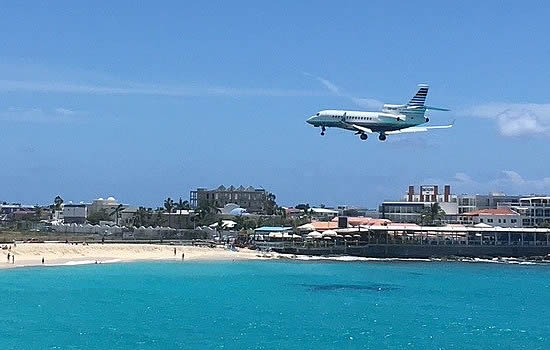 A managed ExecuJet aircraft lands at St. Maarten.
Drawing on his experience in Europe, the Middle East and Asia, where he set up FBOs in Riyadh and Bali, Forster highlighted that clients tend to lower their expectations "because it's the Caribbean," but cleaniness is the number one right priority now. He is really keen to upgrade the facilities they currently have and he is accordingly in dialogue with airport officials to do that. He will also be looking to further business development for business aviation throughout the Caribbean region.
"Expectations are unique to each customer in business aviation," he told an airport focused workshop run during CARIBAVIA by Dr Patricia Ryan. "The Gulfstream owner is going to be much more demanding than a Cessna 182 arrival. It's our job to always think ahead of what they want - and need. We need to be ready and dispatch an aircraft as quickly as six minutes and there is pressure – customer service is everything," he said.
A newcomer to CARIBAVIA, Gary Forster commented that the conference provided a much needed platform to address the aviation complexities and challenges of the region. "It was a fantastic opportunity to meet the Minister of Transport and share my passion to grow our business in St Maarten, as well as promoting the Island in general as a destination of choice. It has suffered with natural disasters and now the Global Pandemic but has bounced back strongly and I am very optimistic for the upcoming high season."