United Kingdom
Weston Aviation success at G7 2021 in Cornwall
Weston Aviation, the UK & Ireland FBO and support services company has successfully delivered the G7 Summit in Cornwall.
The Summit held at the Carbis Bay resort in Cornwall, operated all delegate flights into Cornwall Airport Newquay, which saw not only the main delegate aircraft but also in excess of twenty support freighters and reserve aircraft.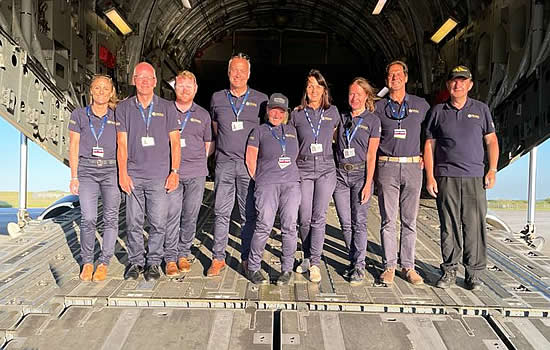 The Weston Aviation team on the ramp of a C-17 at Cornwall Airport Newquay.
During the week, Weston Aviation handled and supported the main mission delegations including Air Force One and Two, processed in excess of 400 passengers and support teams through the FBO with crew accommodation and transportation, significantly contributing to the overall success of the event. Weston Aviation brought in support teams, GSE and vehicles from other UK FBO locations to ensure that the extremely intensive and rapid flight program was met.
Nick Weston, CEO of Weston Aviation said "The past week of the G7 Summit, has been the result of many months of in-depth planning, meetings, communications and ground works to ensure that a successful event was delivered by all involved. For myself and all my team, this would be a once in a lifetime event in Cornwall and through total dedication, very long hours and professionalism, we made it happen. It was a pleasure to work alongside the entire US Embassy support teams, the various government departments, national carriers, police and airport ground staff."