FlightSafety Advances
---
As FlightSafety International celebrates its 70th year, CEO Brad Thress makes it clear that this is a company moving forward, not resting on its impressive legacy. As the speaker at the Wichita Aero Club June meeting, Thress touched on a wide range of topics - from new efficiencies within its vertically integrated business units to the "commonsense stuff we've done" to get costs down and better serve customers. FlightSafety's down-to-earth efforts are designed to realize an ambitious vision.
As many in the room train or have trained at FlightSafety, there was tremendous interest in the company's focus on delivering an enhanced training experience. Thress stressed the difference between prepared versus compliant. New initiatives serve to encourage current and prospective customers to go beyond simply ticking off regulatory requirements and instead to do what's needed to be prepared. These include a customized curriculum with spotlights that focus on stopping "what hurts people."
Training for Any and Everything
He offered examples. Evidence-based training based on flight operational quality assurance (FOQA) data leads to pilots who are better prepared for their specific operations and approach types. Compelling scenarios encourage them to check - then explore and prepare. Adding more in-aircraft training back into the mix advances upset prevention and recovery training (UPRT), which is crucial given that inflight loss of control currently has been the single greatest cause of fatal aviation accidents for the last decade.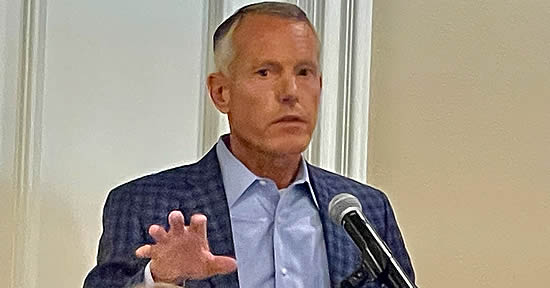 FlightSafety International CEO Brad Thress.
More in-flight training for first type ratings offers the advantage of actual flying buoyed by the benefits only a simulator can deliver - you can do a freeze frame, have multiple do-overs, practice approach after approach, and focus on specific elements. That way you are not overwhelmed by real-time, real-life conditions that can be too much, too fast.
While FlightSafety has built a reputation on strong, trusted relationships and is known for team members who are unfailingly helpful, customer focused and solutions oriented, its systems needed improvement. Thress said that is changing. Customer convenience and facilitated interactions are being considered on everything from platforms that enable enterprise-wide scheduling to a FlightSafety app that provides access to customers' reservations, schedules, records and more. Other efforts include simplified contracts and invoicing, enhanced digital training options and facility upgrades.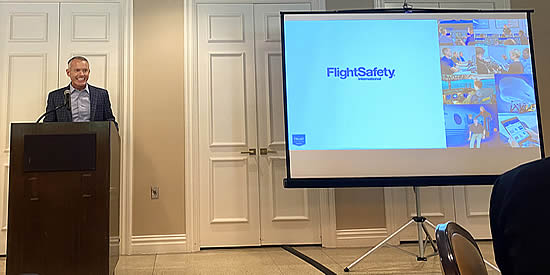 COVID 19 accelerated distance learning. FlightSafety already had industry-leading programs in place to train pilots remotely, so it was able to respond quickly through its eLearning modules, opening up its vast library to customers. Thress spoke about the company's efforts to both reward and protect FlightSafety's intellectual property, and its heightened push to innovate its product offerings.
• Mixed reality for cost-effective but immersive training
• MissionFit for a reconfigurable, inexpensive training device
• The Evolution 360 direct-view dome display to simulate fast-jet missions (including dogfights)
• Virtual reality aircraft walkaround check training
• Virtual reality maintenance training
The Autonomous Evolution
Automation continues to transform the industry. Thress reminded the crowd that all commercial flights used to have three pilots on the flight deck, but automation has led to more two-pilot crews. Thress doesn't see that being reduced to one or none anytime soon. "Forty-year-old airplanes will still be manned," he said, as it would be cost-prohibitive to try and build in aftermarket automated systems.
Thress acknowledged that pilots - especially younger ones - increasingly depend on automation and lack basic skills to hand-fly them with precision. He shared one incident when, last minute, the control tower switched his aircraft to the runway adjacent to the one they were approaching. His copilot keyed in the coordinates - even though he could simply look down and see the runway. The audience laughed with a number nodding their heads at having experienced something similar.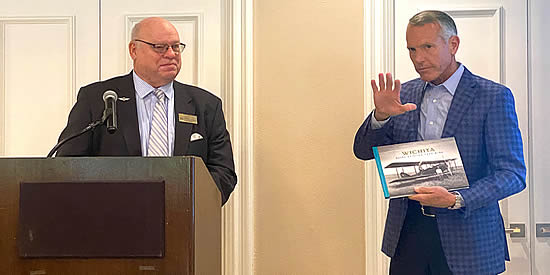 Wichita Aero Club President Dave Franson (left) presents Brad Thress with a copy of Greteman Group's book - Wichita: Where Aviation Took Wing.
He also addressed the electric vertical takeoff and landing (eVOTL) and unmanned aircraft systems (UAS) that are coming on strong. Manned and unmanned aircraft will find a way to coexist, Thress said, but regulatory challenges will take years to work through and public perceptions need to be brought along that solutions are safe and acceptable. FlightSafety has reconsidered its UAS training, he said, realizing that unmanned drones weighing less than 50 pounds require broad, basic education more than actual flight training.
A Wichita Welcome
Thress, only the fourth CEO in FlightSafety's seven-decade history, assumed this role in February 2020. Previously he served as senior vice president for global parts, program and flight operations at Textron Aviation. He spent 27 years with Textron, holding several leadership roles. Thress, himself a longtime FlightSafety client, is familiar with the left seat - serving as a fighter pilot in the US Air Force before starting his professional career as a demonstration pilot for Cessna. His first public presentation in Wichita since becoming FlightSafety's CEO was enthusiastically received. Small wonder. He's lived much of his life in the Air Capital. We still claim him as one of our own.