UND Phoenix announces US military veterans' PPL scholarships
The UND Aerospace Foundation has announced a $300,000 award by The Ray Foundation, Inc. to be used for scholarships to help 25 US Military Veterans earn their Private Pilot License.
New early careers scheme launches to bring new talent into aviation
A new recruitment platform launched this week to support aviation employers as they continue to build a workforce that's fit for the future.
Bell signs contract to build flight training devices for the Czech Republic
Bell Textron Inc., has signed a contract with the US Government to build the AH-1Z Flight Training Device for the Czech Republic's new helicopter fleet. The delivery of training devices will play a key role integrating new H-1 helicopters into the Czech Air Force.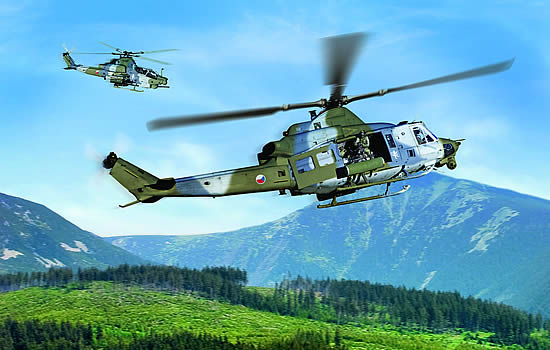 Signature cultivates diverse future of aviation industry with launch of RedTail Flight Academy relationship
Signature Flight Support, the world's largest network of FBOs, including at Stewart International Airport (SWF) in New Windsor, New York, is helping to foster pilot training opportunities for aspiring underserved minority aviators through its new relationship with the RedTail Flight Academy (RFA), recently launched by the local Tuskegee Airmen chapter.
B737 MAX FFS ready for training at BAA Training Spain
The brand-new B737 MAX full flight simulator (FFS) is now ready for training at BAA Training Spain, near Barcelona-El Prat Airport.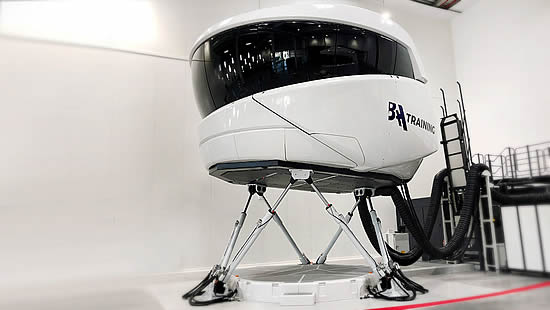 BAA Training and ENAC develop mutual training programme
BAA Training, one of the top three leading aviation training academies in Europe, and Ecole Nationale de l'Aviation Civile (ENAC), the only aviation-oriented university in France, have signed an agreement and developed a BAA Training - ENAC mutual training program, covering Ab Initio and advanced training.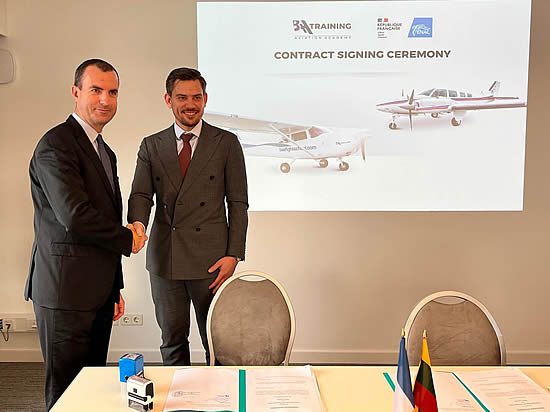 NBAA launches new Safety Management Certificate Program
The National Business Aviation Association has introduced a new Safety Manager Certificate Program to provide introductory to mid-level education on safety in business aircraft operations, reflecting the association's commitment to safety as one of the industry's core values.
FlightSafety selected by Breeze for A220 and E190 training
FlightSafety International has been selected by Breeze Airways to provide Airbus A220 and Embraer E190 Full Flight Simulators (FFS) and Flight Training Devices (FTD).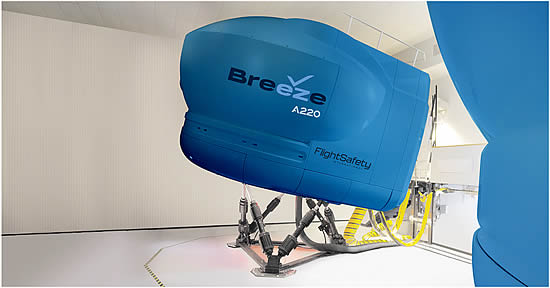 London Biggin Hill Airport launches Futures Week to inspire the next generation
London Biggin Hill Airport is announcing the launch of Futures Week, an exciting new programme designed to inspire and encourage young people interested in pursuing a career in the aviation industry.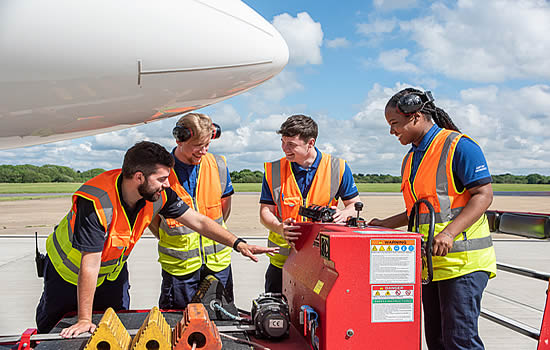 Embraer and CAE launch new Phenom 300 full-flight simulator for US market
Embraer and CAE announced at the 2021 National Business Aviation Association annual convention and exhibition, that Embraer-CAE Training Services (ECTS) will offer a new full-flight simulator (FFS) for the Phenom 300E during the second half of 2022 to meet the growing demand for business jet training in the US.
FlightSafety and GE Digital partner to leverage C-FOQA data for training insights
FlightSafety International and GE Digital, an industrial software leader with comprehensive safety analytics for the corporate jet space, have announced the launch of their new partnership to use actual flight data to reduce flight risks through superior training delivery.
Krimson Aviation announces Purdue University diversity scholarship
Dawit Lemma, founder and CEO of Krimson Aviation, the Addis Ababa-based flight support, charter, leasing, MRO solutions and aviation consultancy Krimson Aviation, has launched a $100,000 scholarship to fund a new endowment at the prestigious aviation institution, Purdue University.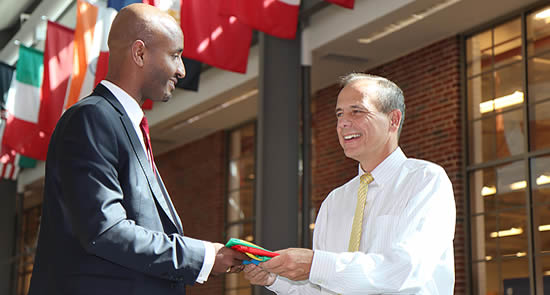 Online aviation training start-up Aeroclass attracts $1.2m in seed funding
Aviation e-learning platform Aeroclass has attracted $1.2m in seed funding from AeroCity Tech Ventures, a venture capital investing in aviation technologies.
Corporate Flight Training launches ONJET training courses
Corporate Flight Training have launched their latest program of business aviation training courses using a dedicated business aviation mockup based in the UK.
Babcock welcomes more than 350 apprentices and graduates in the UK
Babcock the aerospace, defence and security company has welcomed an exciting new cohort of colleagues as 230 apprentices and 123 graduates join teams across the UK.
BAA Training introduces Pilot Peer Support Program to flight students and instructors
Months after launching a Pilot Peer Support Program (PPSP) for its partner airlines - Avion Express and KlasJet - and being the first ATO to do so, BAA Training now implements the same program internally.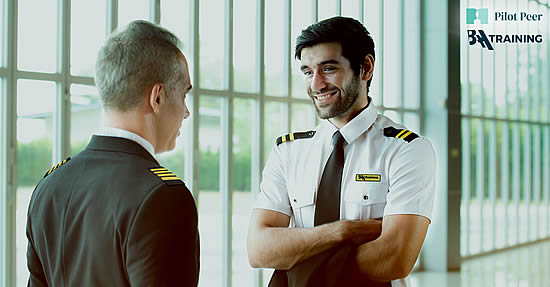 Priester Aviation partners with Embry-Riddle to attract diverse talent to the aviation industry
It's said that a rising tide raises all boats. Priester Aviation Chairman and CEO Andy Priester and his team believe that efforts to elevate the aviation industry overall also benefit their 76-year-strong, global aircraft management and charter company.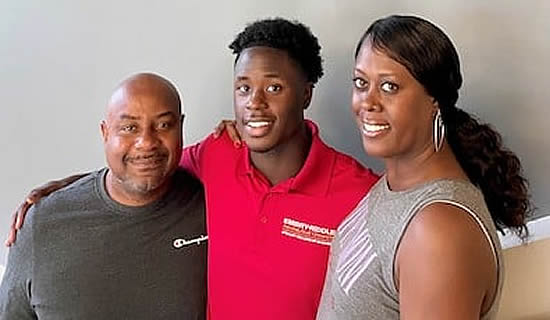 Satcom Direct adds new Aviation CyberThreat Awareness Training
Satcom Direct (SD), the business aviation solutions provider, has bolstered its training curriculum with the addition of a newly developed Aviation CyberThreat Awareness course.
SITA and Crown Prince Foundation sign MOU, opening door to new career opportunities in Jordan
Global aviation IT company, SITA, and the Crown Prince Foundation (CPF) have signed a memorandum of understanding to help improve the career opportunities for students and young professionals in Jordan. Apprenticeships, internships, and graduate programs form part of the three-year agreement.
BAA Training to open new Paris training centre
BAA Training, a part of Avia Solutions Group, and Transavia Airlines, a part of Air France-KLM Group, have signed a term sheet contract that sets out the conditions based on which BAA Training will open a new training centre dedicated to Transavia's pilot training needs.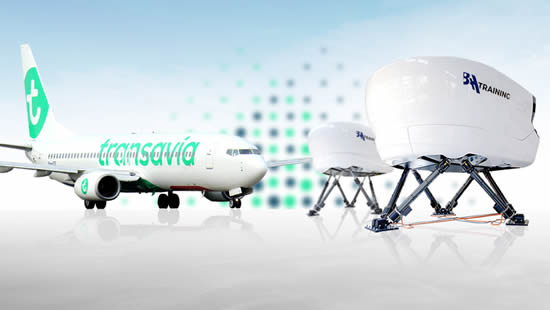 New A&P program benefits both students and employers Critical-skills positions require a talent pool specifically trained for those jobs.
GA-ATS orders DO-228 flight simulator
General Atomics AeroTec Systems GmbH (GA-ATS), a subsidiary of General Atomics Europe GmbH, has recently placed an order with EURAMEC N.V. of Hamme, Belgium for a fully-immersive flight simulator for the Dornier 228NG aircraft family.
SWAT donates extensive aircraft parts inventory to technical college
Southwest Aerospace Technologies (SWAT) recently donated a large inventory of Global Express parts to Texas State Technical College (TSTC).
City Airport launches new mentoring programme to support young people in East London
London City Airport has launched a new mentoring programme to raise young people's aspirations, help tackle youth unemployment and promote social mobility in the local communities near the airport.
Top Aces' F-16 fighter aircraft receives FAA certification
Top Aces Corp., a leading provider of advanced adversary training, has announced a groundbreaking milestone as its newly-acquired F-16 fighter aircraft earned FAA certification and completed its first flight.
Skills Minister visits Bombardier apprentices at London Biggin Hill
Bombardier has introduced its comprehensive, new apprenticeship program at its London Biggin Hill Service Centre with its first cohort of maintenance apprentices becoming immersed in the aircraft maintenance training program.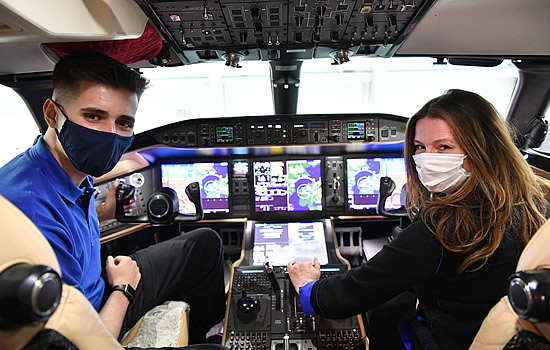 Air Partner to launch National Safety & Security Academy (NSSA)
As businesses across the aviation industry plan for the potential return of international travel in the UK from the 17th May onwards (still to be confirmed by the UK government), safety and security standards must sit at the top of the aviation industry agenda, according to Redline Assured Security and aviation safety specialists Baines Simmons, which form the Safety & Security Division at global aviation services group Air Partner

.
FlightSafety partners with Flight Research for in-aircraft upset recovery training
FlightSafety International and Flight Research, an industry leader in advanced pilot training and human spaceflight training, have announced the launch of their joint Upset Recovery Training.
AXIS updates Cessna 560XLS simulator for UPRT
Full flight simulator manufacturer AXIS recently upgraded a Cessna 560XL simulator at the Austria Aviation Academy to provide advanced Upset Prevention and Recovery Training, using data gathered from flight tests performed in the real aircraft. The resulting update has been qualified by Austro Control (ACG).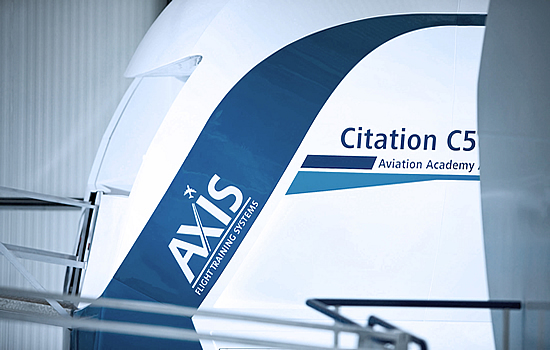 Top Aces awarded advanced airborne training contract by German armed forces
Top Aces, provideres of advanced and innovative airborne training to the world's leading air forces, has been awarded the fast speed adversary air training services contract by the German Armed Forces ("Bundeswehr") effective January 1st, 2022.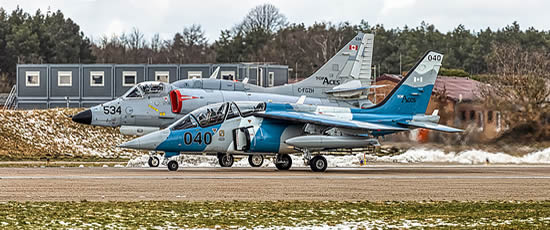 New NBAA accreditation certifies leadership in sustainable flight operations
The National Business Aviation Association has unveiled a new accreditation program that will serve as an industry standard for validating leadership in sustainable flight operations across a host of key domains.
Entry Point North awards ATC training sim contract to ROSE Simulation
After a public procurement process, Entry Point North has awarded ROSE Simulation GmbH a contract to deliver software for the simulators which are used in Air Traffic Controller training.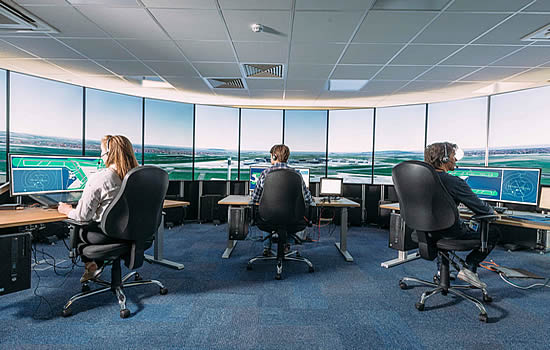 BAA Training Spain starts pilot training with an Airbus A320 FFS BAA Training Spain's first state-of-the-art Airbus A320 FFS is ready for training at the company's brand-new training centre close to El Prat airport, Barcelona.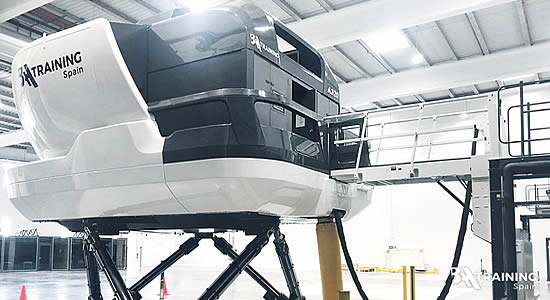 SD expands access to aeroCNCT training through DaVinci Inflight Training Institute
Satcom Direct (SD) is bolstering access to its Crewmember Network and Connectivity Training certificate program, aeroCNCT, through a new agreement with DaVinci Inflight Training Institute, the Florida-based flight crew training company.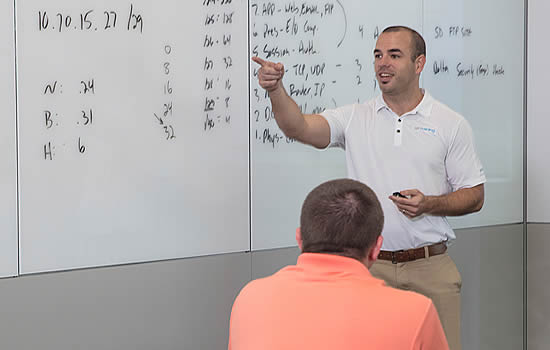 $250k grant from Conrad N. Hilton Foundation will fund additional WAI scholarships Women in Aviation International (WAI) will offer 47 new scholarships in a variety of aviation career pursuits thanks to a generous $250,000 grant from the Conrad N. Hilton Foundation.
Brand-new BAA Training Spain commences operations The first brand-new Airbus A320ceo Full Flight Simulator (FFS) starts being assembled this week, which will mark the beginning of BAA Training Spain operations.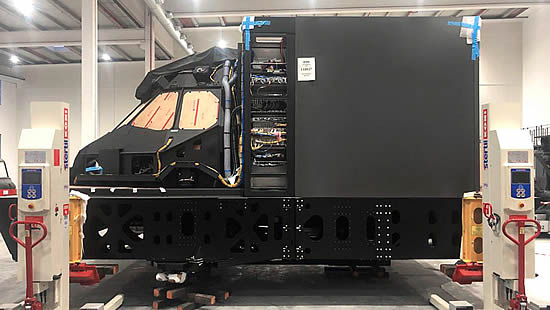 Knowledge is on the up at Satcom Direct Satcom Direct has experienced a significant rise in demand for its Entry into Service, EIS, training program since the start of the pandemic. Aircraft operators and corporate flight departments are taking advantage of the enforced reduced flying time to up their connectivity knowledge levels, the company highlights.
New brand Echelon Air adds simulator to bolster Cirrus SR20 flight training
In the teeth of the pandemic, Cirrus ambassador and pilot Philippe Polman has launched a new business, Echelon Air, offering premium flight training to private, affluent individuals on the advanced Cirrus SR20.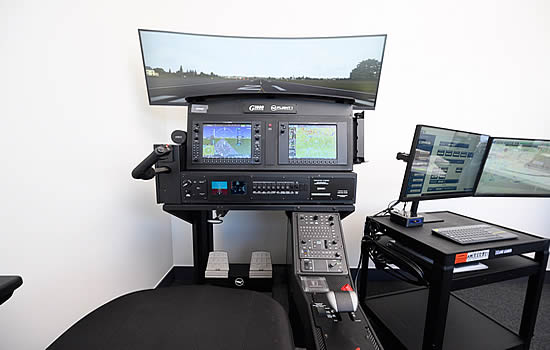 PC-12 NGX Flight Training Device for pilot training certified
An all-new Level 6 Flight Training Device for Pilatus' PC-12 NGX has received FAA National Simulator Programme approval for training flight crews of Pilatus' latest iteration of its popular single-engine turboprop.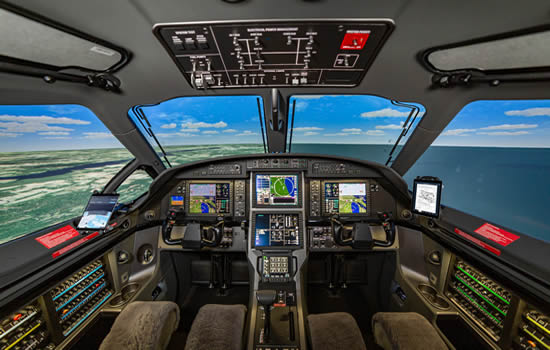 FlightSafety Textron Aviation Training offering King Air 360 pilot training and maintenance courses
FlightSafety Textron Aviation Training now offers King Air 360 pilot training at the Tampa Learning Center, and courses for maintenance technicians who support the aircraft at the Wichita Maintenance Learning Center.
Flying Colours switches on digital training to support expansion
Flying Colours Corp., the North American MRO and completions business, has introduced a new digital training program to support the company's continuous improvement policy.
At the leading edge of simulator training
A

s IATA highlighted recently, training organisations have faced major difficulties with their training operations being significantly disturbed owing to COVID-19.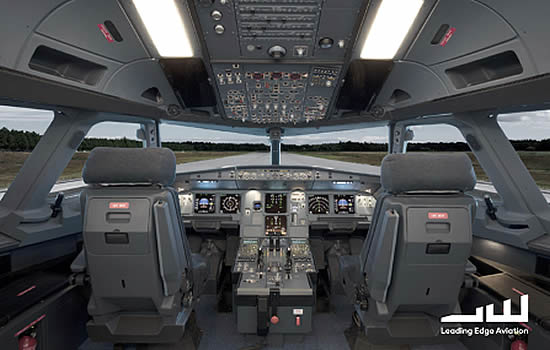 NBAA launches new virtual learning series tailored to smaller flight departments
The National Business Aviation Association has unveiled a new series of educational programming to address common issues facing leaders of small flight departments, and to provide guidance to newer managers for supervising and growing their flight operations.
BAA Training Vietnam turns one: Road to success
Success usually comes to those who put big efforts, take initiatives and make bold decisions. These ingredients are also the secret of success behind BAA Training Vietnam, the first and only independent aviation training provider in the country which celebrates its extraordinary first anniversary.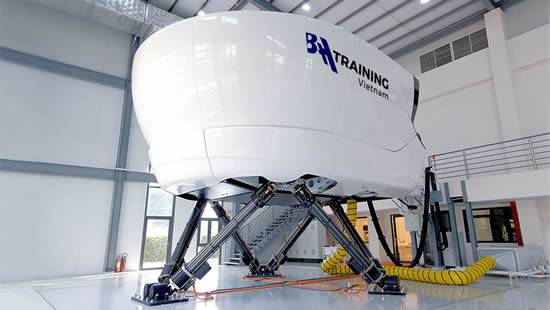 UK's Skyborne Airline Academy orders 10 Bye Aerospace eFlyers
Bye Aerospace announced that Skyborne Airline Academy has completed purchase deposits for six eFlyer 2 and four eFlyer 4 all-electric airplanes to be added to its current fleet of UK-based training aircraft. Bye Aerospace paid purchase deposits now total 360 eFlyer units.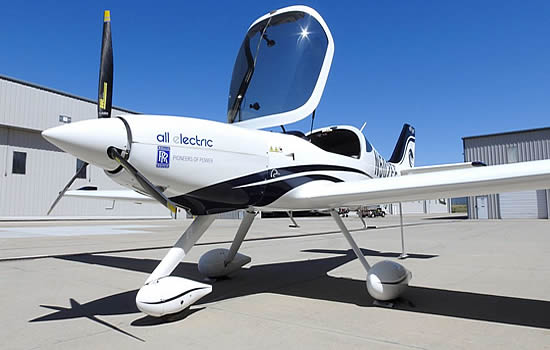 World's largest VLJ broker launches comprehensive aircraft learning center AEROCOR has launched a digital learning center on its website AEROCOR.com. Originally geared to the Eclipse 500, the site has been expanded to include all single pilot certified Citation aircraft and the Beechcraft Premier I/A.