Paws for thought with Finnish airport operator
Last month saw Finnish operator, Finavia, welcome some canine companions as part of state-funded efforts to detect travellers with coronavirus at Helsinki Airport.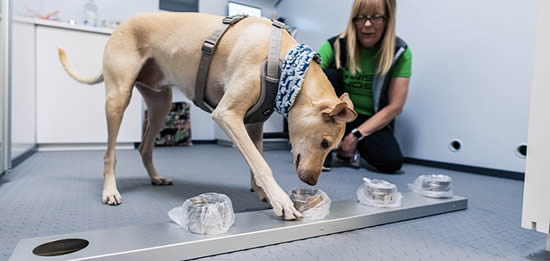 CAE becomes first Canadian aerospace company to become carbon neutral CAE announced that it has become carbon neutral as of September 28, 2020, proudly becoming the first Canadian aerospace company to reach this goal.
SD unveils new Network Operations Center

Satcom Direct (SD) has unveiled the completed upgrade to its Network Operations Center (NOC) at SD World Headquarters in Melbourne, Forida.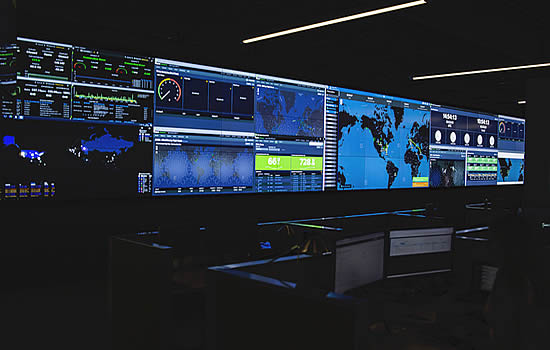 Hi Fly delivers 45 tons of humanitarian aid and medical equipment to Beirut
The Mirpuri Foundation and Hi Fly have teamed up again, this time to deliver humanitarian aid and medical equipment to Beirut, Lebanon, after the city was devastated by a huge chemical explosion.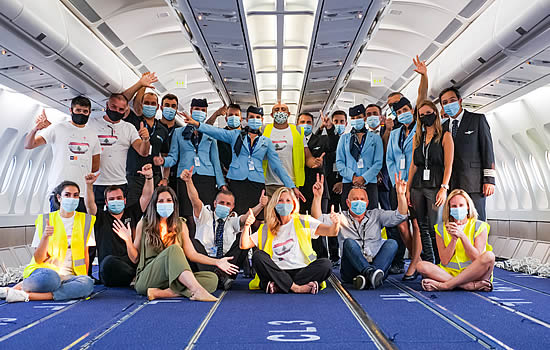 Air bp delivers 210 tonnes of sustainable aviation fuel to Stockholm Arlanda Airport

Air bp, the international aviation fuel products and services supplier, has delivered 210 tonnes of sustainable aviation fuel (SAF) to Swedish airport operator, Swedavia, at Stockholm Arlanda Airport (ARN/ESSA).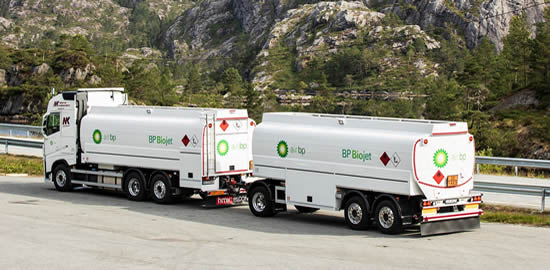 Signature, Neste, and NetJets establish strategic SAF partnership
Cognizant of the important and active role that private aviation plays in environmental responsibility, Signature Flight Support announces the introduction of Signature Renew, a company-wide global sustainability initiative to innovate and invigorate the journey toward net-zero carbon emissions.
Shell introduces first industry solution to meet SAP-free refuelling deadline
Shell Aviation, working with filtration experts FAUDI Aviation, has launched Shell Jet Protection, the only Superabsorbent Polymer (SAP)-free refuelling system available to the aviation industry today.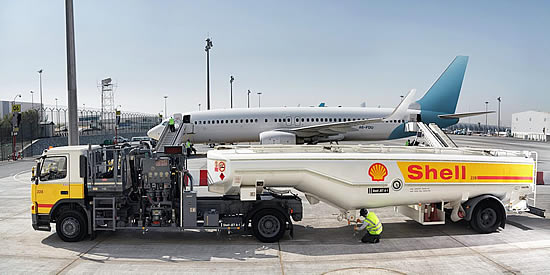 On Air Dining bounces back at Farnborough and Stansted
While remaining open during the COVID-19 lockdown, On Air Dining's focus on investment and efficiency has led to July and August revenues being 45% ahead of projections and trending higher than the London private aviation recovery rate.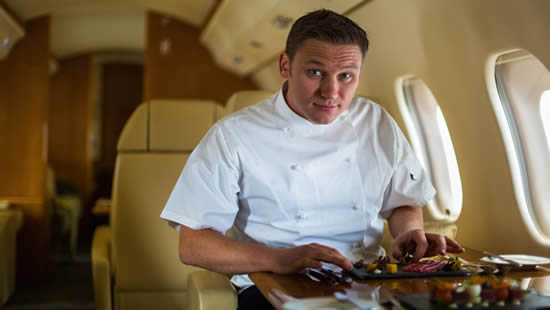 Business jet sales soar this Summer
The pace of used aircraft sales picked up sharply in June and July after April/May doldrums brought on by the COVID-19 pandemic and its economic impact.
Air bp and Neste to offer increased volume of sustainable aviation fuel in Europe
Air bp and Neste, the world's largest producer of renewable diesel and sustainable aviation fuels (SAF), have signed an agreement to offer an increased volume of sustainable aviation fuel to airport customers in 2020 and 2021.
Air bp supplies sustainable aviation fuel for Airbus delivery flights Air bp is collaborating with Airbus to supply sustainable aviation fuel (SAF) for delivery flights from Airbus' facility at Hamburg Finkenwerder Airport (XFW/EDHI). The first aircraft are two Air Transat A321LR destined for Montreal, Canada.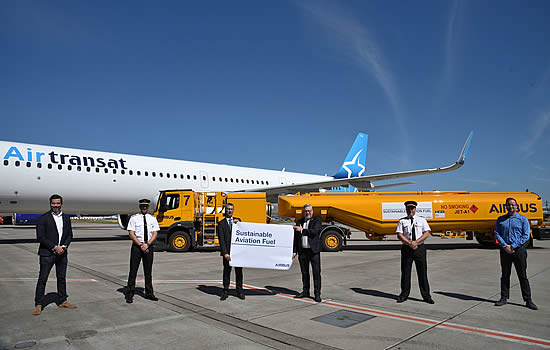 Jetcraft first to offer MicroShield 360 antimicrobial treatment by F/LIST Leading business jet sales and acquisitions company, Jetcraft, is the launch customer for interiors specialist F/LIST's Microshield 360 treatment program, which protects against SARS-CoV-2 (COVID-19) and other pathogens that may otherwise live on cabin surfaces.
Neste delivers sustainable aviation fuel to San Francisco International Neste, the world's largest producer of renewable diesel and sustainable aviation fuel (SAF) produced from waste and residue raw materials, has delivered its first batch of sustainable aviation fuel to San Francisco International Airport (SFO) via pipeline, where it will be used by major airlines committed to reducing carbon emissions.
Air bp hits 250,000 fuelling milestone with Airfield Automation technology
Air bp has passed a milestone of 250,000 fuellings using its Airfield Automation digital technology. The landmark fuelling took place in Adelaide, Australia, when the business supplied Jet A-1 (with fuel system icing inhibitor) to The Royal Flying Doctor Service (RFDS).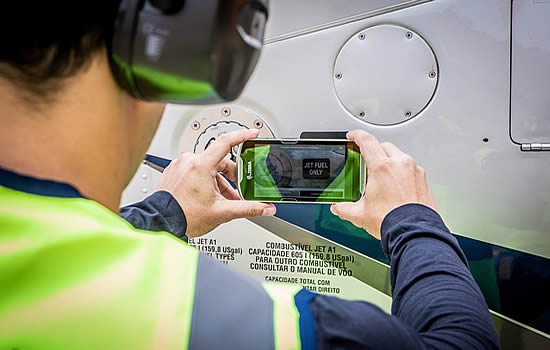 AirMed designated an Accredited Service Provider for International Assistance Group AirMed International, a leading global critical care air medical transport company, has joined the International Assistance Group (IAG) as an Accredited Service Provider.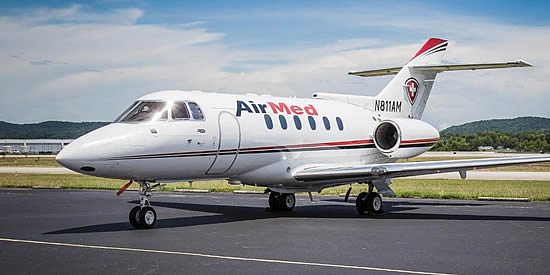 Honeywell to introduce fast, affordable UV cleaning system for cabins Honeywell and Dimer LLC have announced a partnership to bring an ultraviolet cleaning (UVC) system to airlines that, when properly applied, significantly reduces certain viruses and bacteria on airplane cabin surfaces.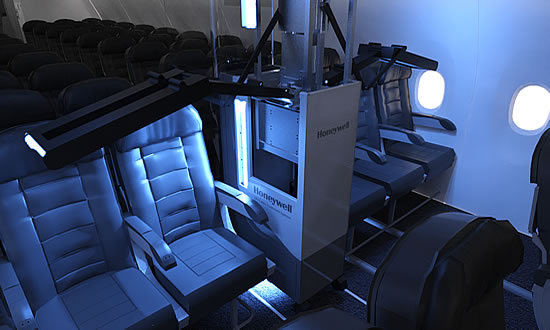 Innovative seat shield by RAS Completions helps airlines in the fight against Covid-19 London Biggin Hill Airport-based aircraft interior and exterior specialist, RAS Completions is revealing the industry's first aircraft personal protection shield that allows airlines to keep the middle seat available for passengers.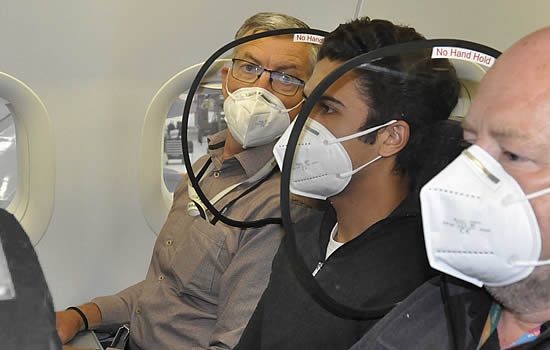 WINGX to support significant new Osprey:Open features Osprey Flight Solutions has announced a new partnership with WINGX, a technology-driven market intelligence provider to the global aviation industry, to further strengthen the capabilities and datasets within Osprey:Open for business, cargo and commercial operators.
IBAC rallies to support the business aviation community remotely As IBAC calls on ICAO to adjust the CORSIA emissions baseline (it has requested only 2019 figures, versus the average annual level of emissions between 2019 and 2020, are used for the offsetting component) - it is also adapting and modifying its own services to try and preserve an element of continuity for the global business aviation community.
Duncan Aviation making masks and gowns for front line workers
In late March, Duncan Aviation had begun social distancing at work to prevent potential spread of COVID-19 and began looking to acquire face masks for use by team members when they absolutely had to work together in close quarters, like an aircraft flight deck, for a short period of time.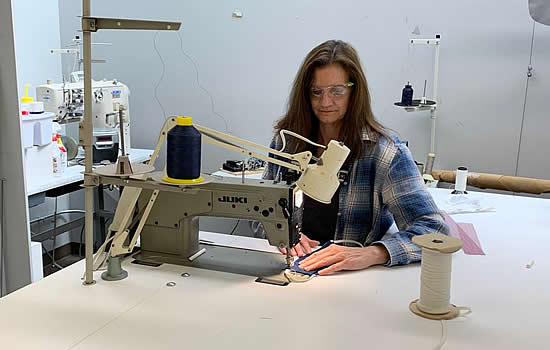 Up and Away Aviation completes 383rd disinfection
D

isinfecting aircraft cabins has become the primary focus of Up and Airway Aviation's specialist aircraft valeting and cleaning business these past months. On 27th February it took its first booking for the service.

Collins Aerospace adds new functionality in swift response to COVID crisis
E

arly in April, global business aviation flying fell to as little as 20% of its 2019 rates for the same period. Depending on location, those rates subsequently increased, so that today, activity is typically down by between 50 and 70% compared with last year's figures.

Doors stay open as On Air Dining supplies meals to UK charities and NHS On Air Dining CEO Daniel Hulme was expecting a 'game-changing' 2020. "We just won a NetJets contract, our Farnborough facility was ramping up nicely and I was looking forward to a profitable, happy year."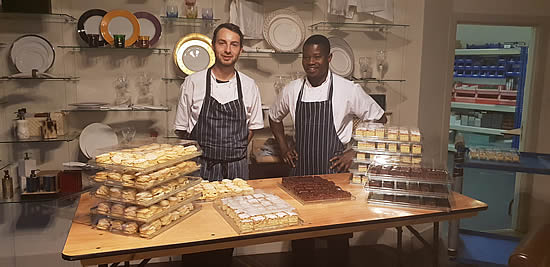 Adapting skills to support medevac operations in Africa. Aviation has supported health care management of trans-border epidemics in Africa for decades. But Dawit Lemma, CEO of Addis Ababa-based Krimson Aviation has not been so tested by the intensity of the COVID-19 pandemic. His knowledge and expertise is urgently being sought by local, national and international aviation companies.
World Fuel Services supports world's largest wind farm World Fuel Services (WFS) has won a tender to provide Jet A-1 fuel to the helicopter service for Hornsea One offshore wind farm.