Airbus is launching a new corporate-jet version of its popular A350 XWB airliner, with Easyfit provisions for cabin-outfitting, expanding its corporate jet family with an aircraft that delivers more capacity, capability and comfort.
Called the ACJ350 XWB, it features 270 m2/2,910 ft2 of cabin space in the -900 version. The ultra-long range variant can fly 25 passengers up to 10,800 nm/20,000 km or 22 hours, making it today's most modern and capable corporate jet. The XWB stands for Xtra Widebody, enabling the ACJ350 to deliver Xtra comfort, Xtra innovative technology, Xtra efficiency, and to be Xtra easy to outfit.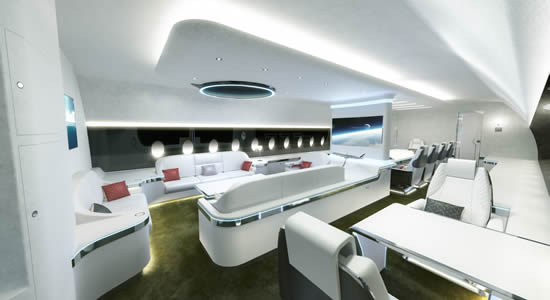 ACJ350 Lounge
Widebodies such as the ACJ350 offer the equivalent of several houses of floorspace, so creating cabins that meet demanding certification rules can be challenging, especially when they are installed within a fuselage made of new materials such as carbonfibre.
Airbus has thus chosen to pre-equip the carbonfibre fuselage of the ACJ350 with hundreds of attachment points, greatly simplifying the work of cabin-outfitters. It has also worked extensively with several cabin outfitters to ensure smooth completions for customers.
"One of Airbus's greatest strengths is to offer customers the world's most modern and efficient aircraft family, and the ACJ350 with Easyfit expands its corporate jet offering, giving customers a new way to take their business to the world," says Airbus Chief Operating Officer, Customers John Leahy. "Our customers want the best and most modern aircraft that money can buy, and the ACJ350 exemplifies that," he adds.
Airline deliveries of the Airbus A350-900 began in December 2014. Together with the A350-1000 version, currently in development and due to enter airline service in 2017, the family has already won some 800 orders from more than 40 customers.
Like all Airbus aircraft, the ACJ350 personifies features that many aircraft lack or which cost extra, such as the enhanced protection of fly-by-wire controls, time and cost-saving centralised maintenance, and extensive use of weight and maintenance-saving materials.
In addition, the ACJ350 XWB deliveres, as standard, new features such as an onboard airport navigation system (OANS), like GPS in a car, and a runway overrun prevention system (ROPS), an aid for pilots that helps to prevent runway excursions, especially in challenging weather.
Jet Aviation added to Service Centre network
In further news, Airbus has added Jet Aviation and its MRO facilities to its ACJ Service Centre network, enhancing choice and geographical reach for its corporate jet customers and operators around the world.
The expanded network comprises companies that are owned or controlled by Airbus, as well as independent ones that it has approved. Its capabilities include line and heavy maintenance, cabin-refurbishing, and cabin and system upgrades.
The ACJ Service Centre network now comprises the Airbus Corporate Jet Centre (ACJC) in Toulouse, Comlux America in Indianapolis, HAECO Private Jet Solutions in Xiamen, Jet Aviation in Basle, Dubai and Singapore, Sepang Aircraft Engineering (SAE) in Kuala Lumpur and ST Aerospace in Singapore. It will grow to include others over time.
The network provides dedicated support to ACJ customers around the world, and includes the provision of turnkey services, enabling customers to benefit from Airbus quality and standards - as well as peace of mind. It complements Airbus' leadership in turnkey cabin-outfitting of large business jets, where it is uniquely well qualified with some 70 completions to its credit.
"Airbus corporate jet customers and operators already benefit from a worldwide support network sized for more than 500 customers and operators around the world," says Benoit Defforge, Managing Director, Airbus Corporate Jets. "The ACJ Service Centre network complements this by adding services tailored to corporate-jet operator needs," he adds.
Customised Airbus corporate-jet support and services have long included single-point-of-contact access to the corporate jet customer care centre (C4you) team, dedicated customer support directors, training and customised maintenance programmes.
More than 180 Airbus corporate jets are in service around the world, and they are flying on every continent, including Antarctica, highlighting their widespread nature and versatility.