United Kingdom:

Airbus Helicopters UK supports UK HEMS, military and police operators throughout the pandemic

By Paul Eden
Through the trials, restrictions and dark days of the Coronavirus pandemic, as an industry we have come to recognise the resilience of aviation, especially general aviation, and its inestimable contribution to everyday life. As a society, we appreciate more than ever our 'key workers', in healthcare, policing, logistics and the armed forces, among other occupations.
But it is easy not to see those who stand one step behind the frontline fight against coronavirus, servicing and maintaining equipment, managing essential facilities and generally keeping the world moving. It is their resilience and readiness that ensure key workers have the tools for the most demanding jobs, and yet this supporting cast doesn't always perform on the most obvious stage.
Offering significant, potentially life-saving support to the UK National Police Air Service (NPAS) and helicopter emergency medical services (HEMS) providers, Airbus Helicopters UK has kept is London Oxford Airport facility open for business throughout the crisis. Staff have worked remotely where possible but taking home the helicopter you're servicing isn't really an option.
Office staff have worked off-site where practical, while those remaining in the buildings have done so in a successfully socially distanced environment. Most importantly, the technical team working out on the hangar floor has worked in discrete shifts, arranged in 'red' and 'blue' bubbles, ensuring that a COVID-positive result will not force the entire workforce into self-isolation.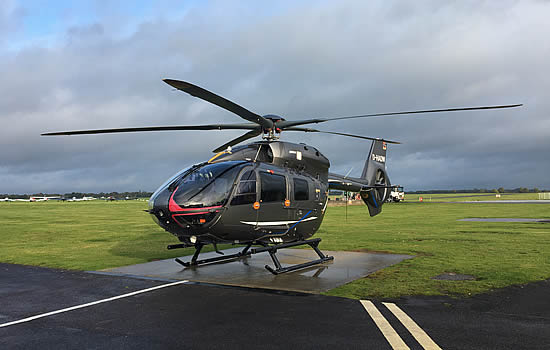 The Airbus Helicopters five-blade H145 demonstrator at London Oxford Airport in October 2020.
The criticality of Airbus Helicopters UK's continuing support to HEMS and police aviation is obvious, less so its work with the UK Military Flying Training System, which has continued teaching new military helicopter crews, albeit at a reduced rate, throughout the pandemic. Training is delivered on a fleet of H135 and H145 helicopters, with about 30% of Airbus Helicopters UK's personnel footprint stationed at RAF Shawbury, Shropshire and RAF Valley in Wales.
Previously described in Resilient Aviation, the RAF committed elements of its Puma force to assist the Scottish authorities, particularly in moving COVID patients from the more remote of the country's Highland and island locations. Again, Airbus Helicopters UK was always ready to lend technical support.
With fewer people 'on the streets', police aviation consumed fewer hours at the height of lockdown, but Airbus Helicopters UK supports NPAS on an aircraft availability basis, rather than hours flown, and the effect of the downturn was therefore mitigated.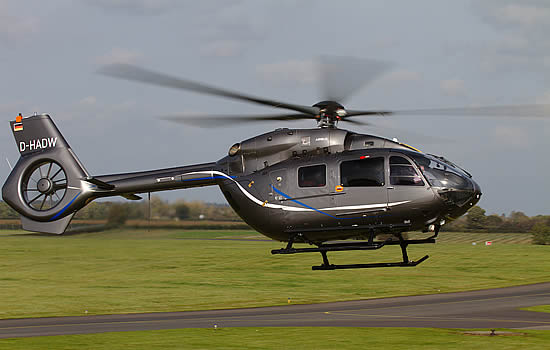 Some HEMS aircraft have inevitably flown COVID-related missions, but with so many people unwell, it seems ironic that HEMS providers have generally also seen a reduction in operational flying hours - if people aren't on the roads, working on construction sites, or hill walking, there is less chance of serious accident. But the key to HEMS is aircraft availability and the prevailing situation has again had little effect in the Oxford hangar.
With a steady trickle of Airbus Corporate Helicopters' work also continuing, almost all the Oxford team has remained in place, the Airbus UK furlough scheme having only affected a tiny handful of its people. A visit to the facility in late October demonstrated just how careful the team is being and how spacious the offices are with people working from home.
New H145 debuts in UK
My visit was for an immaculately organised, socially distanced presentation and demonstration flight in the new five-bladed H145 helicopter. A highly capable machine, the H145 features an all-new main rotor, which reduces maintenance costs, increases payload by 150kg and delivers a significantly smoother ride.
Sure to be a favourite with HEMS operators – the first has gone to Norway's primary HEMS operator - the five-blade H145 typifies Airbus Helicopters' dedication to product improvement, while its presence at Oxford, where HEMS personnel and other potential customers were able to experience it, sums up the resilience of Airbus Helicopters UK in the face of adversity.

---
| | |
| --- | --- |
| | A life-long, profoundly passionate aviation enthusiast, Paul E. Eden began writing about aircraft in 1996 and became a freelance aerospace writer and editor in 2003. He says his addiction began with a Matchbox Spitfire model kit and the Ladybird Book of Aircraft, around 1975. Since then, he has written for the Official RAF Annual Review and Salute publications, and currently edits and writes Executive and VIP Aviation International magazine. A regular contributor to a number of specialist publications, including Aerospace, the journal of the Royal Aeronautical Society, and airline, cargo and flight test magazines, he also blogs for Runway Girl Network. |
His first book for Bloomsbury, The Official Illustrated History of RAF Search and Rescue, was published on 25th June 2020.
Blog: https://pauleeden.wordpress.com
http://uk.linkedin.com/pub/paul-e-eden/15/9a5/671
Twitter: @TwoDrones
---