United Kingdom
RAF Puma crew supports NHS
Evacuates suspected coronavirus patient from Isle of Arran
By Paul Eden
At 01:00 hours on 22 April, a Royal Air Force Aviation Task Force COVID Support Force Puma helicopter launched from Kinloss Barracks in Moray, Scotland, on the detachment's first live mission, to evacuate a suspected coronavirus patient to the mainland.
The British Army, Royal Navy and RAF have all contributed helicopters to the effort, basing them across the UK. The three-aircraft Kinloss unit is dedicated to supporting the NHS in Northern England and Scotland.
In a little over three hours, the 22 April operation planned with an emergency medical care team from Glasgow, flew to the Isle of Arran, then transferred the patient to the University Hospital Crosshouse in Kilmarnock. Extensive training between NHS personnel and RAF crews ensured the success of a key mission when no other transport option was available. For 33 Squadron detachment commander and aircraft captain Squadron Leader Johnny Longland, it was a satisfying end to a challenging sortie.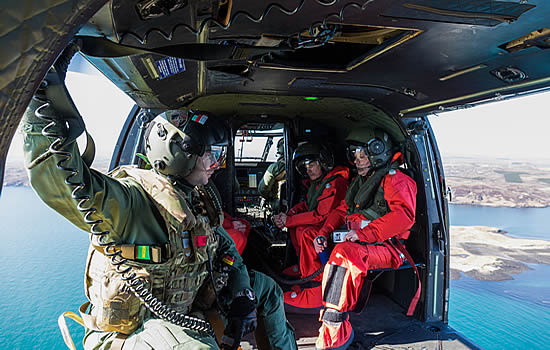 A Puma from the Kinloss detachment, training with NHS and HM Coastguard personnel on 17 April | | Photo: SAC Sian Stephens/© UK MoD Crown Copyright 2020
"This was an NVG [night-vision goggle] mission - there was no moon, so light levels in remote areas were pretty low. The transit to Arran was uncomplicated, but there were areas of low lying hill fog and scattered low cloud that combined with the low light to make for a fairly tricky approach to a field site on the island's eastern coast. The training and familiarisation we'd done with the NHS Scotland Ambulance Service and Emergency Medical Retrieval Service proved very useful –the team on Arran had met the helicopter crew on one of the training serials."
Thanks to its compact dimensions and modern avionics, the Puma is ideally suited to challenging peacetime medical evacuation missions, and although Longland says many Puma Force personnel have experience of similar military sorties, "it is very different to be supporting the 'frontline' in the UK. But it feels as important, if not more important, because it's so close to home. It's a unique challenge and we are honoured to be able to provide a life-saving capability to the people of the UK."

---
| | |
| --- | --- |
| | A life-long, profoundly passionate aviation enthusiast, Paul E. Eden began writing about aircraft in 1996 and became a freelance aerospace writer and editor in 2003. He says his addiction began with a Matchbox Spitfire model kit and the Ladybird Book of Aircraft, around 1975. Since then, he has written for the Official RAF Annual Review and Salute publications, and currently edits and writes Executive and VIP Aviation International magazine. A regular contributor to a number of specialist publications, including Aerospace, the journal of the Royal Aeronautical Society, and airline, cargo and flight test magazines, he also blogs for Runway Girl Network. |
His first book for Bloomsbury, The Official Illustrated History of RAF Search and Rescue, is scheduled for publication in June 2020.
Blog: https://pauleeden.wordpress.com
http://uk.linkedin.com/pub/paul-e-eden/15/9a5/671
Twitter: @TwoDrones
---