United Kingdom
RAS Completions' protective seat shield first to receive official aircraft certification
London Biggin Hill Airport-based aircraft interior and exterior specialist RAS Completions is announcing its Personal Protection Window (PPW) is the industry's first seat shield to be fully aircraft approved.
Roger Patron, Business Development Manager, RAS Completions, says: "We're delighted the PPW has received official certification so promptly with our EASA Part 21J DOA partners GDC Technics. This is testament to the pioneering design which does not interfere with seat access, even during an emergency, and does not require any seat type or configuration to be modified for installation. Unlike many designs, our PPW can be safely installed without blocking or removing the middle seat, making it a viable option for airlines who want to provide an added layer of protection beyond masks.
"We're now going to begin implementing in earnest and look forward to seeing our creation flying very soon."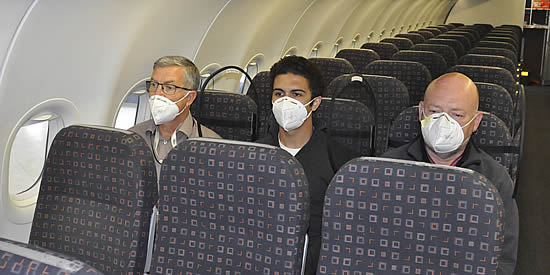 The PPW is a clear plastic barrier which can be fixed to the back and sides of any aircraft seat, designed to shield passengers from lateral person-to-person droplet transmission. The innovative protective barrier is now ready for aircraft use.
Andy Patsalides, Head of Marketing, London Biggin Hill Airport, adds: "Coronavirus has changed the way people feel about flying. For many, this innovative design will make them comfortable enough to take to the skies. Passenger confidence is key to the recovery of air travel, and we're proud of the work RAS Completions, and many of our resident companies, have been doing help get the aviation industry moving again."
RAS Completions has a network of approved suppliers around the world ready to produce in region. More information at: interiors@rascompletions.co.uk