United Kingdom
Faradair and its Hybrid Electric aircraft to set up home at Duxford Airfield
Faradair, early UK pioneer of innovative air mobility, has announced it is relocating its HQ and its sustainable aircraft prototype, the BEHA (Bio Electric Hybrid STOL Aircraft) project to the iconic Duxford airfield in Cambridgeshire.
It expects to make its transition from Gloucestershire in September. In doing so, Faradair becomes the first company to become part of the 'Duxford Avtech' regional growth development programme, instigated by Gonville & Caius College, in collaboration with the Imperial War Museum (IWM) Duxford.
Faradair is committed to reviving whole aircraft manufacturing with a British-designed and developed aircraft, creating jobs and revenue, not just for the local community but internationally too. The quiet flight and advanced safety characteristics of the BEHA, pledges to "provide business flyers with a financially attractive and time saving alternative to expensive and congested land based alternatives."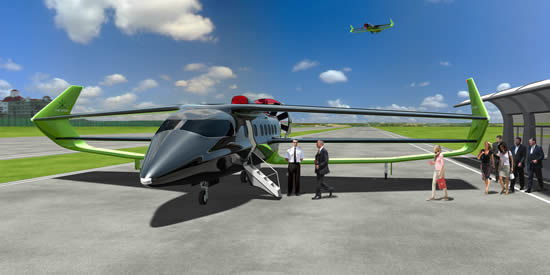 With an option to fly 18 passengers or three LD3 containers and up to five tonnes of payload, the state-of-the-art hybrid electric regional utility aircraft pledges to offer quiet, green and affordable domestic air transport.
Coinciding with this news, Faradair plans to commence development of its full-sized prototype aircraft, essentially a versatile 'flying van' that can carry an unmatched, versatile payload of passengers, freight, equipment and other utility roles in regions throughout the world.
With its unique wing configuration and ultra-quiet, sustainable propulsion system and state-of-art avionics, the BEHA (Bio Electric Hybrid Aircraft) Short Take-Off and Landing (STOL) aircraft will usher in affordable, quiet and green, regional air transport.
Faradair has championed hybrid and electric flight potential since 2014, evolving the BEHA design from initial concept to 18-seat commuter category aircraft with the support of angel investors and industrial and academic partners. Supported by a strong advisory team and now with the support of the IWM and neighbouring landowner Gonville & Caius College, it is looking forward to scaling-up and expanding its core engineering team.
The first BEHA aircraft will be a passenger/cargo capable Short Take-Off and Landing (STOL) hybrid using biofuel and electric propulsion, with development thereafter into a fully electric variant to assist nations drive towards 'net zero' emissions. First flight is targeted for 2023/2024.
"Moving to Duxford Airfield is a dream come true for us at Faradair," said founding Managing Director Neil Cloughley. We are so excited by the opportunity ahead of us, made possible by the fantastic and enthusiastic staff at the Imperial War Museum Duxford and Gonville & Caius College."
"Covid-19 has highlighted the global opportunity for cleaner, quieter skies and more sustainable forms of transport, a vision our company has championed for many years now."
Robert Gardiner, Senior Bursar at Gonville & Caius College, stated: "With the support of IWM, we have put forward a plan for a centre of excellence for UK aviation based on college land at Duxford. Soon after the invention of flying in the 20th Century some of its land became the airfield here. The 21st Century requires aviation to be more efficient and carbon-neutral and to help de-congest transport generally. The AvTech plan for general aviation, of which Faradair is an important first step, is aimed at just that."