Michigan
Avflight Grand Rapids opend new FBO
Avflight Corporation, in conjunction with Gerald R. Ford International Airport (GFIA), has opened its new, state-of-the-art FBO and hangar facility at KGRR in Grand Rapids, Michigan.
Thanks to the tremendous effort of the FBO, airport and construction teams, the project - which broke ground on September 25, 2019 - met its spring 2020 projection despite any complications during the COVID-19 health crisis.
Built on a five-acre leased parcel at the airport, Avflight's new facility includes a 5,000 square foot FBO building, plus a 30,000 square foot hangar. Located on the airport's east side, Avflight offers convenient access to the terminal and taxiways/runways, as well as the local highway system.
The facility was constructed in the contemporary Avflight style with the needs of the traveler in mind, including a comfortable pilot lounge and passenger lounge. The hangar accommodates aircraft up to a G650 with a 28-foot door and features 400 AMP electric service. As a full-service FBO, the Avflight team provides full fueling services, expert ground handling, aircraft detailing and washing, de-icing service, catering, 24/7 personal concierge services, complimentary car washing, and Avflight Network fuel pricing discounts.
Other services provided to the airport community include premiere indoor car parking, secured access and 1,650 square feet of office space. The FBO will also ultimately bring more than 30 new jobs to the Grand Rapids community as Avflight establishes a world-class FBO that serves both general aviation and commercial airlines.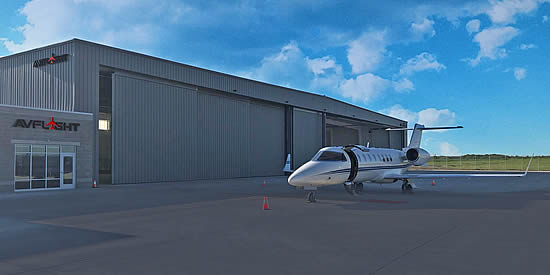 "We are thrilled to bring Avflight's expertise and passion for aviation to GRR as a gateway to West Michigan," said Garrett Hain, Avflight's vice president of finance. "The region is full of vibrant communities and is an epicenter for business, education, art, dining, entertainment and tourism in Michigan. Our investment reflects our long-term commitment to the airport and the services it provides."
The facility, now open to the public, operates with the utmost consideration for health and safety, and is ready to support customers who require efficient, dependable travel. All 22 Avflight locations worldwide continue to practice proper precautions as recommended by health officials for the health and safety of employees and customers.