Prague, Czech Republic
First Czech-registered Falcon 7X for ABS Jets
First aircraft manufactured by Dassault Aviation with Czech registration
ABS Jets has taken delivery of their first Dassault Falcon 7X, despite challenges presented by the current COVID-19 restrictions.
The aircraft was flown from Dubai under special permits and then solemnly christened at Prague Vaclav Havel Airport. The successful delivery also marks the milestone of the first aircraft manufactured by Dassault Aviation with Czech registration.
The sleek three-engine Falcon 7X is a less conventional aircraft. Configured for 14 passengers and with sharply angled winglets, the Falcon 7X can fly at maximum operating speed of 0.9 Mach, connecting city pairs such as Prague–Miami. It is designed to fly up to 51,000 ft while maintaining comfortable cabin pressure. Despite three engines, cabin noise is very low, and fuel consumption is 15–30% less than other jets in its class.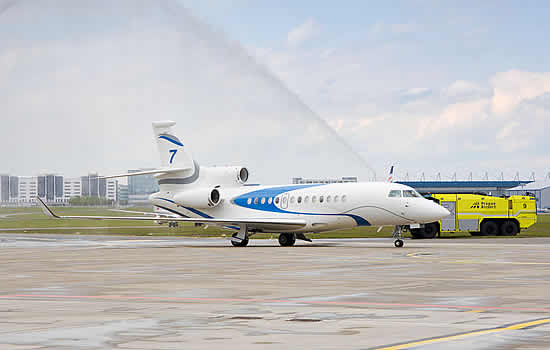 The Falcon 7X is welcomed in the traditional way at Prague Vaclav Havel Airport.
The ABS Jets delivery team experienced significant challenges and delay because of the COVID-19 restrictions. ABS Jets Director of Ground Operations and Falcon 7X Project Manager Michal Pazourek summarized the difficult delivery process:
"When the pandemic was declared, our CAMO engineer was in Singapore supervising PPI (pre-purchase inspection), and we were forced to pull him out before restrictions tightened and flights to Southeast Asia stopped. With support from the Czech CAA, the aircraft was flown to Dubai to finalize the aircraft deregistration process and acceptance flight. Strict travel restrictions then followed in the UAE. With an already compromised delivery schedule, we deregistered the aircraft in Dubai and flew a 7X crew out on other ABS Jets aircraft to pick it up for the delivery flight, which was done with a special permit. The process was challenging and long, and we are all relieved the aircraft is now under our roof."
The Dassault Falcon 7X is the eleventh long-range jet added to the ABS Jets commercial fleet and the second in the last three weeks. ABS Jets COO Jan Králík said: "We are honoured to be the first company operating an exceptional Dassault Falcon 7X here in the Czech Republic. Receiving and managing aircraft under such unusual circumstances is challenging, but I am thrilled the team accomplished the task in the most efficient manner possible. Of course, nothing would be possible without the great support from the local CAA. ABS Jets has proved itself to be a flexible, versatile company which delivers on customer promises."