China
Sino Jet ranks as Asia's largest and fastest growing operator
Sino Jet Ltd. is Asia's largest and fastest growing business jet operator according to statistics published by Asian Sky Group in its 2019 Fleet Report.
The Beijing and Hong Kong dual-based operator continued its trend of growth despite the downturn faced by many in the industry due to challenging market conditions. According to Asian Sky Group's recent 2019 Asia-Pacific Business Jet Fleet Report, Sino Jet ranked highest in both fleet size and growth rate with 45 aircraft under its management. In the second consecutive year of leading the industry by growth, Sino Jet is one of the only operators in the region displaying such improvement.
"In 2019-20, we have secured new aircraft and management clients across the region, and the demand for charter is extremely high. What enables Sino Jet to differentiate is that we understand the needs of Chinese and global clients, and we can navigate challenges with airports and cities having ever-changing policies," Sino Jet indicated. The growing Sino Jet fleet is made up of 70% Ultra Long-Range Aircraft, including the Boeing Business Jet (BBJ) and Gulfstream G650, 42% from China and 58% internationally registered, including B+N+VPC+M+P4. "Our brand strengthened as we evidenced our ability to manage a highly diverse fleet, while ensuring ease of travel in and out of China."
In 2019, in addition to being Asia's fastest growing operator, Sino Jet was the first Chinese business jet operator to achieve the highest internationally recognised safety standard, IS-BAO III. The company then went on to be awarded as Asia and China's Leading Private Jet Company in the World Travel Awards 2019. The company has also been recognised for having the world's most advanced satellite positioning and weather monitoring system, which enables highly accurate flight status management.
"Challenges due to COVID-19 have been felt throughout the business aviation industry. However, growth can still be achieved if we focus on the value we can add". The Sino Jet Group attributes its success in part to its open and flexible business model. "We operate a merit-based hiring policy which includes acquiring talent from outside the industry. We have hired from the private banking, technology, and marketing sectors and we adopted various best practices learned from those areas. We are always open to new ideas from our global team to provide a unique customer relationship management experience."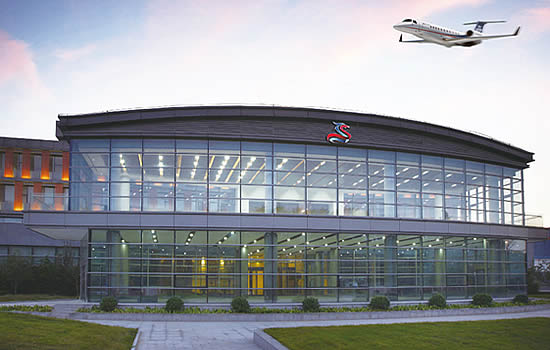 Sino Jet's headquarters in Beijing
Looking ahead, Sino Jet's vision is to expand further into Southeast Asia, where the company has already secured several clients. "We will continue to prioritise sustainable, stable growth, safety, training, and providing outstanding service to our clients. Investing in our team will remain essential because Sino Jet account managers are trusted advisors to our clients, removing uncertainty and delays. It is this approach that has earned us the title, Asia's Largest and Fastest Growing Business Jet Operator."