Kathryn B. Creedy.

Zunum Aero: Promise for commercial but vast implications for business aviation

Activity in Propulsion is Electric.

---
erhaps nowhere in aviation is there more activity than in electric propulsion with new aircraft designs set to address a broad market from Uber/Lyft-like air taxis to the potential of scaling up from such advanced designs as Zunum Aero's regional aircraft which could
be on the market by 2022.
Even so, anyone who has been in aviation for more than a minute has watched many leading-edge technologies falter and what seemed like an ambitious, or even reasonable, development cycle, stretch out for years. That means it is time to check our expectations at the door but that should not dampen our excitement for the potential new propulsion systems the aircraft bring.
"This is the first new propulsion in 70 years," said Zunum Aero CEO Ashish Kumar, noting the development of hybrid business models such as Surf Air and Wheels Up to address the kind of route for which his aircraft is designed. "This is a huge market. Aircraft now serving between 100 and 1,000 miles are not optimized for those markets and many of these points have been abandoned by commercial airlines and are ripe for exploitation. This is not new technology, either. Back in the 1960s, DOT identified a need for new propulsion and aircraft systems that work for regional transport. There are reams of reports and studies from MIT, NASA, DOT, Europe, the big manufacturers. We are targeting routes outside the main corridors where more and more people do not have access to high-speed transport."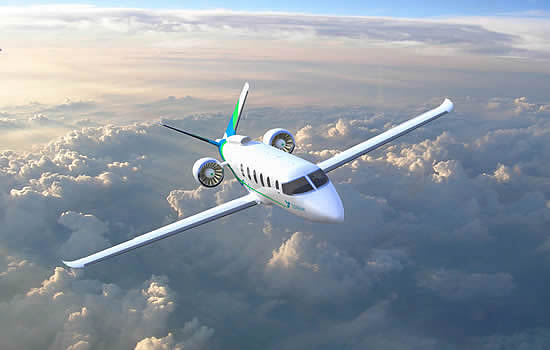 Zunum, given the internal moniker ZA10, is Mayan for hummingbird
Hummingbird and its competitors will pollinate new markets
Zunum, given the internal moniker ZA10, is Mayan for hummingbird, appropriate for the mission envisioned by the manufacturer - flitting from town to town pollinating communities of interest which attracted first rail and then airline service, in the first place. Those communities of interest have since been disconnected by the hub-and-spoke system. Boeing HorizonX and JetBlue Technology Ventures recently announced their investment in the program.
"They are providing operational assistance where we need it, market developing strategies, marketing and fundraising and access to Boeing's technical talent in addition with introduction to customers," Kumar told BlueSky.
Zunum Aero's offering remains intriguing on a number of levels. First, it promises savings of 60-to-80% in operating costs at a time when most are chasing the promise of the latest generation of narrow-body - Bombardier's CSeries, Boeing's 737 MAX and the A320neo - which today, promise only 10% and 15% in productivity gains. It remains to be seen whether such ambitious cost savings can actually be achieved since we don't know what exactly goes into those calculations.
If anyone is pulling punches on the potential for Zunum's aircraft, it is CEO Ashish Kumar who has been advised to keep the message simple - restricting it to commercial/regional operations - so as not to cast his program into dreamland and lose credibility altogether. I don't know whether this is good advice or not (I suspect not) but his initial marketing message targets a sweet spot where this is little activity - the small end of the regional airline market where new aircraft are few and far between and where the potential exists to replace thousands of aircraft.
Business aviation has many products on offer and new ones coming on line so there is time for it to watch Zunum gain traction and mature. But I think the potential for business aviation is so huge, the company might want to spread the word beyond commercial aviation.
It also turns on its head the traditional business-to-commercial tradition that built the post-deregulation regional airline industry in the first place. At that time, hundreds of small airlines were using Beech 99s, King Airs, Piper Cherokees and the like to establish their service to small communities because there was a void in the market.
Foreign manufacturers were quick to exploit it because, at the time, business aviation was booming and it couldn't see the forest for the trees. Even as Airbus, Boeing, JetBlue Technology Ventures and Embraer invest in this new technology and new business models, it could be it will be new companies like Zunum, will create the real next gen aircraft, providing the disruption seen in other industries by going beyond stretching and improving old technology.
Still, Kumar gets excited when talking about business aviation even as he cautions me, explaining his advisors' desire to keep the story simple. One thing is clear, though; he is watching the market closely and he is looking for companies that want to populate a fleet which, of course, does not eliminate business aviation, especially with such hybrid business models as Surf Air and Wheels Up.
"Over 50% of business aviation missions are under 500 miles in terms of actual departures," he told BlueSky. "Most trips are short haul. Even for the 737, 60% of its trips are under 1,000 miles. In our hybrid gas turbine/electric aircraft we can offer 60-to-80% lower operating costs. For instance, we have a 12-seat aircraft that has a $250-an-hour operating cost. Even single-engine turboprops are three times that."
Similarly, he said, most traditional regional routes were between 100 and 400 miles which makes the 700-mile range of the aircraft ideal for commuters who want to serve small communities. The idea is for operators to bypass congested hub airports and exploit the under-served markets in a point-to-point pattern. Even so, Kumar explained, such an aircraft could be economical enough to serve many more points to hubs.
"We have a fair number of regionals reaching out to us seeking information on a 50-seat version which would work better for hubs," he said. "The first aircraft is scheduled for 2022 and a mid-sized version (50-seats) for 2025 and, finally a 100-seat, longer-range, 1000-mile aircraft in the 2030s. Initially, it would be ideal for point-to-point operations because there are so many rich opportunities out there. You wouldn't want to start with the complexity of coordinating schedules in a hub-and-spoke operation. It is far more natural to do secondary-airport to secondary-airport, point-to-point operations."
The other point he makes is the fact that most airports have the capacity for more operations but not necessarily for the main runways. "You could use existing runways that are not used or lay one at an angle to the main runway," he said, citing yet another factor that would also benefit business aviation - better access to hubs. "Both NASA and Eurocontrol have been studying this for years."
It should be noted that using a sharply angled runway is nothing new having been pioneered at Washington National in the 80s for use with STOL aircraft such as the de Havilland Dash 7.
When asked what changes airports would have to make, Kumar said there would be few. "This is a hybrid, gas-turbine/electric that requires nothing new," he explained. "We are designing this for fast swaps. You unload the battery blocks from the wing and change them out and then charge those you have offloaded in six hours or overnight using a 240-volt line. The batteries are 1% of the cost of the aircraft. The goal is to run the batteries down or to about 20% level and switch to gas turbines. You have six-to-eight modules per aircraft, weighing in the range of 1,000- to 2,000-pounds total. If you have to land at an airport without batteries, you can always charge with an extender and a ground electric power unit."
"We are targeting markets where people today are not flying but are driving," he said. "Morgan Stanley released a report saying trips on these distances are going to be replaced by autonomous cars but we calculated that doing so would take you six hours to do a trip and the cost would be $175. If you flew from an out airport you could get there in 20-25 minutes at a cost of $100. Either way we know some people prefer to sit in a car and watch movies. But there are a lot of time-sensitive people who can't waste a whole day and who want to get the job done in half a day and get home for dinner."
Corporate Shuttle Market Could Benefit
Kumar reported, in his discussions with potential customers and investors, he noticed everyone had a story of what they couldn't do anymore because transportation had deteriorated. "Cincinnati to Albany, NY is a perfect example," said Kumar. "By the time our conversations ended they all said they could think of 100 uses for this type of aircraft."
That is music to any operator's ears and that certainly includes business aviation. For instance, years ago, I did an analysis of the short-haul market which included market studies done by Bombardier and Embraer on corporate shuttles and the potential for their aircraft to meet the needs of this market. In fact, one of Zunum's board members is especially keen to exploit this market and it is little wonder.
"A lot of companies are now providing busses to help their people commute," he said. "What if you had an aircraft which could cover the barriers that exist for people living in mountains and on the islands surrounding Seattle, for instance? Even if we replaced a fraction of those busses, our programme would be very successful."
While the Bombardier and Embraer studies are ancient, what is driving commercial-to-business aviation migration - the growing hassle factor - has only gotten worse. And the market has changed with the advent of new business models offering a viable alternative. Consequently, an update on these studies might reveal a larger potential than previously concluded, which saved millions in corporate travel costs. Recent studies only re-enforce passenger dissatisfaction with travel as millennial travelers prioritize on quality of life and say better travel policies have an impact on whether or not they jump to another company.
Indeed, Bombardier's estimate for total yearly financial benefit of such an operation is $8 million including $3.7 million in increased productivity. Cash flow benefits alone amounted to $4.2 million. Bombardier pegged the total annual cost of a shuttle operation at $3 million compared to commercial airline travel costs of $5.3 million. Consequently, corporate shuttle operations would save more than $2.2 million in travel expenses. Embraer estimated a savings of $2.6 million annually in trip costs and productivity gains over flying commercial. It also indicated that corporate shuttle programs it studied were configured between 16 and 37 passengers and flew full.
So that puts Zunum aircraft and its future stretches right in that market and that is the second thing that makes me excited. Its focus on the small end of the market is remarkable not just because it is more doable in advance of scaling up the technology to larger aircraft but because that is an end of the market that has been almost completely ignored by the commercial aircraft industry.
Prompted by complaints of still-entrepreneurial regional presidents there is no replacement for the venerable 80s-era commercial airline turboprops, I've been harping at the likes of ATR, Embraer, Bombardier, Pratt & Whitney and GE to address the lower end of the market since business aviation aircraft did not fit the bill. Collectively, they answered there is no need; the trend is for bigger aircraft.
I concluded traditional manufacturers were ignoring other trends, chief among which is that hassle factor that is causing a boom in new business models. These regional CEOs were anxious to restore service to small communities abandoned by the airlines that have completely obliterated the intra-regional and intra-state service the new business-aviation models are now exploiting.
Thankfully, the likes of Surf Air, Wheels Up and others saw that opportunity and grabbed it creating the new hybrid models that have greatly expanding the business aviation market beyond what Wheels Up described as merely poaching each other's passengers. From the outset, they attracted people who had never considered business aviation and now report 60% of their passengers are new to business aviation. They are truly the nexus between business and commercial aviation and they have struck a chord with the traveling public.
In addition, other entrepreneurs saw a market need and created Single-Engine Turboprop operations (SET Ops) such as Sounds Air in New Zealand and St. Barts Commuter in the Caribbean which use Cessna Caravans and Pilatus PC 12s. The trend prompted a regulatory change in Europe where new operators are beginning to serve markets too long neglected.
The value of these 30-year-old+ regional aircraft is rising because there is no replacement for the likes of the Embraer Brasilia, the Saab 340, the Shorts 330/360, the Beech 1900. As a measure of the demand, Viking resurrected the venerable Twin Otter and is now so busy with orders the CEO said a couple of years ago at the Regional Air Cargo Carriers Association conference that it doesn't matter if regionals do not turn to the company for replacements. It is busy enough with cargo and utility demand as it is.
Textron, of course, has its eyes set squarely on this market having already proved the value of the Cessna Caravan and launched the Denali, and, most recently with FedEx, launched the SkyCourier, which only proves the importance of this end of the market. TBM and Pilatus are also seeing potential in these new business models.
Now you see why I am excited about all the activity roiling beneath the surface of aircraft and aviation services.
About the Author
Kathryn B. Creedy is a veteran aviation journalist and author who has covered almost every facet of commercial and business aviation.
She began her aviation work focusing on regional airlines in the immediate post-deregulation period. She founded Commuter/Regional Airline News in 1982 building it to become the bible of the industry. Kathryn has written for Forbes Online and is the author of Time Flies - The History of SkyWest Airlines in which she chronicled the post-deregulation history of the US regional airline industry.
Kathryn's byline has been seen in all of the top aviation publications. Her talents migrated to the web, when she returned to the editorship of C/R News - then called Regional Aviation News - in 2005 and took over editorial management of AviationToday.com. In addition, she founded the VLJ Report, covering the emerging very light jets in the business aviation market.
Kathryn's work has covered the abandonment of over 400 communities driven by changes in the US airline industry and she sees tremendous opportunities to fill the void in intra-state and intra-regional air transport. She has not seen this much activity in this segment of regional transportation since the 1980s.
Kathryn welcomes your comments: editor@blueskynews.aero
BlueSky Business Aviation News | 14th December 2017 | Issue #443