Washington, DC:
With new 5G wireless networks scheduled to go live across the country on January 19th, National Business Aviation Association President and CEO Ed Bolen welcomed the decision by telecommunications providers AT&T and Verizon to temporarily delay transmitter deployments near certain airports in response to continued aviation industry concerns about potential 5G interference to radar altimeters.
In addition to providing real-time measurement of an aircraft's clearance over terrain or other obstacles - critical information in a variety of operations, including landings in inclement weather conditions - radar altimeters may also be integrated with other aviation equipment such as terrain avoidance and warning systems (TAWS) and autoland capabilities, as well as ground spoilers, anti-skid braking, pressurization and other seemingly unrelated aircraft systems.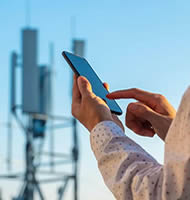 "It's important that we get this launch right, and without any compromise to vital aviation safety systems," Bolen said. "We appreciate the decision to defer deployment at certain towers, which will help ensure the ability to fly safely and efficiently across our National Airspace System."
---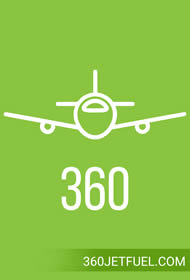 ---
Las Vegas, Nevada:
2021 sales brisk, actual values exceed ask prices, closing inventory scarce.
The pre-owned business aircraft market smashed numerous market records in Q4 2021 for the quarter, and for the calendar year, reports the Asset Insight AI2 Market Report.
With impressive transaction rates and values that, at times, significantly exceeded ask prices, 2021 pre-owned for-sale inventory closed 54% lower than EOY 2020. The Q4 AI2 Market Report covers 134 fixed-wing models and 884 aircraft listed for sale.
All aircraft groups posted record high demand in Q4 2021. Average posted prices for the limited, heavily picked-over, aging fleet, decreased to a record low figure, while younger, low-time aircraft sold quickly through 2021, and especially in the 4th quarter, often transacting without even being advertised for sale, and many times with aggressive bidding wars.
---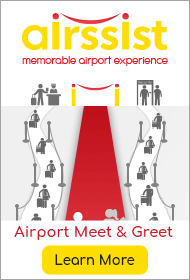 ---
Wheeling, Illinois:
Priester Aviation added five new aircraft in Q4 2021 to meet growing demand in both its owner use (Part 91) and charter revenue (Part 135) management services programs.
The diverse aircraft represent long-range, super-midsize, widebody and midsize options.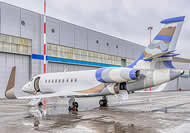 Falcon 2000LXS, Florida.
"These additions advance our goal of delivering incredibly high-quality, responsive services in key markets," says Andy Priester, President and CEO of Priester Aviation.
"More and more people recognize the unrivaled flexibility and benefits afforded by aircraft ownership and private charter flights. We see demand continuing to grow."
---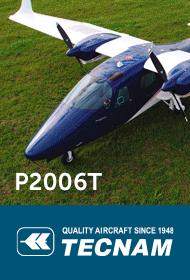 ---
Columbus, Ohio:
Leading avionics solutions provider Spirit Aeronautics have teamed with Honeywell Aerospace to provide 6.1 software upgrades for the Flight Management Systems in all Cessna Citation X aircraft.
This is the first partnership that enables the 6.1 software upgrade performed outside of the aircraft's OEM Service Center network.
Honeywell announced it was sunsetting support of its FMS pre-6.1 software versions as of 2021. This upgrade allows operators to maintain Navigation database updates for their FMS system. It also holds the path for LPV, FANS 1/A, and Required Navigation Performance (RNP) as the operator chooses to select each when needed based on the aircraft's mission.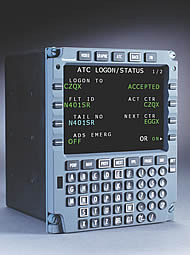 FMS 6.1

"This partnership allows us to support Citation X operators with a much-needed update of the existing FMZ 2000 Flight Management system at a price that makes sense," said Rick Ochs, President Spirit Aeronautics.
"Our cost-effective upgrade lets operators continue to operate a great aircraft and allows them to decide when to choose additional upgrades for the FMZ 2000 systems based on their needs. It allows them to maintain the current navigation database capabilities for the aircraft with reduced costs and eliminate critical obsolescence issues."
---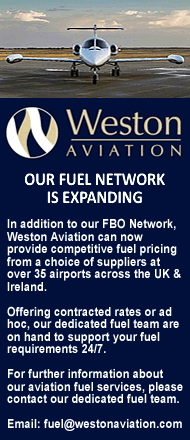 ---
Melbourne, Florida:
Satcom Direct (SD), the business aviation solutions provider, and MySky, the AI-powered spend management platform, have announced the signing of an agreement with tax reclamation experts, VAT IT USA.
The three-way strategic integration enables the companies to combine their expertise to deliver streamlined VAT and tax reclamation to mutual customers by leveraging each partner's technology.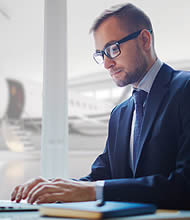 The aggregation of the VAT IT tax recovery option with the MySky financial module, within the digital flight operations platform SD Pro, acts as a force multiplier for flight departments, operators, and owners.
After a complimentary one time sign up to VAT IT, inputted expense and invoice data will be assessed and processed by the tax specialists to initiate the VAT reclamation which saves money, reduces workload, and improves the overall ownership experience.
---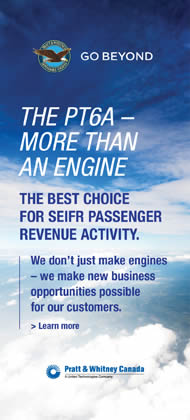 ---
Washington, DC:
The organizers of the Arsenal of Democracy Flyover were saddened to learn that Brigadier General Charles Edward McGee passed away on Sunday, January 16, at the age of 102.
McGee was a decorated US Army Air Force and US Air Force pilot, who was a Tuskegee Airman and served in World War II, Korea and Vietnam. During his service, he flew a record 409 combat missions.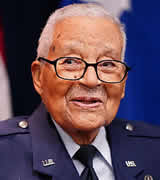 Brig. Gen. Charles McGee
McGee earned several military honors including the Legion of Merit with Oak Leaf Cluster, the Distinguished Flying Cross with Two Clusters and two Presidential Unit Citations. He was also awarded the Congressional Gold Medal in 2007 and inducted into the National Aviation Hall of Fame in 2011.
McGee was honored for his service during both the 2015 and 2020 Arsenal of Democracy Flyovers commemorating the 70th and 75th anniversaries of the end of World War II.
---

Air Partner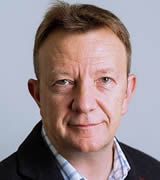 Pierre Van Der Stichele
Air Partner has appointed Pierre Van Der Stichele as Vice President of the Global Freight division.
Pierre will be responsible for bolstering and expanding the Freight business across all Air Partner locations, by continuing to hire key talent and target specific market sectors after an exceptionally busy year in 2021.
With extensive experience within the aviation sector in a range of senior roles, with more than 25 years' experience in the air cargo industry, Pierre joins Air Partner after a 19-year tenure with Chapman Freeborn in Gatwick, where he most recently held the position of Group Director of Cargo.
Pierre has arranged a variety of complex global cargo charters, air bridge for humanitarian missions and provided support for the industrial and military sectors. His knowledge of the aviation industry is built upon a career with time spent at Evergeen International Airlines, Antonov Airline, Southern Air Transport Inc and Northwest Airlines.
Outside of work, Pierre has built his passion for aviation as a certified gliding pilot (BGA) and as an active member of the Southdown Gliding Club, which helps youth members through their flying lessons and even assists in starting their aviation careers. Pierre was born in Brussels and he has been an expat in Lesotho, Bangladesh, USA, Italy and the UK, having followed his parents who were working for the United Nations. He speaks French, Italian and English fluently, and has a good understanding of Spanish and Portuguese.