Oriens Aviation, the exclusive British Isles Pilatus Centre, formally inaugurated its new MRO facility, Oriens Maintenance Services, at London Biggin Hill Airport on 15 February to an audience of 130 guests, including senior representatives from Pilatus Aircraft, plus three PC-12 NGs on show.
Founder and CEO of Oriens Aviation Edwin Brenninkmeyer highlighted his company is proud to be at the forefront of the single-engine turboprop (SET) revolution, one of the brightest spots in the business aviation industry today.
"Avalon Aero's facility at London Biggin Hill Airport became available for purchase at exactly the right time to facilitate Oriens' expansion," he said. "It reinforces our company's commitment to the world's best-selling single-engined turboprop, complementing our sales activity with AOC and pilot training advisory, MRO and warranty work."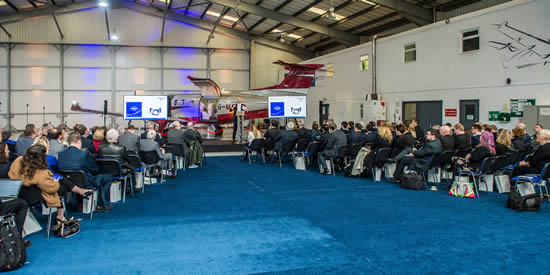 Oriens Aviation formally opens its Pilatus Service Centre. First PC-12 in work arrives this week.
"Looking to the future is why we have chosen London Biggin Hill as our location," declared Edwin. "It is the closest business aviation airport to London with full IFR facilities, customs and extended opening hours, the lowest aeronautical fees for the abundance of services provided. Furthermore, Biggin Hill is specifically targeting new business aviation activity. It can only be hugely advantageous for us to be based at a thriving, expanding business aviation hub - right where all the action is."
Edwin has been based at London Biggin Hill Airport - initially with a consultancy business - since 2010, but his relationship with the airport goes back 24 years to when he was first based there - as a private pilot flying a Rockwell Commander.
Speaking at the launch event, Andy Patsalides, Marketing Manager at London Biggin Hill Airport, said: "The PC-12 has become a game-changer for air charter following the EASA regulation update last year. Pilatus customers make an insightful choice with this speedy and economic aircraft. We are delighted that Oriens Aviation has chosen to bring their sales, customer support and maintenance services under one roof here at London Biggin Hill. As the only dedicated business aviation airport within the capital, we are firmly established as the preferred base for many MRO operators and other aviation businesses in the UK."
Patsalides also noted that PC-12 movements at London Biggin Hill Airport grew by 17% in 2017 to 400 movements across 85 different tail numbers. (According to WINGX analysis).
Following a significant front of house refurbishment, improvement to the hangar facilities and the addition of several new staff, including Paul Bryant as Finance Manager, Oriens is now ready to support existing customers.
"We have just concluded two 100-hour inspections and a pre-buy check, with the first PC-12 NG under new ownership due to come in for a service this week," Director of Maintenance Dave Plumpton confirmed.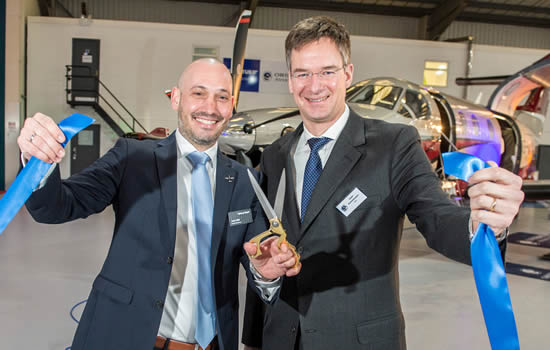 Luca Zatti, Service Centre Manager, Pilatus Aircraft (left), celebrates with Oriens Aviation CEO Edwin Brenninkmeyer on the opening of the new Pilatus Service Centre at London Biggin Hill Airport.
Luca Zatti, Service Centre Manager for Pilatus Aircraft, welcoming the OEM's newest authorised service centre commented: "People always ask what the 'PC' stands for in the PC-12. It stands for 'Pilatus Class,' - which is an attitude and a behaviour. It stands for quality, integrity and professionalism - all attributes which we associate with Oriens Aviation. The Oriens team is a great ambassador for our brand."
Coinciding with the opening of the new facility Oriens has a brand new website to reflect its one-stop-shop offering: www.oriensaviation.com
The Pilatus PC-12 can fly up to eight passengers in a luxury pressurized cabin, for up to 1,800 miles, at 320 mph and at 30,000 feet. The PC-12 features a generous cargo door and can operate from small airfields of 800 m, from gravel strips and grass, combining to make it one of the most versatile and practical aircraft. It can carry more payload than most for half the money.
With a price tag of US$5 million, it can be a business aircraft / an air ambulance (able to convert inside an hour) a cargo aircraft and everything in between. It also holds the best residual value in its class, retaining 80% of its value after 10 years. The PC-12 has operated in the Arctic Circle, the African Plains and is a regular stable with Australia's time crucial Flying Doctors. Its reputable single engine Pratt & Whitney Canada PT6 turbine is a legendary workhorse.