Four Seasons Hotels and Resorts, the world leader in luxury hospitality and service, unveils the new Four Seasons Private Jet - marking the establishment of a new standard in luxury hospitality experiences.
Contemporary design combined with luxurious finishes is featured throughout the aircraft. The interior is light and fresh, featuring carefully placed contrasts in colour palette and texture. From the hand-crafted leather flatbed seats by specialised aerospace Italian designer Iacobucci and hand-woven woollen carpeting to fine tableware, cosy Mongolian cashmere blankets and cabin crew uniforms, no detail has been overlooked.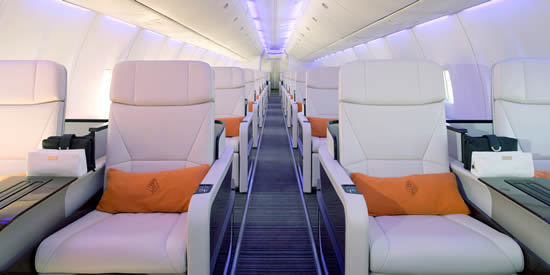 Images by Kirsten Holst
The exterior makeover of the aircraft has been conceived to stand the test of time - and high altitude - both for endurance and design aesthetic thanks to a high-gloss black finish and the largest rendition ever of the Four Seasons tree logo - a worldwide symbol of luxury hospitality and personalised service for more than 50 years.
"In our hotels, spaces are conceived as settings for great experiences," says Dana Kalczak, Vice President, Design, Four Seasons Hotels and Resorts. "The same is true for the Four Seasons Private Jet. Along with the core objectives of comfort and functionality - and adherence to strict aircraft safety standards - we wanted to create an exceptionally luxurious ambiance, and Champagne and caviar became our inspiration."
Ten Four Seasons trained in-flight crew, including an Executive Chef, a Sous Chef, a Four Seasons Concierge and a Global Guest Services Manager, are committed to making the journey truly personalised. Even the dining experience has been taken to an entirely new level, with a quality of culinary excellence, presentation and service rarely enjoyed in the skies.
Chef Kerry Sear says: "Our aim is to recreate the hotel experience on the Four Seasons Private Jet, which means creating innovative meals using fresh ingredients, served on the finest tableware and linens, all with impeccable Four Seasons service. The only real difference is that occasionally we have to do a little juggling when there's turbulence!"
Each Four Seasons journey includes air travel and ground transportation, planned excursions, all meals and beverages throughout the trip, and luxurious accommodations exclusively at Four Seasons hotels and resorts around the world.
The aircraft, including accompanying staff and crew, may also be privately chartered.