With landing and taxiing being some of the most difficult situations for pilots, Honeywell Aerospace is working on new features to its Primus Epic integrated flight deck product line that will keep pilots better informed and safer in the air and, more important, on the ground.
"You might think that once a pilot lands a plane after an eight-hour trip the workload decreases and the job gets easier, but that's not always true," said Sandy Wyatt, test pilot with Honeywell Aerospace Flight Test Operations. "At an unfamiliar airport and especially at night, pilots' workload may dramatically increase once they land and turn off the runway and begin to taxi. Time demands require getting to the gate expeditiously; onboard tools and electronic airport maps can greatly enhance a pilot's situational awareness, thereby improving safety for all the passengers."
The new technology features include Honeywell's 2-D and 3-D airport moving maps, Honeywell's SmartView Synthetic Vision System with updates for lower landing minimums, cockpit display of traffic information, and more.
"Primus Epic is one of the most advanced flight decks available for business and commercial aircraft, and these new features showcase that innovation is at its best at Honeywell," said Brian Sill, president, Business and General Aviation, Honeywell Aerospace. "Honeywell created and refined all of these features in its advanced technologies labs and collaborated with numerous aircraft manufacturers and pilots in test flights to ensure the technology provides the best user experience possible."
Primus Epic
These features will provide pilots with an enhanced and safer gate-to-gate experience and will be available for all Primus Epic-supported platforms for certification as early as the next two years.
Primus Epic Enhancements
Honeywell's SmartView Synthetic Vision: for Lower Landing Minimums. These updates bring SmartView to the Primary Flight Display (PFD) and prepare aircraft to take advantage of updated lower landing minimums, going from 200 to 150 feet.

2-D and 3-D airport moving maps: The 2-D moving map shows runways, taxiways, airport structures, and signs at many airports on the navigation display, while the 3-D moving map upgrades the Synthetic Vision System with an "out-the-window" view of the airport on the PFD.

Cockpit display of traffic information: This feature presents the position of nearby automatic dependent surveillance-broadcast (ADS-B) aircraft on the flight deck multifunction display, giving the flight crew better awareness and understanding of airborne and surface traffic.

Touchscreen controls: With an eight-inch diagonal screen, Primus Epic will support touch for functions such as the flight management window, radio tuning, flight planning, checklist, systems control and more.

Flight deck connectivity: Wireless data loading can eliminate cost and effort for implementing upgrades and updates. Pilots will benefit from an "always-up-to-date flight deck" with full-featured graphical worldwide weather, real-time updates of key layers on the navigation display, and just-in-time delivery of relevant location specific information.
Primus Elite Enhancements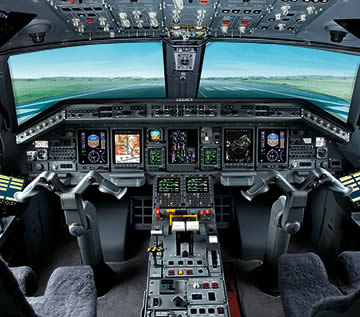 Primus Elite
Honeywell's Primus Elite flight deck, an LCD display upgrade for legacy SPZ-8400/8500 and Primus 1000/2000/2000XP flight decks, will introduce several new advanced features in late 2015:
Integrated Primary Flight Display with Synthetic Vision System: This will offer a more graphical and intuitive display for enhanced situation awareness.

XM Meteorological Aviation Report and Terminal Area Forecast: The enhanced map will be upgraded to provide more up-to-date weather information.

Traffic Collision Avoidance System: A new flight awareness layer will be added to the Enhanced Map feature.

On-wing field loading of application software and databases: This provides a significantly improved user experience, allowing all display units to be uploaded at the same time, without removal, using the DL1000 and greatly reducing the total time required for data uploads.