After a five year legal battle, Austrian aviation company International Jet Management GmbH (IJM) has obtained a landmark decision from the European Court of Justice that has major implications for the free movement of air traffic into Germany.
On 18 March 2014 the European Court of Justice (ECJ) ruled in favour of IJM. According to the Court, a series of fines levied on IJM were not justified and therefore the requirement to obtain approval for inward flights into Germany must be lifted for the entire industry.
Prior to the ruling, any operator flying into Germany from a non EU country departure point had to apply to the German authorities (three days in advance of the flight) for permission to make an inbound flight and the carrier also had to furnish evidence that no German competitor would conduct the flight (declaration of non-availability).
This was a requirement that IJM - just as many other European air carriers - was in most cases unable to meet, for mere lack of time. In the absence of such permission, the authority would introduce fines against the carrier. Charter flights (commercial flights in non-scheduled traffic) from outside the EU (e.g. Moscow or Ankara) to Germany in particular constitute IJM's daily business. While the requirements were in place IJM was eventually prompted by the German authorities to pay fines amounting up to € 2,200 per flight due to the lack of permission for inward bound flights. This was a situation that the company was not prepared to accept.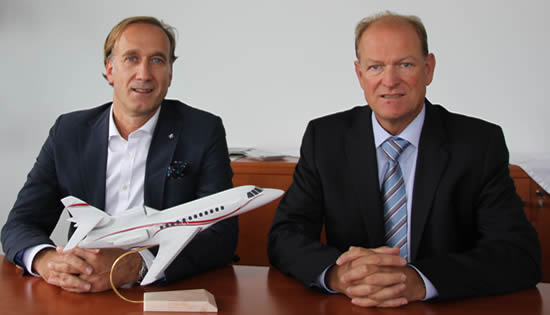 IJM Managing Director, Robert Schmoelzer (left) and Felix Feller, Accountable Manager & Owner.
"We guarantee our customers that we will be ready for departure within two hours after they book a flight", says IJM MD Robert Schmölzer. "This is precisely what makes business jets attractive for the customers. For us, this authorization requirement presented an obvious discrimination against competitors from Germany, prohibiting us from exercising our traffic rights", he explains. "It is unacceptable that the activities of a service provider that is established in another Member State and legally provides similar services there, are prevented or rendered less attractive by such restrictions", adds Schmölzer.
Seven EU Governments issue statements during Court proceedings
In 2009 IJM lodged an appeal against the penalties for the first time. The subsequent legal dispute lasted for several years. In the autumn of 2011, the Oberlandesgericht Braunschweig finally referred the case to the European Court of Justice (ECJ) for a preliminary ruling. The fact that seven governments of EU Member States issued statements during the Court proceedings shows how important this case is on a European level. Hence, the ruling was awaited with a huge amount of excitement.
The 18th March 2014 ruling by the European Court of Justice (ECJ) was in favour of IJM and means that the Court delivered a landmark verdict that will further advance the liberalisation of European air traffic. IJM has thus scored a victory on behalf of the entire industry.
"This is a huge success that benefits not only our company but all European air carriers flying into Germany from a non EU country", says a visibly delighted IJM MD Robert Schmölzer. "This is another important and right step toward the liberalization of European air traffic," he added.
"The ruling means that operators may not be discriminated on grounds of nationality or the fact that they are established in a Member State other than that where the services are to be provided. All pending procedures must be terminated", says Joachim Janezic, a Graz-based attorney and president of the Institute for Austrian and International Air Law, who represented IJM in the proceedings.
"Our objective was to question this unacceptable situation in the interests of the entire industry", says Horst Nentwich, Manager Flight Operations at IJM, who actively accompanied the relevant proceedings.
Legal experts agree that the ruling has an enormous impact on the free movement of air traffic in Europe. "This decision by the EJC has repercussions for European aviation as a whole", says Janezic. "After all, such regulations do not only exist in Germany but also in many other Member States, to which the ruling also applies."