Kailua-Kona, Hawaii
Big Island Jet Center gets ready to wish guests 'Mele Kalikimaka' as it announces mid-December opening
Travelers looking to retreat to the Hawaiian Islands this holiday season can elevate their experience with a new premier FBO option: Big Island Jet Center at Kailua-Kona's Ellison Onizuka Kona International Airport (PHKO).
The FBO looks forward to welcoming guests beginning December 14th, 2023 - following a soft opening the week prior - just in time to wish pilots and passengers a warm Mele Kalikimaka.
"We couldn't be happier to open in time for the holiday season, providing exceptional services to Hawaii's seasonal traffic and general aviation community alike," said David Johnston, Big Island Jet Center's senior partner.
"Kailua-Kona is home to exquisite resorts; our aim is to offer that exclusive resort experience from wheels down to wheels up as the airport's sole independent FBO. Big Island Jet Center is an investment in the private aviation experience, an investment in the airport and an investment in the Kailua-Kona community. We're ready to take luxury to new heights."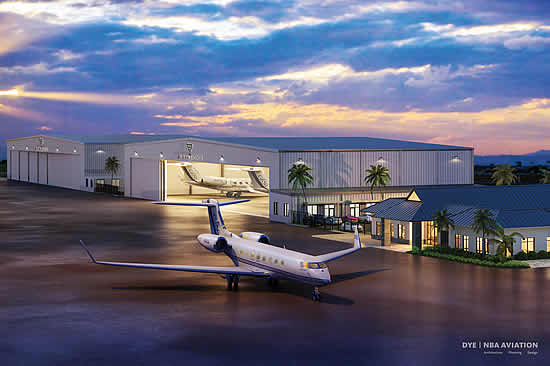 Rendering of Big Island Jet Center.
Located at the south end of the runway in a chic temporary terminal, the FBO complex offers everything private aviators need in paradise, including a large patio to accommodate passengers and crews with both indoor and outdoor lobby amenities. This is in addition to the airport's only private fuel farm and general aviation ramp, which at nine acres is capable of supporting aircraft up to an Airbus A319. Along with full FBO services, Big Island Jet Center partners with local hotels, resorts and activity centers to provide exclusive access to discounted rates.
Under the leadership of a veteran private aviation team, Big Island Jet Center provides incomparable customer care that caters to flight operators' unique requirements. Its team members are fully trained in fuel safety and security via NATA Safety 1st, and in guest services via an aviation-adapted version of the Ritz Carlton training program. This ensures travelers receive the very best in both safety and hospitality.
While its tranquil temporary terminal stands ready for the mid-December opening, Big Island Jet Center prepares to begin phase one of construction on its world-class, 7,500-square-foot executive terminal. The FBO's open-concept Pacific oasis will have a distinctly Hawaiian feel, showcasing a true "aloha spirit" while providing cutting-edge amenities and services, including: luxurious waiting areas, well-appointed restrooms, high-tech conference areas, and wireless connectivity throughout the facility and ramp. The team expects construction to be completed in late 2024.
Phase two will see the construction of environmentally sensitive hangars to safely house aircraft. All hangars will be built to the highest standards of Hawaiian building codes with regard to wind and storms.
As Big Island Jet Center's operations begin, so does its partnership with Avfuel Corporation - the leading independent supplier of aviation fuel and services. As an Avfuel-branded FBO, Big Island Jet Center offers competitive rates with Avfuel Contract Fuel, streamlined processing with the Avfuel Pro Card and lucrative rewards with AVTRIP.