New York:Location
Wheels Up introduces 'Up for Business', a new corporate member program for small and medium-sized enterprises
Designed for businesses that spend at least $250k in private travel services
Expected to deliver greater fleet utilization during weekdays, when individual and leisure travel demand is historically low
Wheels Up Experience has announced a new corporate program, Up for Business, to better serve its small and medium-sized enterprise members with a tailored private aviation solution that features industry-leading pricing, discounts, and benefits designed specifically for this size business and their executives.
The new program supplements the company's portfolio of products designed specifically for corporate travel. Wheels Up's significant network density along the east and west coasts and differentiated corporate flight solutions are anticipated to complement the flying habits of most corporate travelers. Up for Business is available starting November 1st.
"Wheels Up corporate members now have the ability to choose a solution that fits their flight profile and business needs," said Robert Bourrier, EVP, Global Sales. "Historically, smaller to medium-size businesses were forced to adapt to either a product that was designed for individuals or a solution that was built for large corporations. We see an opportunity to deliver a tailored product to members rather than a one-size-fits all offering, while capturing the operational and financial benefits of a balanced fleet utilization throughout the week."
"By adding a sensible layer for businesses that falls within the small and medium-sized tier, we are able to offer superior pricing, better service and benefits. We expect this new product to improve the efficiency and profitability of our operations with a more balanced utilization of our fleet throughout the week - all while keeping the member firmly at the center of everything we do."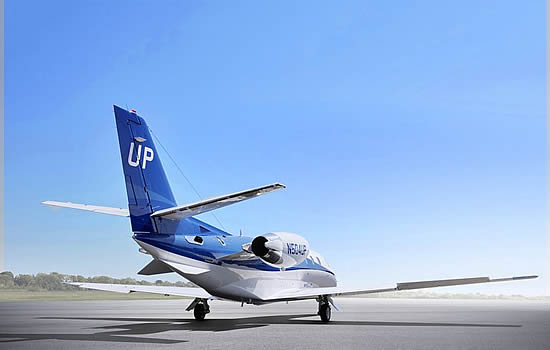 Supported by a dedicated corporate sales team, Wheels Up will now offer two programs for corporate fliers - Up for Business for small and medium-sized companies with either a $250,000 or $300,000+ deposit, and the existing business membership for larger businesses/high volume fliers focused on Custom Enterprise Solutions with either a $500,000 or $1 million+ deposit.
The new Up for Business program will offer a significantly reduced deposit, initiation fee, annual dues and contract term of 18-months, a new round trip discount and unlimited lead passenger designees. Up for Business members will also benefit from having access to a second aircraft on the same day once per quarter.
Wheels Up continues to offer enhanced, unique-to-the-industry, benefits to all members through its long-standing partner and investor, Delta Air Lines, the No. 1 premium airline in the world. Up for Business members at $250,000 deposit will receive one Diamond Medallion designee and members depositing $300,000 will receive two of the highly coveted SkyMiles status. Further, all members will continue to have the ability to use funds on deposit for both private travel with Wheels Up and commercial trips on Delta flights.
"Wheels Up is an integral part of Delta's portfolio of premium, corporate flight solutions providing unique benefits to our respective and joint customers.," said Bob Somers, SVP, Global Sales, Delta Air Lines. "The Up for Business customer is an important segment within the total addressable market for business travel. We look forward to working closely with the Wheels Up team to provide unparalleled service as leaders in commercial and private aviation."