Las Vegas, Nevada
World Premiere
:

Pilatus takes lead in cabin innovation with F/LIST Shapeshifter - inspired material
F/LIST, a pioneer in innovative cabin solutions, and Pilatus Aircraft Ltd are showcasing the first use of the biobased material, F/LAB Aenigma, for the cabin of a business aircraft.
The customized Aenigma material, which has been applied to the bulkhead and decorative surfaces of a PC-24 Super Versatile Jet, is being highlighted on the Pilatus static display during NBAA-BACE 2023.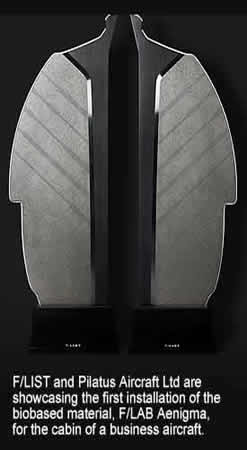 The F/LIST Shapeshifter-inspired F/LAB Aenigma opens a new chapter in aviation materials, presenting an ingenious blend of cutting-edge technology and ecological responsibility. Launched during NBAA 2022, the first installation demonstrates that the market potential for applications is endless and that it is only the imagination that creates boundaries for its use. Its exceptional, innovative design, environmentally friendly properties and high-quality features earned Aenigma a prestigious Red Dot Design award in Spring 2023.
The F/LAB Aenigma variant equipped on a PC-24 highlights the versatility and possibilities of the material. F/LIST's multi-disciplinary innovation team, called F/LAB, responded to the customer's request for a lightweight, hard, durable surface with a metallic finish. This version of the F/LAB Aenigma features a stunning silver finish, which is achieved using pure metal powder and avoids the use of synthetic and petrol-based pigments. By incorporating renewable raw materials derived from wood, every square meter of the revolutionary Aenigma panel actively sequesters a remarkable 400 litres of CO2, contributing to a greener and more eco-conscious aviation landscape.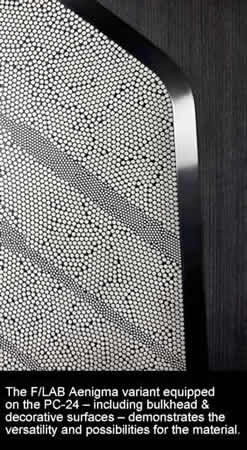 "We are excited to present this new material to industry delegates as we lead the way in setting new standards for sustainability within the aviation industry. This chameleon-like material epitomizes the versatility of our F/LAB alchemists, highlights the infinite potential for designers, and indicates the trend is beginning to move towards sustainable options for interiors", says Katharina List-Nagl, CEO of F/LIST.
The debut installation of the material on the Pilatus PC-24 dividers highlights the unwavering success of the long-standing relationship between Pilatus and F/LIST and the joint commitment to exceeding customer expectations through ingenuity, excellence, and the highest standards of service.
"Pilatus Aircraft and F/LIST are both dedicated to advancing aviation through innovative technologies and sustainable practices. The F/LAB Aenigma serves as a confirmation of our shared vision and dedication to driving positive change in the industry", says Ignaz Gretener, Vice President of Pilatus' Business Aviation unit. "We are looking forward to inspiring our customers with this new material and researching, identifying, and creating future sustainable cabin interiors."