Isle of Wight, UK
Britten-Norman introduces new apprenticeship scheme
Subregional aircraft manufacturer, Britten-Norman has introduced a new apprenticeship scheme in partnership with the Isle of Wight College.
The new apprentices are benefiting from a unique collaboration with the Centre of Excellence for Composites, Advanced Manufacturing and Marine (CECAMM) on the Isle of Wight.
The arrival of the new apprentices coincides with Britten-Norman opening its new production line at its Bembridge site last month. This exciting news means that the apprentices will be directly involved in the manufacture of new aircraft, the production of which has now returned to the UK for the first time since 1968.
The programme will see a cohort of Engineering Fitter Level 3 Apprentices embarking on a three-year apprenticeship program. In addition to their time at Britten-Norman, weekly sessions at CECAMM are undertaken to enhance their practical abilities and immerse them in real-world aerospace engineering challenges.
Britten-Norman, known for its iconic Islander aircraft, has long offered apprenticeship schemes and this collaboration with CECAMM is the most recent example of engineering training offered to young people from the area.
Pete Dowers, New Build Manager at Britten-Norman said: "Having served 45 years with Britten-Norman and currently working on my 500th aircraft, I believe it's important to pass my knowledge to the next generation and help them develop their own skills. In fact, I was fortunate to have been an apprentice at Britten-Norman myself, starting back in September 1978. My apprenticeship shaped my career where I now manage our new aircraft builds on the production line at our Bembridge site.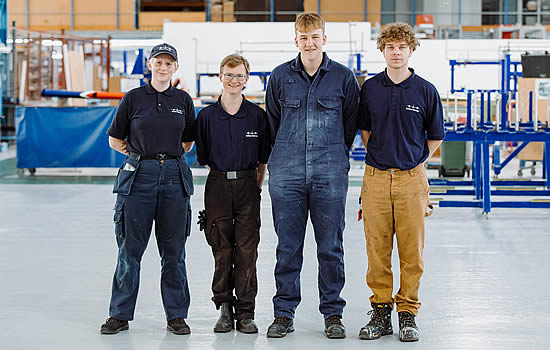 CECAMM apprentices at Britten-Norman's manufacturing facility at Bembridge, Isle of Wight | Photo: Britten-Norman.
"The apprentices had already been through their first year of training before they joined us and will spend 3 months in each of the 10 different areas of the business, getting hands-on with everything from machinery and sheet metal through to flight controls and the paint shop. By the end of their 3 years, each apprentice will have gained a good understanding of the different areas of aircraft engineering to decide which they are most interested in pursuing as a career.
"As the sole commercial aircraft manufacturer in the UK, it's important to have this apprenticeship scheme to make sure we have people with the right skills working in the business and can continue to build new aircraft on the Isle of Wight for many years to come."
Isaac Turner Curriculum Manager - Digital and Innovation remarked: "We are looking forward to supporting the upcoming generation of engineering fitters through an apprenticeship scheme being run here at CECAMM.
"The newest group of apprentices joined us in September and will now start their journey towards acquiring technical knowledge, skills, and behaviours, whilst on day release studying a level 3 advanced manufacturing engineering qualification and refining skills at Britten Norman
"We are excited to collaborate with Britten Norman to fulfil the needs of their current and future apprentices."
Plans are already underway to expand the apprenticeship programme, with aspirations for a larger cohort of engineering apprentices next year as the company continues to nurture talent and promote education in the aerospace sector.
In line with this commitment, Britten-Norman encourages more talented people to consider a career in aerospace engineering.