Fargo, North Dakota
Fargo Jet Center delivers two highly customized Learjet 75 air ambulance aircraft to Romanian government
Fargo Jet Center (FJC), in collaboration with Bombardier and Spectrum Aeromed, has delivered two highly customized Bombardier Learjet 75 air ambulance aircraft to be used in Romania by the General Aviation Inspectorate of the Ministry of Internal Affairs in support of emergency rescue services.
FJC transformed the aircraft from standard passenger configurations to state-of-the-art air medical interiors with extensive modifications and performance enhancements. The custom-designed, engineered, and FAA-approved modifications include downwash patient lighting, a removable bulkhead, an AFT baggage storage cabinet, a 6,000-liter oxygen rack system, and a forward cargo bay. Additionally, the factory side entry and lower sidewall interiors were modified and encased in full stainless steel.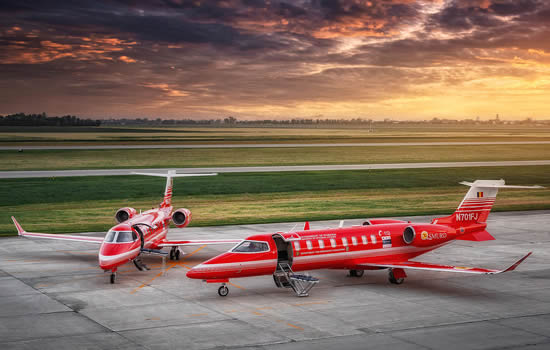 Unveiled as the first of their kind in Romania and as one of the fastest aircraft types in its class, these two Learjet 75 aircraft will serve to improve response time and availability, particularly in times of life-threatening situations, providing prompt access to the highest level of urgent medical care.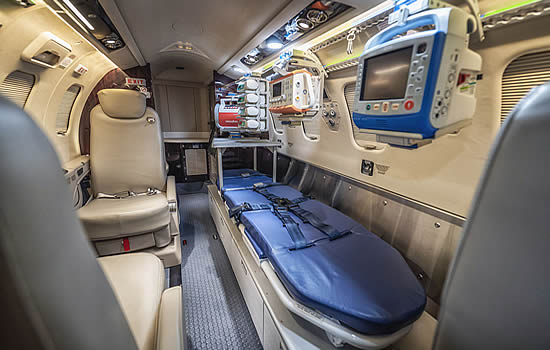 "The visionary craftsmanship and precision constructed into these aircraft truly highlight our team's capabilities and expertise in aircraft modifications," said Randy Jenson, FJC Vice President. "From conceptual design to fully installed solutions, our proven abilities played a key role in equipping these aircraft for their unique mission of improving healthcare accessibility and response times for critical medical emergencies."
Steve Patrick, Vice-President, Bombardier Defense, added: "At Bombardier Defense, we take pride in the trust put in our products to conduct demanding missions. Bombardier has a 24/7 support infrastructure of experts and service centers worldwide that are ready to provide an efficient and reliable service for the Learjet aircraft. We look forward to continue expanding our partnership with Fargo Jet Center to provide our highly reliable platforms tailored to the mission."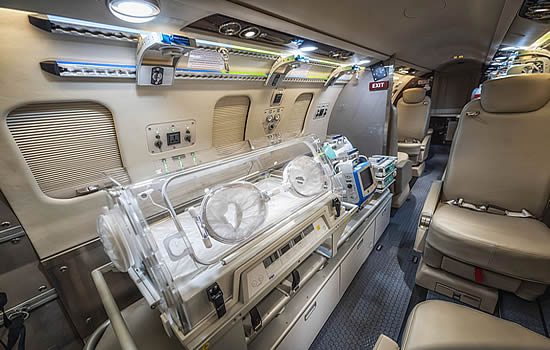 Furthermore, FJC partnered with Spectrum Aeromed (Fargo, ND, USA) to supply the dedicated advanced air ambulance modules and supporting air medical equipment. Each aircraft is meticulously outfitted for the transport of two critical patients and includes vital medical equipment including an incubator for critical condition infants and an extracorporeal membrane oxygenation (ECMO) machine.
"This completion is another example of FJC and Spectrum Aeromed's unique value proposition for our clients that's not found anywhere else in the world," said Chase McCown, Spectrum Aeromed President. "With facilities based on the same airport, our teams can better collaborate throughout a project."
The collaboration between FJC, Bombardier, and Spectrum Aeromed marks yet another triumph in their history of international projects. Their partnership previously culminated in the completion of two Bombardier Learjet 75 air ambulance aircraft for Polish EMS operator Lotnicze Pogotowie Ratunkowe.