Wichita, Kansas
Textron and NetJets sign record-breaking fleet agreement for up to 1,500 Cessna Citation jets
NetJets named launch customer for the new Cessna Citation Ascend
Textron Aviation and NetJets have announced a record-breaking fleet agreement for the option for NetJets to purchase up to 1,500 additional Cessna Citation business jets over the next 15 years.
The agreement, signed on Wednesday (20th September), extends NetJets' existing fleet agreement, and includes options for an increasing number of aircraft each year, enabling NetJets to expand its fleet with Cessna Citation Ascend, Citation Latitude and Citation Longitude aircraft.
Equally exciting is the announcement that NetJets has been named the fleet launch customer for Textron Aviation's newest jet - the Citation Ascend. Deliveries of the Citation Ascend are expected to begin in 2025 when the aircraft, currently under development, is expected to enter into service.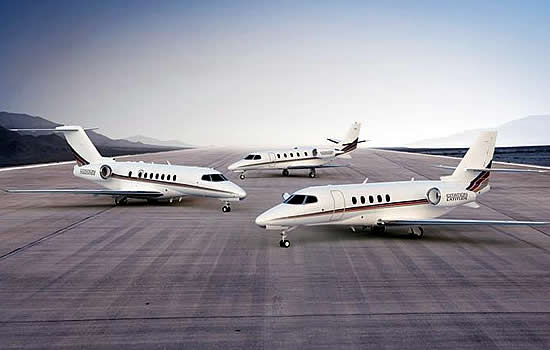 The Citation Family - the new agreement also includes the Latitude and Longitude.
"NetJets customers around the world continually select Citations as their aircraft of choice. We're honored to be the largest provider of industry-leading aircraft to NetJets and look forward to continuing to work together to design and deliver the best aviation experience based on customer feedback," said Ron Draper, president and CEO, Textron Aviation. "Expanding and adding the Citation Ascend to the NetJets fleet will provide its global customers with even more versatility and flexibility to accomplish their missions, building upon the exceptional performance and popularity of the Latitude and Longitude."
Since the inception of the more than 40-year relationship between the companies, NetJets has taken delivery of more than 800 aircraft from Textron Aviation, including exercising over 300 options for Citation Latitudes and Longitudes during the past eight years. This enduring relationship equips discerning customers with class-leading, safe, and reliable aviation travel experiences worldwide. Through the years, NetJets has owned and operated industry-leading Citations including the Citation SII, V, Excel/XLS, Sovereign, X, Latitude and Longitude models.
"As a long-time, trusted ally who shares our commitment to safety and service, Textron Aviation is the ideal partner to help us expand our offerings to NetJets Owners with the introduction of the new Ascend to our midsize jet class, as well as by growing our overall fleet," said Doug Henneberry, NetJets Executive Vice President, Aircraft Asset Management. "Based on past demand for the popular Citation Latitude and Longitude, the new Ascend and all our new Citations will undoubtedly be well received by our Owners, particularly those who depend on NetJets to help them do more and miss less."
Cessna Citations are renowned for their ability to combine reliability, efficiency and comfort with advanced technology and class-leading performance, and no other family of business jets offers such a seamless progression of aircraft with extraordinary capabilities. Since Cessna delivered its first Citation in 1972, it has set the standard in the business jet market, often achieving the most deliveries annually across the business and general aviation industry.
The Citation series of business jets has evolved to offer an unmatched range of capabilities, systems and options that allow customers to expand their business reach. More than 30 Citation models have been certified over the 50-year history of the Citation line. There are currently six Citation models in production: Citation M2 Gen2,Citation CJ3+, Citation CJ4 Gen2, Citation XLS Gen2, Citation Latitude and Citation Longitude, with the Citation Ascend under development.
The Cessna Citation Ascend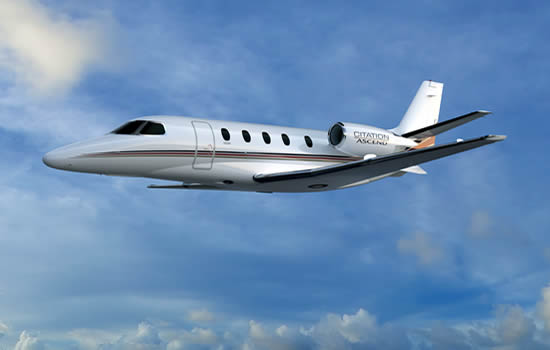 The Citation Ascend is designed to bring an entirely new cockpit, improved performance and a more luxurious cabin to the midsize business jet market. Preliminary performance targets indicate a four-passenger range of 1,900 nm at high-speed cruise power (with an estimated maximum range of 2,100 nm), cruise at 441 kts and the ability to climb direct to 45,000 ft.
With sleek and modern features, NetJets owners will enjoy many of the luxuries found in the bestselling Citation Latitude and Citation Longitude, including a flat floor to provide generous legroom and flexibility for passengers. The aircraft will offer Pratt & Whitney Canada PW545D engines designed to deliver fuel efficiency and increased thrust, as well as state-of-the-art Garmin G5000 avionics that feature the latest software and hardware, including autothrottle technology. The Ascend also features a Honeywell RE100 [XL] Auxiliary Power Unit (APU) approved for unattended operations.
The anticipated Ascend design for NetJets will feature a standard seating configuration for seven passengers, a full refreshment center and a spacious baggage compartment.