Cleveland, Ohio
Flexjet first in industry to launch Starlink by SpaceX - the world's most advanced in-flight connectivity solution
Engineers from Starlink and Flexjet's engineering arm, Nextant Aerospace, successfully establish first STC for installation of Starlink in the Gulfstream G650
Flexjet has collaborated with broadband satellite internet provider, Starlink, to provide its aircraft Owners in-flight Wi-Fi access that for the first time will align with service expectations they would have in their boardroom.
Flexjet is the first shared ownership jet travel provider to offer such fast, reliable access, which will enable its passengers to conduct voice and video calls, stream video, and internet activities that require high-speed capabilities, improving an already seamless flight experience. The introduction of Starlink is the culmination of an 18-month process that included an industrywide technology evaluation followed by a close collaboration between Flexjet, Nextant Aerospace (Flexjet's engineering arm) and Starlink.
"We are committed to providing the finest possible travel experience for our Owners and this includes high-quality internet access from takeoff to arrival," said Jay Heublein, who leads Flexjet Global Maintenance and Product division. "Through Starlink, SpaceX has created the most significant technology advancement for private jet travel that we've seen in the last 2 decades. Reliable connectivity is vital to our Owners and for the first time, the technology exists to deliver on this expectation."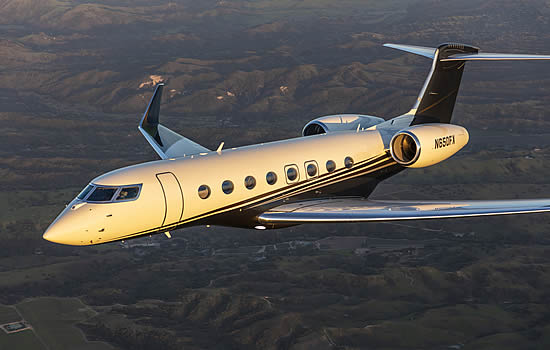 Engineers from Starlink and Flexjet's engineering arm, Nextant Aerospace, successfully establish first STC for installation of Starlink in the Gulfstream G650.
Starlink, engineered by SpaceX, operates more than 4,500 satellites in low-Earth orbit to provide internet access all around the world, including to the most remote and rural locations as well as to aviation and maritime users.
"As the first global business jet operator to adopt Starlink, Flexjet is leading the way in bringing a truly reliable high-speed internet solution to its aircraft owners," said Chad Gibbs, SpaceX's Vice President of Starlink Business Operations. "Our focus from day one was to solve for the shortcomings of existing in-flight technology and ensure that Flexjet could offer a seamless connectivity solution from ground to flight and back."
The Federal Aviation Administration has certified Starlink's technology for use in Flexjet's Gulfstream G650s. Once work to install the antennas on the Gulfstream fleet is completed, work would begin to certify and install the technology Flexjet's super-mid (Praetor 600 and Challenger 350/3500), mid (Embraer Praetor 500) and light jet (Phenom 300) fleets.
Starlink was specifically designed to address reliability issues that have plagued legacy systems. The hardware features a phased array antenna with no moving parts, eliminating its susceptibility to the environmental variances that can significantly impact performance on older technology.
Once this technology is installed on aircraft, Flexjet passengers will be able to access the internet as soon as they board the aircraft, rather than waiting until they reach a certain altitude. Nor will they lose access as the aircraft descends from its cruising altitude, unlike other aviation internet providers today. This consistency will ensure that, for example, business video calls, and streaming movies are not disrupted in-flight or on the ground.
"Internet access is as indispensable to modern life as electric power, and providing seamless high-speed access is vital for a superior travel experience," said Heublein. "Flexjet is proud to have identified and adapted the most advanced technology to keep our aircraft Owners connected no matter where in the world they are."