London and New York
Vertical Aerospace's VX4 programme moves to the next phase
Preliminary investigation into August 9 incident swiftly completed, identifying the root cause to be a single component
Vertical Aerospace, a global aerospace and technology company that is pioneering zero-emissions aviation, has provideg an update on its overall programme.
Flight Test Update
Vertical concluded its remote thrustborne flight test campaign in July 2023, as the first full-scale VX4 prototype reached its target speed of 40kts (70 kmph), demonstrating exceptional overall stability and control. Performance targets were generally exceeded by 10-30% during hover and low speed flights.
The prototype performed especially well in sustained hover, typically the most challenging regime for a VTOL aircraft, where it maintained level flight for longer than anticipated. The aim of these thrustborne flight tests was to verify acceptable stability, battery efficiency and control characteristics, aerodynamics, structural loads, performance and vibration throughout this speed range - all of which were achieved.
Incident Update
Vertical continued further uncrewed flight tests following the completion of the remote thrustborne flight test campaign. The purpose of these was to understand how the aircraft performed outside of its expected operating conditions before the aircraft's planned retirement.
During one of these test flights, an unexpected fault occurred causing the aircraft to enter a stable descent, before being damaged on impact with the ground. Vertical completed a swift and thorough investigation and submitted a report to the Air Accidents Investigation Branch (AAIB). Vertical's investigation identified the root cause to be a fault with a propeller.
This early generation propeller had already been redesigned prior to the incident, with the issue fully resolved ahead of the next phase of testing. Further recommendations by the investigation are being implemented by Vertical.
Vertical believes transparency and openness is fundamental to the safety of aerospace. It therefore intends to provide a further full update to the industry on the incident once the AAIB's investigation has concluded.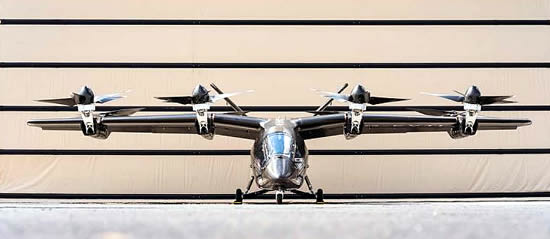 VX4 Programme Update
Supported by the learnings from the completed thrustborne campaign, the VX4 and its certification programme remains on track with no changes to timelines. The assembly of a second significantly more advanced full-scale VX4 prototype is underway at GKN Aerospace's Global Technology Centre.
This demonstrator is expected to be ready to fly early next year. Its components will include technology from most of Vertical's certification partners: Honeywell, GKN Aerospace, Hanwha, Solvay, Leonardo and Molicel. An additional, identical full-scale aircraft has also now been approved and is expected to be flying in the second half of 2024.
These upgraded full-scale aircrafts' structures and subsystems will be tested in line with certification standards. Both will require rigorous regulatory oversight, including a Permit to Fly from the UK Civil Aviation Authority, to progress to piloted flying.
Stephen Fitzpatrick, Vertical Founder and CEO commented: "We are pleased with our flight test progress to date and the data, insights and invaluable learnings we have collected. While a fault of any sort is disappointing, it is not wholly unexpected at this stage of testing a novel aircraft.
"I am pleased that as a result of our expert team we have isolated the cause of the fault and been able to provide the AAIB with our report within 14 days of the incident. Our planned second upgraded prototype, which will include most of our top tier partners' technology, will have us in the air early next year and we remain on track for our certification timelines."