Norway
Elfly Group secures grant from Norwegian Government agency to develop prototype of its all-electric seaplane
Norway's Elfly Group is to forge ahead with the production of a full-scale prototype of its all-electric commercial seaplane, the Noemi (No-Emissions) following this week's confirmation of an $8m-plus grant from Enova SF, the country's Ministry of Climate and Environment.
The award underlines the Norwegian Government's commitment to transition to a low emission society and its ambition to make domestic flying emission free by 2040. Elfly Group will support this goal (when Noemi flies) by reducing CO2 emissions by an approximate three million tonnes worldwide within 2050.
Having been awarded more than $10m in soft funding, combined with matched funding from early investors, headed by the company's founding CEO Eric Lithun, Elfly can now progress key milestones at its Jarlsberg, Norway facility.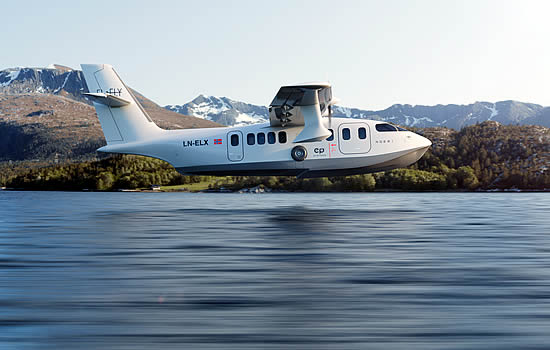 ElFly's all-electric seaplane, Noemi.
"Our team is delighted by the recognition and endorsement of Noemi, our all-electric seaplane," said Eric Lithun, thanking Enova and Espen Barth Eide, Norway's Minister of Climate and Environment, for "recognising our business case and aligning with our programme as a viable solution."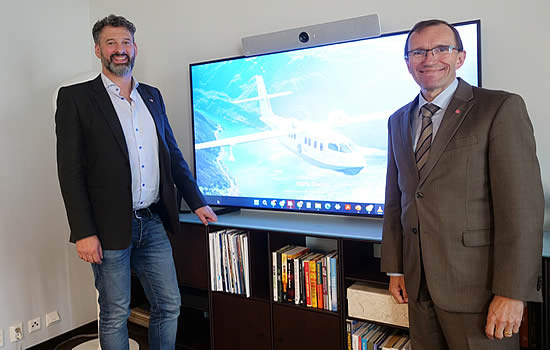 Eric Lithun Founder and CEO of Elfly,with Espen Barth Eide, Norway's Minister of Climate and Environment.
Photo: KLD
Elfly's amphibious Noemi, backed by Norway's Innovation Research Foundation, SINTEF, is being designed for flexible regional mobility in Norway. With its design inspired by a boat, whose hull will enable the aircraft to take off using little power, the Noemi prototype (non-passenger version) is being readied for first flight in 2025. Noemi is being designed for 200km commercial air journeys, flying at up to 250kmh, from 2030.
Its seaplane, carrying from nine to 13 people, will be powered by two electric motors with up to 1MW combined output and lithium batteries. It will have an unpressurised cabin, large windows and large access door.
Following the selection of Electric Power Systems (EPS) of the USA as battery supplier during EAA AirVenture Oshkosh in July, Elfly's next priority is to confirm its engine provider.
Pledge to operate 15 seaplanes on its own AOC
Elfly Group's vision is to operate 15 Noemi aircraft on its own Air Operator Certificate (AOC). Elfly is focusing on its home market first, developing its own infrastructure creating valued connections from the country's 1,000 plus fjords and 450,000 lakes. Thereafter, it intends to explore opportunities in other short hop markets, considering that 80% of the world's population lives by the sea.
"Many Norwegians live by fjords and lakes, but need access to hospitals, big cities, and connections to the world. Our fjords can be turned into potential (floating) airports without destroying nature. While the country is home to 5.5 million people, we consume 10 times more travel - the equivalent of a population of 55 million. First and foremost is the need for sustainable travel, which we believe will also enable many economic opportunities for coastal communities," highlighted Eric Lithun.