Montreal
Bombardier introduces advanced avionics upgrade for in-service Global aircraft equipped with the Bombardier Vision flight deck
Bombardier has introduced its new Advanced Avionics Upgrade (AAU) for the Bombardier Vision flight deck, a new avionics software and hardware enhancement that boasts the latest technology to enhance situational awareness and offer advanced visualization features.
Powered by Collins Aerospace and available for in-service Global 5000, Global 6000, Global 5500 and Global 6500 aircraft equipped with the Bombardier Vision flight deck, the AAU is designed to take in-service Global aircraft to the next level by providing avionics features currently available on in-production Global 5500 and Global 6500 aircraft.
The new AAU software allows for the installation of Bombardier's revolutionary Combined Vision System (CVS), which integrates the best features of the Synthetic Vision System (SVS) and the Enhanced Vision System (EVS) in a single view to reduce crew workload and achieve unmatched situational awareness with the clearest view through the toughest weather. A Global 6000 business jet is the first aircraft to receive the upgrade, which is currently being installed at the Wichita Service Centre.
"The new software upgrade for the Bombardier Vision flight deck is a gamechanger and we are delighted, along with Collins Aerospace, to bring our operators aircraft to new levels of operational excellence," said Paul Sislian, Executive Vice President, Aftermarket Services & Strategy, Bombardier. "The Bombardier Vision flight deck has been an important staple on Bombardier Global aircraft for years, and the addition of the Advanced Avionics Upgrade (AAU) ensures our business aircraft continue to be renowned for their impeccable safety, reliability and performance."
"The primary objective of this upgrade, and our long-term collaboration with Bombardier, is to proactively provide information to the flight deck that improves safety and confidence in decision making," said Marc Ayala, senior director of sales, Business & Regional Avionics, Collins Aerospace.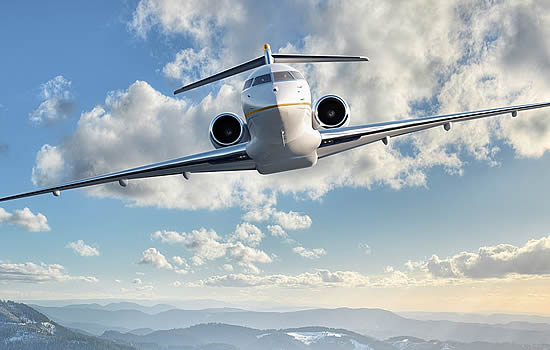 Global 6500
On top of the Combined Vision System, operators can add other sought-after optional enhancements to their new avionics package, such as ADS-B in/Cockpit Display of Traffic Information (CDTI) and Airport Moving map/SVS Taxi mode. A brand-new, state-of-the-art weather radar will also be offered, enabling the Vertical Weather and Predictive Windshear featured options.
Important safety and performance-enhancing capabilities with the AAU include Engine Indicating and Crew Alerting System (EICAS) with improved message logic; an Integrated Flight Information System (IFIS) that sets the industry standard for system integration, quantity and quality of information; updated weather enhancements with XM/SXM Graphical Weather/DataLink Graphical Weather; further improvements to the Electronic Flight Instrument System (EFIS) that provides updates to the head-up display (HUD), primary flight display (PFD) logic and Synthetic Vision System (SVS) for enhanced operational performance and more.
Installation of the AAU on in-service Global aircraft is available across the complete Bombardier service centre network. Bombardier's recently expanded network of service centers features locations across the US, Europe and Asia, including state of the art new buildings in Singapore, Miami Opa Locka, Melbourne, and London Biggin Hill. These state-of-the-art facilities employ factory trained technicians to ensure a seamless upgrade process. Bombardier also has 34 Mobile Response Team (MRT) vehicles, all equipped to support Learjet, Challenger and Global business aircraft, and connected to Bombardier's 24/7 Customer Response Centre and Customer Support Team.