United Kingdom
BookaJet introduces first G-registered HondaJet on to its AOC
Leading UK charter and aircraft management company BookaJet has debuted the HondaJet Elite onto the G-registry and its UK Air Operator Certificate.
It is offering the distinctive-looking light business jet for charter, positioned from its Farnborough Airport HQ. Presented in a striking grey and orange livery, the newly registered G-HJBM seats up to six passengers in executive club seating.
"We are very enthusiastic to bring this stunning executive aircraft into charter service in a UK first, says BookaJet Managing Director Jonathan Clements. "It's an ideal entry level jet for passenger trips around the UK and into Europe with up to three hours' flying time."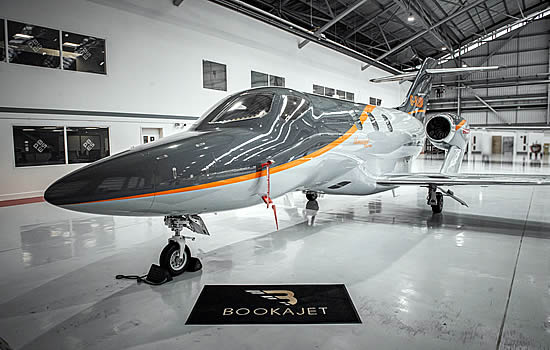 Photography by Billypix.
The HondaJet Elite version, launched in 2018, offers expanded performance, enhanced interior and updated Garmin 3000-based flight deck. Range is 1,437 nm (2,661 km). Elite's payload is also increased by 226 lbs (102 kg) from the classic HondaJet.
It offers flexible executive seating in a spacious cabin, with aft private toilet, excellent cabin accessibility and a combined stowage capacity of 66 cubic ft / 200kg.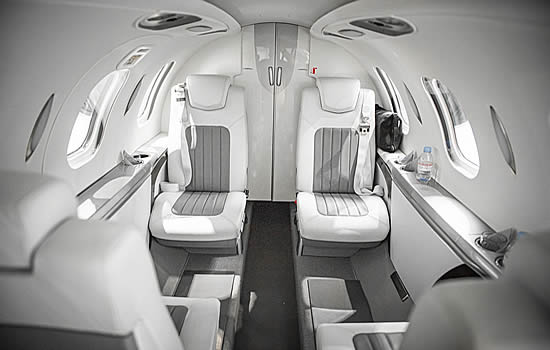 Photography by Billypix.
BookaJet's HondaJet fleet will be headed by Director of Flight Operations, Captain Alex Fleming (who formerly flew one of the company's Hawker 850XP's). He recently completed his initial type rating at FlightSafety International at Farnborough Airport.
Second HondaJet to arrive this autumn
The company, founded in 1997, is looking forward to adding a second HondaJet to its fleet in October this year. It will also be based at Farnborough Airport.
Honda's first business jet, certificated in Europe in 2016, broke the mould with its advanced technologies and concepts, centred around its famous, patented Over-The-Wing Engine Mount (OTWEM) configuration. Its OTWEM design, complemented by natural laminar flow wing and composite fuselage, dramatically improves performance and fuel efficiency by reducing aerodynamic drag, lowering cabin sound, and minimizing ground-detected noise.
"The aircraft has tremendous ramp appeal," added Jonathan - right down to its elegant nose shape (inspired by the Salvatore Ferragamo stiletto) and finely tuned through years of aerodynamic testing and development.
RAS for MRO support
BookaJet plans to work closely with HondaJet's European distributor and Authorised Service Centre RAS (Rheinland Air Service).
The two companies will be highlighting their new collaboration with a joint exhibition booth at the upcoming Air Charter Expo 2023 at London Biggin Hill Airport on 12 September. A new HondaJet Elite II, just recently delivered, will also showcase in the static display.