Canary Islands
Surcar Airlines selects ZeroAvia engines for clean seaplane flights in the Canary Islands
Canarian Airline signs up for zero-emission, hydrogen-electric engines to power Twin Otter seaplane variant
ZeroAvia has announced that it has signed an agreement to provide its ZA600 hydrogen-electric engines to new operator Surcar Airlines as it looks to bring green flights to the Canary Islands.
Surcar plans to use Twin Otter seaplanes retrofit with the ZA600 powertrain on sightseeing tours. The newly launched airline is backed by investors including the Danish carrier Nordic Seaplanes. Surcar Airlines is committed to spearheading the electrification of aviation to enable zero-emission flights in the Canary Islands.
By pioneering captivating, green sightseeing flights, the company aims to inspire and drive other operators towards adopting sustainable practices, accelerating the transition to a cleaner future for the entire industry.
Surcar Airlines will begin operations with conventionally powered aircraft, the next step will be switching to hydrogen-electric engines to remove all in-flight emissions, providing huge additional reductions in climate and air quality impacts.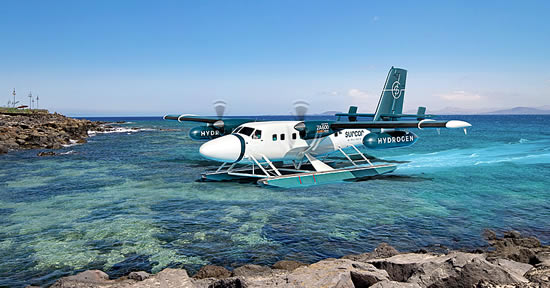 Surcar plans to use Twin Otter seaplanes retrofit with the ZA600 powertrain on sightseeing tours.
ZeroAvia is on track for certification of the ZA600, 600kW engine for 9-19 seat aircraft over the next two to three years and has a Memorandum of Understanding with De Havilland of Canada, type certificate holder of the Twin Otter.
The European Union is targeting 55 percent reduction in greenhouse gas emissions by 2030 and Spain's National Energy and Climate Plan aims to achieve an entirely carbon-neutral transport system by 2050. Such policy action is echoed in consumer attitudes. According to a survey conducted by the European Investment Bank, three-quarters of Europeans plan to fly less frequently in the future for environmental reasons. Delivering clean flight is a strategic imperative for the aviation industry.
James Peck, Chief Customer Officer, ZeroAvia, said: "The Canaries are a perfect use case for the earliest zero-emission flights, given the opportunity for replacing combustion engines on short island-to-island routes. Developing green options for inter-island travel will help further increase the appeal of one of Europe's most popular holiday destinations."
Gerardo Morales-Hierro, Founder and CEO, Surcar Airlines, said: "Millions visit each year to see the incredible natural beauty and world heritage sites here in the Canary Islands. Climate change threatens this and our way of life. Working with ZeroAvia will help us to deliver cleaner flights, while also fostering positive impacts on the local community and the environment."

ZeroAvia recently completed a program of 10 test flights of a prototype of its ZA600 for the aboard a Dornier 228 aircraft at its UK base in Kemble, Gloucestershire. Hydrogen-electric engines use hydrogen in fuel cells to generate electricity, which is then used to power electric motors to turn the aircraft's propellers. The only emission is water.