Atlanta, GA and Oxford, UK
Up & Away Aviation acquired by Unifi Aviation
Investment provides solid platform for growth into more UK markets
Up & Away Aviation, a leading supplier of aircraft cleaning and detailing services to commercial airline and private aviation clients, has secured new ownership with Unifi Aviation.
Unifi is the USA's largest ground aviation services company, part of the Argenbright Group. The deal was signed by Up & Away founder and CEO Stefan Murphy and Unifi CEO Gautam Thakkar at the UK company's London Oxford Airport UK HQ.
The agreement formalises as Up & Away prepares to open its 13th base at London's Gatwick Airport on 1st August, having recently ramped up its personnel to 500-plus employees. Over 400 of them are dedicated to Up & Away Aviation Services' airline activity. Unifi, headquartered in Atlanta, GA is present at over 200 US airports, offering a range of ground services from ticketing and ground handling to cabin cleaning and cargo.
Up & away is an ideal fit for Unifi as it looks to grow its UK business to more than £100 million in the region over the next three years.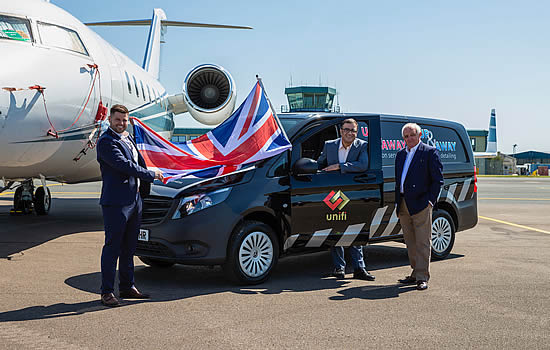 Celebrating a UK/US partnership, at London Oxford Airport: Stefan Murphy, Managing Director, Up & Away Aviation Services with Gautam Thakkar, CEO, Unifi (centre) and Ernie Patterson, Chairman, International Business of parent Argenbright Group.
While the Up & Away brand will remain, Stefan Murphy will become Unifi's Managing Director in the UK. Ernie Patterson, Chairman of International Business for Argenbright Group, will provide additional oversight of Unifi's UK aviation business, working with Up & Away's team to broaden operations into more airports, including London Heathrow.
Addressing Up & Away's management in Oxford, Ernie highlighted: "Up & Away brings exactly what Unifi was looking for - a personalised, intimate service offering to customers. It is excited to take that, harness it, help grow and expand the business, using the same culture and same, dedicated team."
Realising synergy
Dialogue between the two companies first opened over six months ago. Up & Away provides various aviation services, including cabin cleaning, de-icing, executive jet detailing, technical cleaning, and other adjacent aviation services. The business has grown exponentially under the leadership of Stefan Murphy. The business, originally focused on executive jet clientele, expanded into working with prolific airline customers in 2019 when a leading airline CEO (and business jet owner) asked the company to pitch for its airline cleaning business. Up & Away has not looked back.
Today, its operations span 13 UK airports, including London Stansted, Manchester, Birmingham, Newcastle, Bristol and Belfast International, plus UK business aviation airports London Biggin Hill, Farnborough, London Oxford, where it supports a variety of business jets.
Unifi CEO, Gautam Thakkar, commented: "Up & Away has earned a strong reputation for exceptional services. We look forward to working with Stefan and his team as they join the Unifi family and build upon Up & Away's track record. More than 224 million passengers travelled to and from airports in the UK in 2022, and we are confident that our knowledge and experience from operating in 200+ airports, including the world's busiest, will allow Unifi to replicate its success in the UK and provide customers with an exceptional experience."
Up & Away Founder & Managing Director, Stefan Murphy, added: "I have been fortunate to build this company from the ground up. I look forward to this immensely exciting phase of growth and joining Unifi, a leading aviation services organisation, opens new doors. I want to thank George Rolls, our former Chairman, for his astute guidance and unwavering support through the formative years of the business and recent negotiations. I also want to thank all of Up & Away's staff and customers for their loyalty and contributions, without which this exciting expansion would not be possible."
Argenbright Group currently employs more than five thousand employees in the UK. This acquisition further strengthens the Argenbright Group's investment in the UK and its people and is part of its strategic commitment to the region.