Wheeling, Illinois
Priester acquiring Hill Private Aviation's charter and management services
Family-led businesses have always delivered the most customer-focused aviation services, built on fostering long-term relationships and loyalty.
Since 1945, Priester Aviation has prided itself on continuing to provide personal service while expanding its legacy to include greater resources and capabilities for its clients.
Since 1955, Hill Aircraft has been providing a similar Sensational Southern Service to its Atlanta-based customers, building client relationships that span decades. Priester Aviation has respected those connections, and Hill's heritage, and is now pleased to announce that Hill's charter and management services will be joining the Priester Aviation family of companies as Hill Private Aviation.
By joining the larger Priester family, Hill Private Aviation's aircraft charter and management services will have nationwide infrastructure and resources. Hill Private Aviation's charter and management expertise in Atlanta complements Priester's in the Midwest and fellow Priester Aviation company, Mayo Aviation, in the Rocky Mountain West.
This alignment allows all three companies to grow opportunities together and offer clients more than ever before. Guy Hill Jr., son of Hill Aircraft's legendary founder Guy Hill Sr., will have continued involvement at Hill Private Aviation from its base from historic Fulton County Airport (KFTY), six nautical miles away from Atlanta's central business district. His on-site connection will further solidify the relationship between the three companies.
Hill Private Aviation benefits from Priester's infrastructure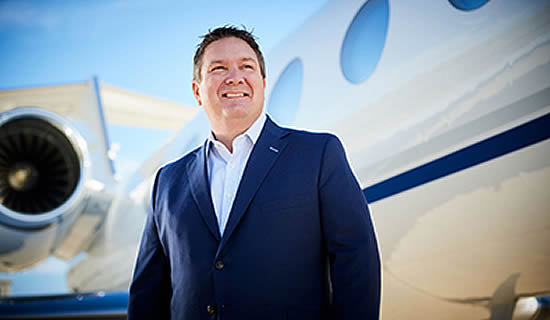 Priester Aviation Chairman and CEO Andy Priester.
"We recognize how important 65 years of relationships are," Priester Aviation Chairman and CEO Andy Priester said. "Now Hill, along with Priester and Mayo, can grow with added infrastructure and support, while still honoring and respecting what has already been built over the last 6 decades. Hill's culture and people have been central to its success. We're excited to engage Guy and his team as part of the larger Priester family as we thrive together."
Bringing Hill Private Aviation into Priester's larger group of businesses continues Priester's strategy of alignment with customer-focused, family-led companies, that started with the 2022 acquisition of Mayo Aviation. Independent, family-run aviation companies keep their focus on empowering aircraft owners and charter customers, rather than shareholders or impersonal conglomerates.
"This is a culture of trust and loyalty that makes sense for us and for our customers," Priester said. "Just like our clients know that I'm ultimately the person they can talk to and answer any concerns, Guy Hill has led the way in Atlanta and he'll still be doing that. When you're able to connect directly with the person whose name is on the door, that's significant."
Hill Private Aviation management customers can take advantage of larger Priester benefits such as fuel and insurance savings, as well as crew scheduling and training, and maintenance oversight.
"In growing, we looked for a company and family that shared the Hill values and understood our corporate culture," Hill said. "Priester respects that and offers new ways to realize opportunities. It's the best of all situations."
Priester, Mayo, and Hill Private Aviation clients will be able to access the award-winning fixed-base operation at KFTY, but the FBO will continue to operate independently under the legacy Hill Aircraft company.